In Focus: Wagering Preakness day at Pimlico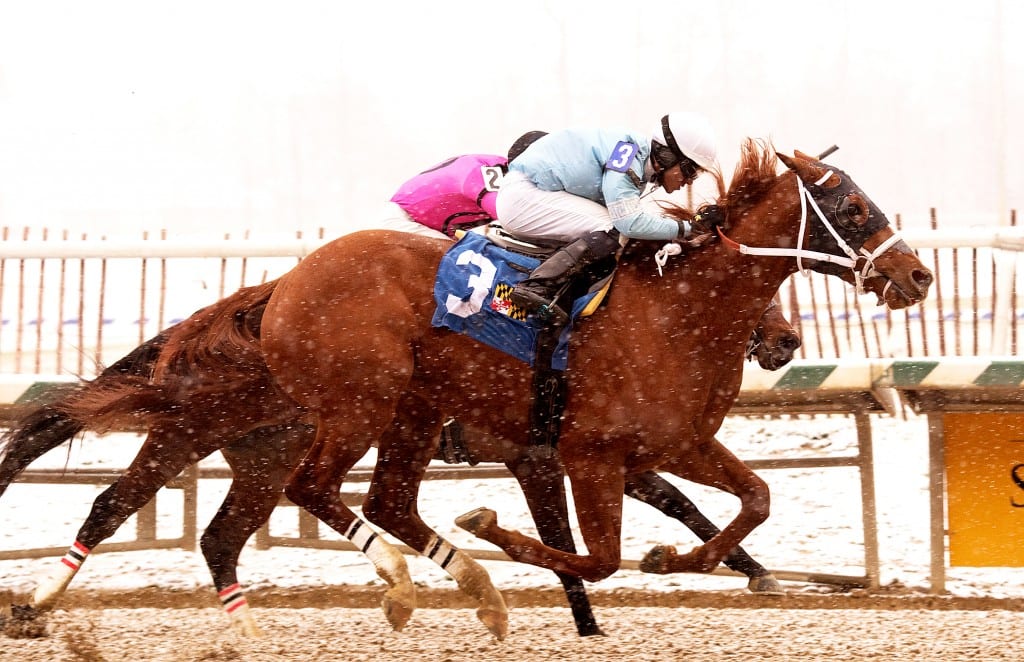 Our In Focus Guide offers the most in-depth analysis and commentary on all seven stakes on Saturday's Grade 1 Preakness day card at Pimlico Race Course.

Whirlin Curlin. Photo by Jim McCue, Maryland Jockey Club.
RACE 5 – JAMES W. MURPHY STAKES
RACE PARTICULARS: Race 5 (12:51pm EDT), $100,000 guaranteed purse for three-year-olds, 1 mile (turf)
THE PICKS
#4 Black Stetson (9-2): Distance stretch might pose an issue, but should have the    lead and was solid last time out in first turf try in the Bridgetown Stakes
#6 Say the Word (5-2): Jose Ortiz gave this gelding a great trip last time out to finally break maiden; will likely be within the leaders to pounce late in the stretch run and has most turf experience of field
#7 Threes over Deuces (6-1): Has a tough time winning for trainer Gary Capuano especially with stretch of optional claimers, but may see improvement with surface change and has shown good consistency
#9 Coltandmississippi (3-1): Connections of Pletcher and Velazquez might cause this colt by Pioneerof the Nile to be overbet, but a strong effort as a first time turfer last time out shows some promise
REST OF THE FIELD
#5 California Night (6-1): Worth a play at the right price based off of class drop; ran in Blue Grass against Good Magic a month back and should improve as is likely to be close to Black Stetson early
#3 Tap Daddy (12-1): Most likely of longshots as this Asmussen trainee is only other than California Night to be dropping from graded company, but has not been in good form this year and will need good trip from Santana and possibly a soft surface to win
#1 Takedown (15-1): Adds blinkers and gets a plus in an off track scenario, but nonetheless might run well on a softer turf for first time in career despite being slightly overmatched
#2 Magicalmeister (20-1): Has run well on artificial a few times which can translate well to turf, but has a few too many question marks especially with back to back losses by fourteen lengths
#8 Whirlin Curlin (12-1): A few positives, one being a jockey trainer combo that seems to work well together, but hasn't run well since December and was poor in one race on similar surface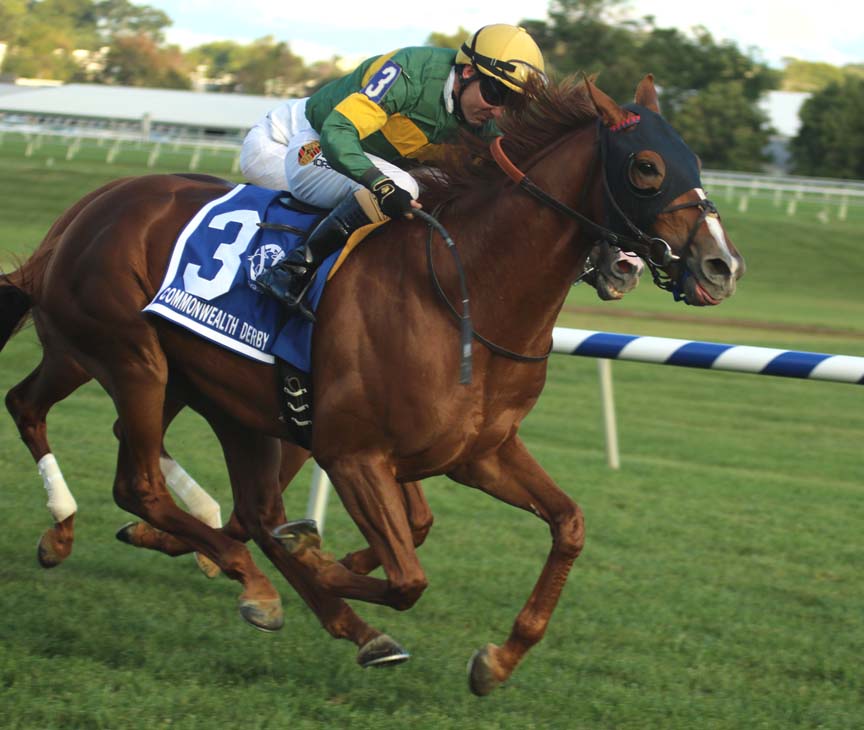 Just Howard. Photo by Laurie Asseo.

Race 7 — GRADE 2 DIXIE STAKES
RACE PARTICULARS: Race 7 (2:07pm EDT), $250,000 guaranteed purse for three-year-olds and upward, 1 1/16 miles (turf)
THE PICKS
#7 World Approval (1-1):

Clearly the best in field having won this race last year, and even with loss last time out, getting Velazquez back in the irons should give this six-year-old gelding as good a chance as any

                

#8 Divisidero (5-1): Much like some others in this field, this horse by Kitten's Joy will need more pace than is likely here to close, but his impressive record at the distance and stretch of four grade I tries in a row make him a clear contender
#6 Just Howard (12-1)

:

Will need to be a bit more forwardly placed by Jose Ortiz, but this colt for Graham Motion can win this race with efforts similar to a win in the Commonwealth Derby back in September

#4 Frostmourne (9-2): Has run against good competition over the past year; might find some difficulty in pressuring World Approval early but should still be in position to make a move in stretch
REST OF THE FIELD
#5 Doctor Mounty (20-1): Completely reliant on the break; probably can't repeat last race where he closed seven lengths, will need to be mid pack and hope for a hot pace but has enough speed to get into the money
#1 Fire Away (6-1): Manny Franco teamed up with McGaughey last time out winning with a triple digit speed figure, and will need a similar effort, but this six-year-old horse always seems to be game and is a safe play to run well at a fair price
#3 O Dionysus (20-1): First time gelding ran well last time in first turf try, picking up a win at Pimlico, and still has a little room to improve
#2 Unbridled Juan (10-1): Other first time gelding has some class, but has difficulty getting over the hump and hasn't raced since September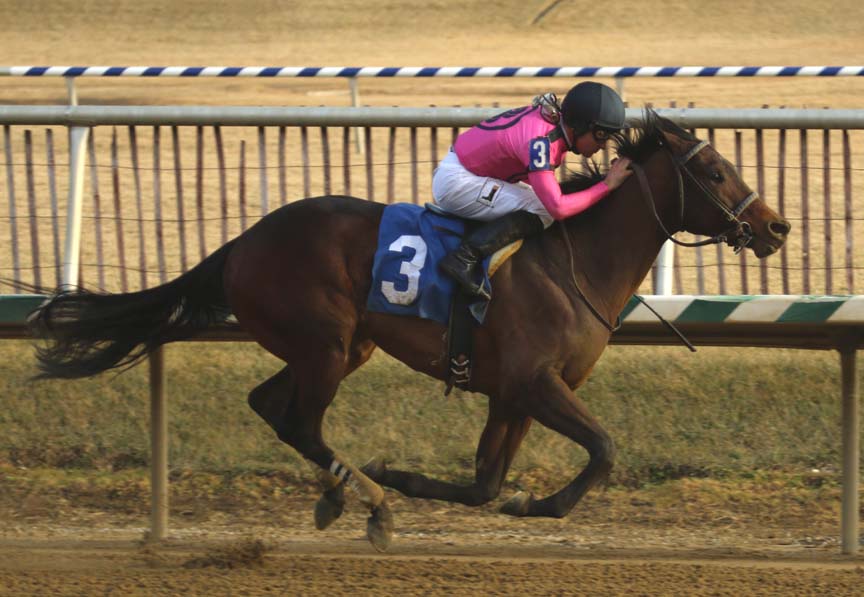 Still Having Fun. Photo by Laurie Asseo.

Race 8 — CHICK LANG STAKES
RACE PARTICULARS: Race 8 (2:45pm EDT), $200,000 guaranteed purse for three-year-olds, 6 furlongs
THE PICKS
#5 Mitole (3-5): Can't ignore back to back strong wins of seven and nine lengths respectively, and only real knock would be other pace challengers and weaker effort over sloppy surface
#7 Curly's Rocket (6-1): Never want to see a colt lose Baffert as trainer, but has some solid speed to contest with Mitole and has won twice at this distance; continuing to improve for Albert Stall gives this three-year-old a chance at the wire
#6 Run Away (12-1): Last effort was a bit disconcerting in November, but assuming this colt is in good health means he should run in the money similar to his effort in the Delmar Futurity in September as the post time favorite over winner Bolt D'Oro
#9 Soutache (8-1): Adds Irad Ortiz who should place him mid-pack, allowing a chance to close if Old Time Revival and Curly's Rockey go after Mitole
REST OF THE FIELD

#3 Pure Shot (10-1): Interesting Colt who has the speed to contend on the front end but failed to use it in one try in the mud; gets a plus for switching back to dirt after rough outing on turf last time out
#2 Clouded Judgement (20-1): Last race was a strong victory in the mud, which bodes well for this three-year-old grey gelding who needs similar conditions to compete
#1 Still Having Fun (12-1): Seems to like running in the 7 furlong to 1 mile range, but cutting back in distance sets up this colt for a strong stretch run and a possibility to pick up the pieces of a pace battle
#8 Old Time Revival (20-1): Odd running style where he tends to run himself into the ground with huge early leads might be advantageous in keeping up with Mitole and breaking open the race, but not for winning at the wire
#4 Aqua Bel Sar (30-1): Overmatched and rarely bet in his career, this colt hopes to break well and hang on in effort similar to a December stakes win at Aqueduct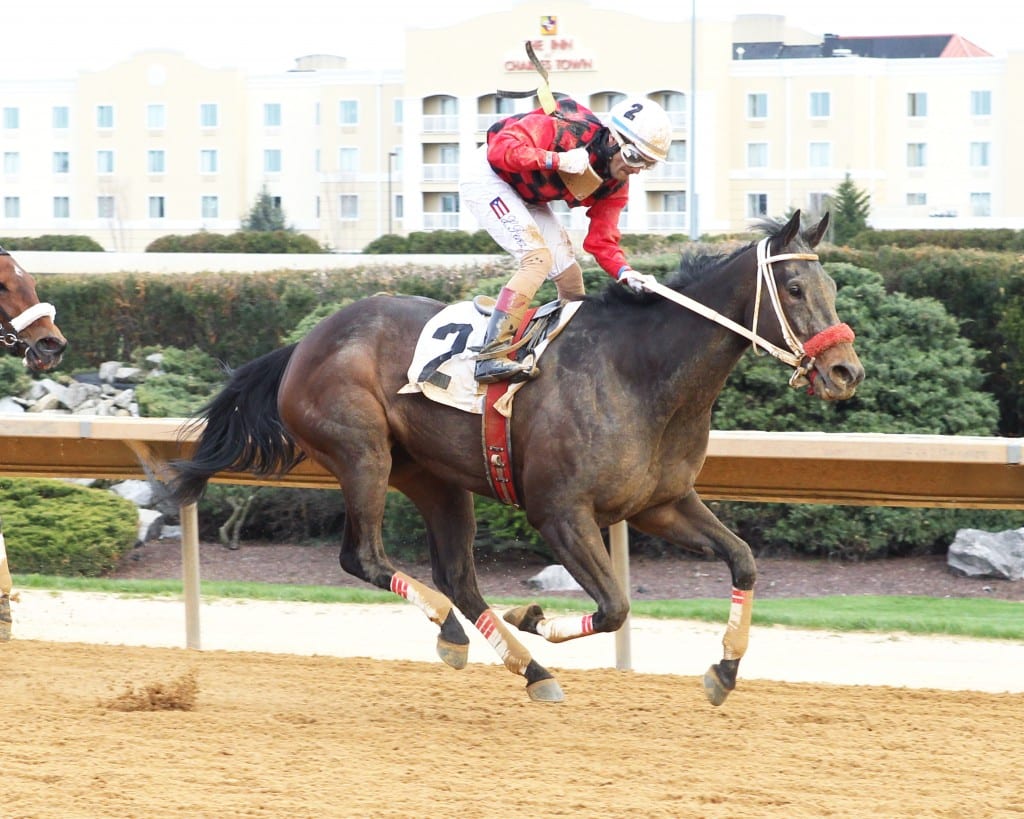 Lake Ponchatrain. Photo by Coady Photography.

Race 9 — GRADE 3 GALLORETTE STAKES
RACE PARTICULARS: Race 9 (3:25pm EDT), $150,000 guaranteed purse for fillies and mares three-years-old and upward, 1 1/16 miles (turf)
THE PICKS
#8 Elysea's World (9-5): Running better than Cambodia as of late, and will win this race with either a decent amount of pace, or a stalking trip close to the leader; issue here could be the pace with many wanting to come from mid pack
#6 Blessed Silence (12-1): Has run on softer surfaces overseas, giving an edge over competition, distance might have shown to be a tad to far last time out, however
#5 Cambodia (8-5): Won this race last year by sitting off a slow pace and pouncing at the top of the stretch, but that might not work this time out with more contenders looking to make similar moves
#4 Stallion Heiress (10-1): Only filly/mare here who poses any threat to wire the field, and if she gets away with solid fractions, might steal this in the stretch run
REST OF THE FIELD

#7 Special Event (15-1): Flashed potential in win last time as first time turfer; will challenge Stallion Heiress for the lead and can win this race if she breaks well and is clear with modest pace
#3 Ultra Brat (5-1): Likely needs to be among leaders to contend; dropping from a grade I helps her case, but has been too inconsistent and must have perfect trip/pace scenario to have a chance
#2 Brooks House (12-1): Has been solid at this distance in her career, but simply outclassed and overmatched in this field
#1 Lake Ponchatrain (30-1): A bit of an odd move moving up in distance and changing surfaces after back to back dirt sprint wins, especially considering only career try on dirt was a thirty length loss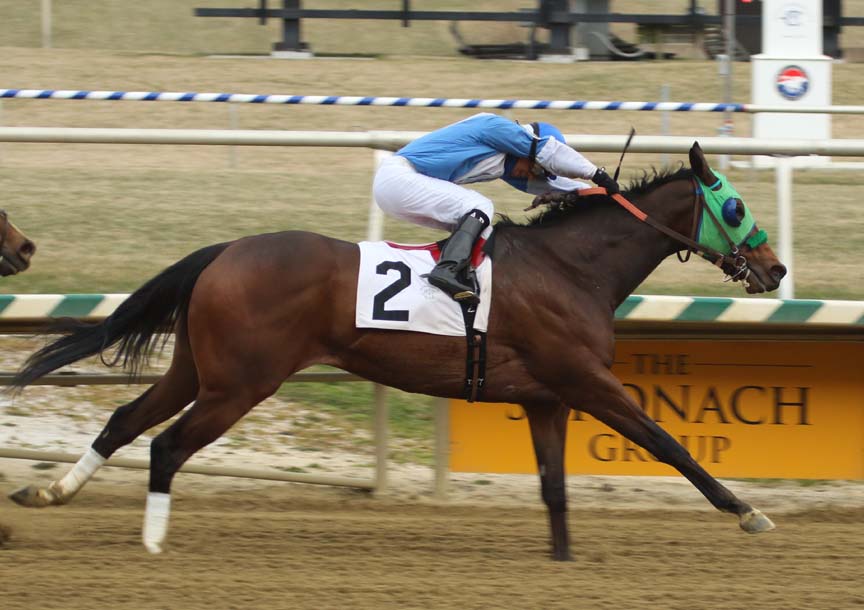 Lewisfield. Photo by Laurie Asseo.

Race 10 — GRADE 3 MARYLAND SPRINT STAKES
RACE PARTICULARS: Race 10 (4:05pm EDT), $150,000 guaranteed purse for three-year-olds and upward, 6 furlongs
THE PICKS
#4 Lewisfield (7-2):

Four for five at the distance; should get away clean to front with a few other challengers and win as long as Laki and Switzerland don't apply too much pressure

                

#7 Laki (15-1):

What this gelding lacks in class he makes up for with an impressive front-end win last month at Laurel; hopes for a speed battle in the mud with Switzerland

 

#5 Switzerland (5-2): Solid race breaking maiden in February, followed by two other wins show this four-year-old colt finally starting to hit his stride being undefeated this year
#9 Long Haul Bay (2-1): Needs hot pace similar to last two tries, but should close and pull away in stretch if he gets it
REST OF THE FIELD

#3 Red Dragon Tattoo (12-1): Showed some speed two back in only try and win at distance and will need repeat performance to be among leaders and top finishers
#2 Heartwood (15-1): Provides some upside with a winning performance in the slop a month ago, and the fact that he ran two weeks ago signals James Chapman's confidence in his form
#6 Irish Colonel (10-1): Will need a lot of pace similar to Long Haul Bay, but comes from further back; ran well off layoff last time
#8 Fellowship (12-1): Again assuming muddy conditions, the one plus for this horse is that his best performances have come on softer surfaces
#1 Sonny Inspired (20-1): Hasn't won since early last year; even with solid works and a decent try in March, this seven-year-old gelding seems to be a bit over the hill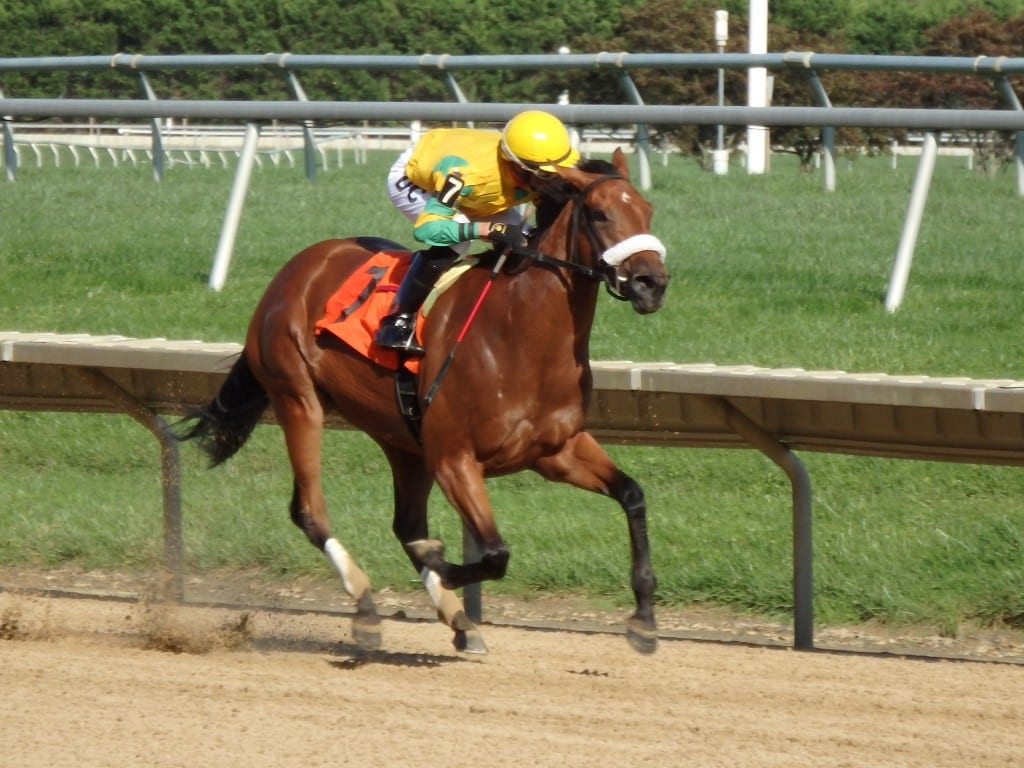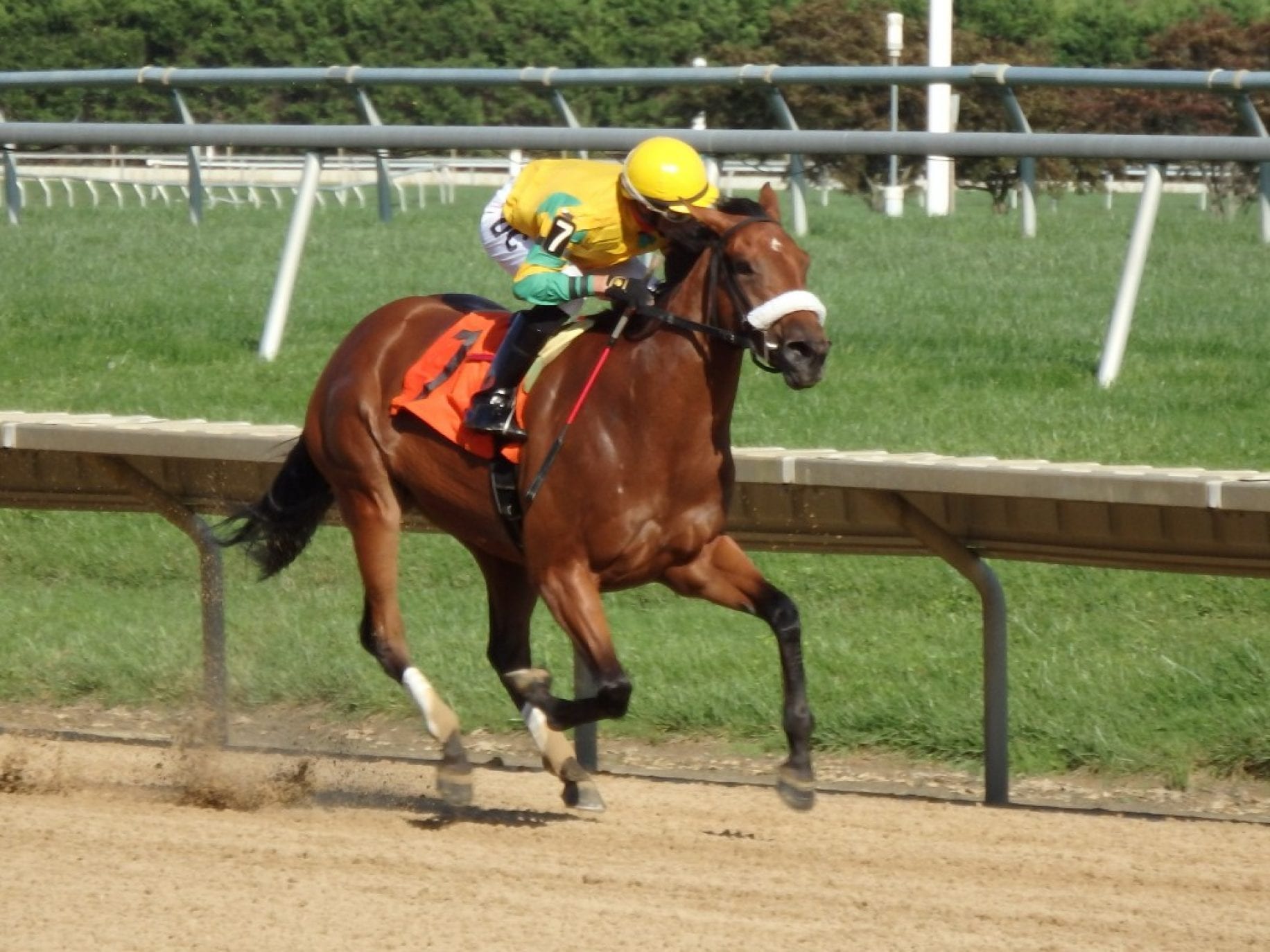 Angel at War. Photo by The Racing Biz.

Race 11 — THE VERY ONE STAKES
RACE PARTICULARS: Race 11 (4:42pm EDT), $100,000 guaranteed purse for fillies and mares three-years-old and upward, 5 furlongs (turf)
THE PICKS
#7 Girls Know Best (3-1):

With so many surface changes and unknowns in this race, this filly is a safe bet to be there early and late; has an advantage with a middle post over the outside favorites

#11 Smiling Causeway (7-2): Showed ability to close even at short distance last time out; versatility will prove vital if this filly doesn't get pushed wide at the break
#13 Keep Your Distance (20-1):  Another one on the outside who looks to break early and needs to be up front, but if she is able to get to the lead, a repeat of her last race can put her in the winners circle 
#12 Just Talkin (9-2): Has a bit more trouble than the others getting to the front, and seems to need to be forwardly placed to win; last race out was one of the most impressive of this group
REST OF THE FIELD

#8 Boos (15-1): If the race stays on the turf, go with this filly as a possible longshot with more recent turf success than the rest of the field
#1 Chanteline (6-1): Worry with this mare is not breaking well and being trapped on the rail early, but if she breaks well and clears, Ricardo Santana will be waiting to pounce at the top of the stretch making her as likely as any
#4 Anna's Bandit (20-1): Gets edge over Pretty Perfection thanks to being in better form winning all three races this year; no turf experience is an issue, so maybe play on an off track or if looking for longer odds
#3 Pretty Perfection (10-1): Picking up Jose Ortiz in the irons is never a bad thing, but this mare's recent performances make it clear she is likely past her prime and will need a lot to go her way to win
#6 Jessica Krupnick (30-1): Has run well this year which many in this field cannot say, and drops from a grade III with the right running style to sit off the pace and move late; performance on turf is mostly unknown much like others
#5 Angel At War (30-1): Hasn't won this year or ever run on the turf and didn't run well on an off track, but has a few nice workouts and some possible early speed to keep her competitive
#2 Victorias Fire (30-1): Some solid workouts show the speed that this mare can bring to the table; deserves a look if an off track occurs and otherwise is someone who can press the leaders and contribute to a potentially torrid pace
#14 Miss Gossip (15-1): Hard to envision a scenario where the outside post doesn't affect this mare's chances to settle in a comfortable position at the break, but she has at least shown some fight in races this year
#9 Daylight Ahead (20-1): Long layoff since December; provides some possible speed to stick around in the race
#10 Carolina Shag (20-1): Takes off blinkers like Miss Gossip, and like Daylight ahead hasn't raced this year, so this seven-year-old may struggle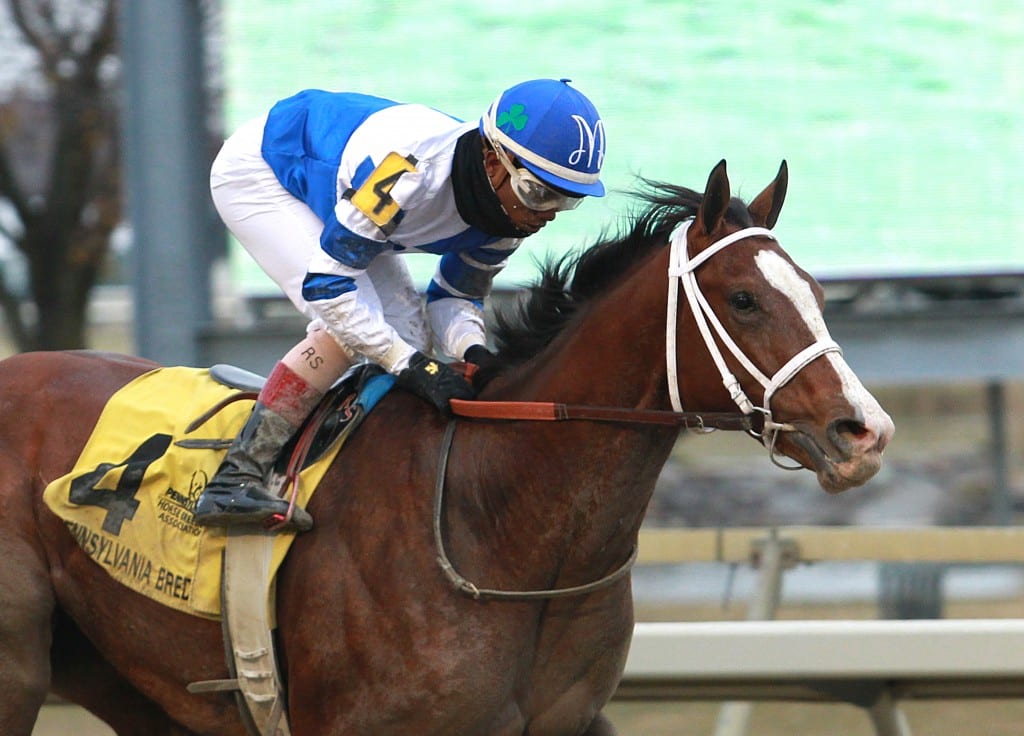 Prince Lucky. Photo by Bill Denver, Equi-Photo.

Race 12 — LARC SIR BARTON STAKES
RACE PARTICULARS: Race 12 (5:39pm EDT), $100,000 guaranteed purse for three-year-olds, 1 1/16 miles
THE PICKS
#8 Ax Man (8-5): Hard to go against Baffert and Smith here especially with this field; repeat of second race will allow for upset as could a bad reaction to a muddy track
#1 Forest Fire (15-1): Win in slop and likely to run with pace gives this gelding the best chance to knock off Ax Man

 

#2 Pony Up (7-2): Best case for this colt is a pace duel, as he has shown the ability to close but will need a good trip and timing from Velazquez to put it all together
#11 Title Ready (5-1): Taken a good amount of money over his career; needs to return to form three back; wants less distance and just slightly slower than the top contenders
REST OF THE FIELD

#4 Threes Over Deuces (15-1): Won at the distance; always competitive and came out of a stakes race with a bullet five furlong work
#6 Dream Baby Dream (8-1): Look for this colt to not break well, then make a charge late to potentially end up on the board
#3 California Night (20-1): Ran a nice four furlong workout after his failure to show up in the Blue Grass; needs to break better to run with this crowd
#10 Prince Lucky (10-1): Good that Castellano takes mount for Pletcher over Navy Commander, but this first time gelding doesn't seem to want to go this distance
#5 Navy Commander (20-1): With a few dominant wins this year, give this gelding a play, but with others that are faster, it is unlikely that he will win similar to his ten length victory two months back
#9 Takedown (20-1): Puts blinkers on which might help him make a run early; ran fifth to Diamond King in the Tesio in April
#7 Whirlin Curlin (30-1): With a lack of good tries since December, it is unlikely that this gelding has enough burst left to make a run in the stretch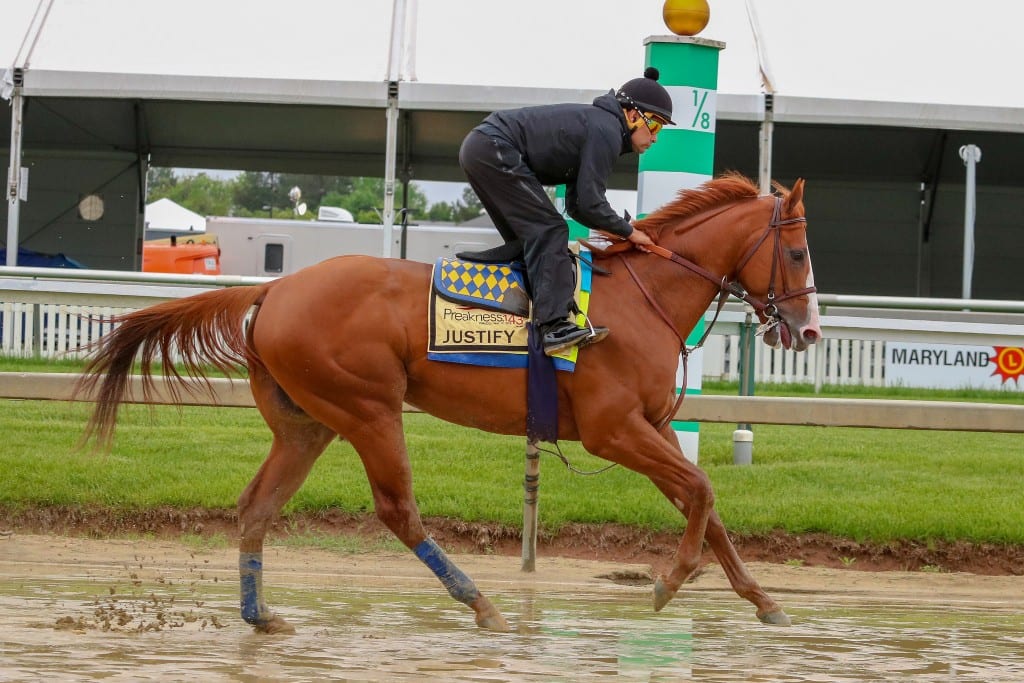 Justify. Photo by Dottie Miller.

Race 13 — 143rd running of the GRADE 1 PREAKNESS STAKES
RACE PARTICULARS: Race 13 (6:48pm EDT), $1,500,000 purse for three-year-olds,  1 3/16 miles
THE PICKS
#7 Justify (1-2): Can't justify any of the other horses over this one after a Derby win in the slop and this small, lesser field gives him the clearest chance to go to Belmont for his real challenge and a chance to be the thirteenth winner of the triple crown
#5 Good Magic (3-1): Obvious second to Justify, and only one who is likely to challenge; strong showing in Derby helps his case but decision to send him to Preakness is still puzzling; hoping for someone to press Justify throughout

 

#2 Lone Sailor (15-1): The closer who makes sense if someone unexpected goes after Justify and pushes him to hot fractions; picking up Irad Ortiz improves his chances
#4 Diamond King (30-1): Possibly sent up front with Tenfold and maybe Sporting Chance, only horse who might ruffle Justify's feathers early and still be close late
REST OF THE FIELD

#8 Bravazo (20-1): Better than expected showing in the Derby, the break will be everything for this colt; starting within four to five lengths of Justify will allow him to potentially close with Lone Sailor late if things fall apart
#6 Tenfold (20-1): A bit of a wild card, Espinoza not taking the mount doesn't look great, and in his light experience has not yet demonstrated enough to show he is capable of winning
#1 Quip (12-1): Has won a few races close to the front, but won't see the same type of pace and easy trip as times past; would be tough for him to challenge anyone for the lead
#3 Sporting Chance (30-1): Good success in his two-year-old season, hasn't been as competitive since and running two weeks ago then entering this field won't be easy