Preakness: Brisset enjoying every second with Quip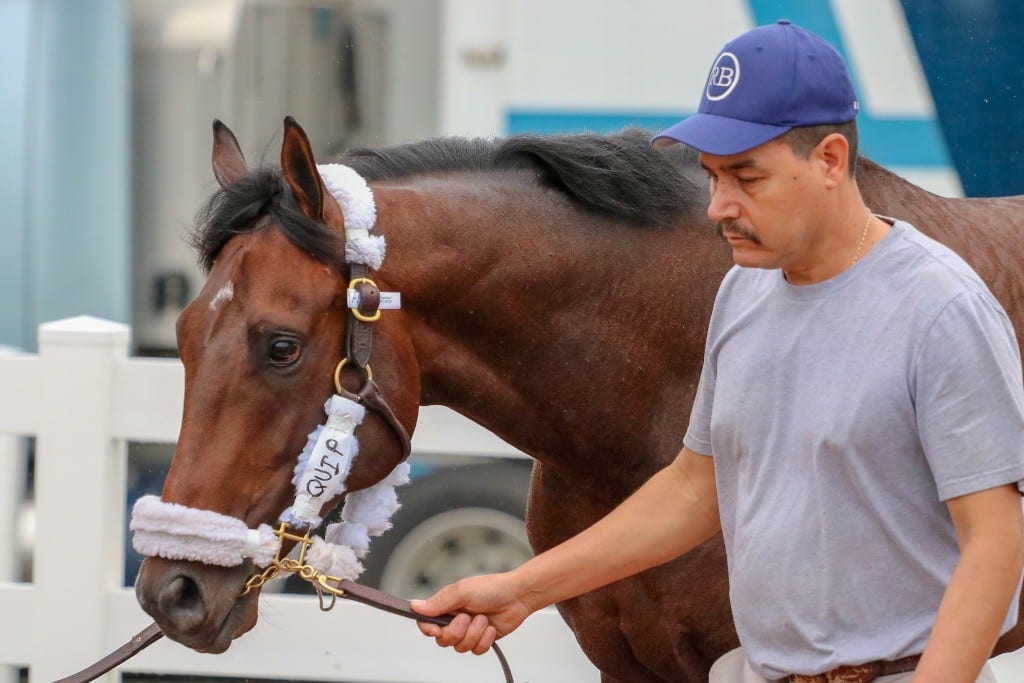 by Frank Vespe
Back when he was a two-year-old, before he went to Bob Baffert, Kentucky Derby hero Justify spent some time in the barn of trainer Rodolphe Brisset.
On Saturday, Brisset will try to derail Justify's Triple Crown bid when he saddles Grade 2 winner Quip in the Grade 1, $1.5 million Preakness Stakes. Quip is 12-1 on the morning line and will have regular rider Florent Geroux in the irons.
"He went through our barn, so I was happy he won," Brisset, 34, said of Justify's Derby victory. "But if I can beat him, I'm not going to be sad about that."
Brisset breezes his runners himself and so had the chance to ride the young Justify in the mornings.
"I breezed him three or four times," the trainer said. "But don't ask me if I knew he was going to be this – I would by lying."
He doesn't have Justify — the 1-2 morning line favorite for the Preakness and the runner universally acknowledged as the horse to beat in the Middle Jewel — but the horse, he does have, Quip, is a pretty nice consolation prize in his own right.
Quip has won three of five starts, including the Tampa Bay Derby, and earned nearly $500,000. He also ran second in the Grade 1 Arkansas Derby, four lengths behind Magnum Moon.
The Arkansas Derby came on April 14, leaving a scant three weeks until the Run for the Roses. Though Quip had earned enough points on the Kentucky Derby leaderboard to qualify for a spot in the Derby starting gate, Brisset and his owners — a partnership of the horse's breeder WinStar Farm LLC, along with China Horse Club and SF Racing, largely the same group that owns Justify — made the decision to pass and wait for the Preakness.
"Passing the Derby was not easy – it was easy and not easy," Brisset said. "It was not easy for me because I would have liked to run in the Derby. But now looking at the horse and what the horse was telling us, he did not want to run in the Derby."
He does, however, appear to want to run in the Preakness, Brisset said.
Quip breezed a half-mile at Keeneland on May 13, getting the distance in 48 1/5 seconds. Thursday morning at Pimlico, Quip jogged in the early morning darkness and rain. Brisset said his star pupil would be out first thing again on Friday, though he wasn't yet sure what he would do.
Brisset said that WinStar sent him Quip "because he was not easy in the mornings when he was two, and they decided to keep him with me because I got along with him pretty good and they saw him change."
Despite that, Brisset said that his continuing to ride his own is not because he perceives any competitive advantage.
"I like to breeze them because I think I'm fit enough and I need to be on the horse," he explained. "I'm almost more comfortable on the horse. I don't know if it's an advantage. It just keeps me busy and it's my life."
Brisset, who said his wife Brooke is closely involved with the operation, is a former assistant to Hall of Famer Bill Mott. As such, he's been around plenty of good horses — "lucky me," he said. That doesn't make this experience less special, though.
"After one year (as a trainer), it's kind of sweet," he said. ""We enjoy every second, trust me. I know they don't come very often."