In Focus: Wagering Black-Eyed Susan day at Pimlico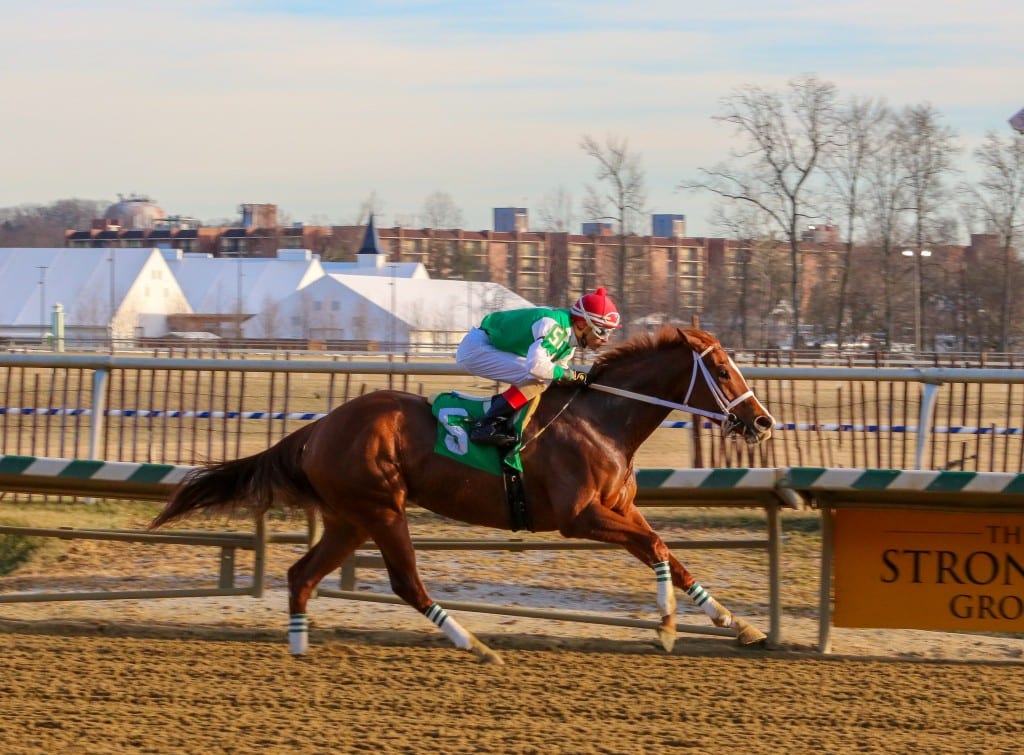 Our In Focus Guide offers the most in-depth analysis and commentary on all seven stakes on Friday's G2 Black-Eyed Susan Stakes day card at Pimlico Race Course.

Ms Locust Point. Photo by Dottie Miller.
RACE 5 – SKIPAT STAKES (MATCH SERIES)
RACE PARTICULARS: Race 5 (1:34pm EDT), $100,000 guaranteed purse for fillies & mares, 3-years-old and upward, 6 furlongs (Dirt)
THE PICKS
#4 – Ms Locust Point

(7-5):

Finally met her match in G1 Madison at Kee in latest outing but was compromised when in tight at the start, unable to get early lead as she's accustom and never threatened; lack of early speed from her foes in here should help get her back to Winners' Circle

#8 – Vertical Oak

(9-2):

2 for 2 over the Pim main track  a year ago when easily winning the G3 Miss Preakness which followed a minor stakes victory in the slop; failed as 1-1 favorite in '18 debut at OP on her preferred "slop"

#1 – Cairenn

(4-1):

Local filly finally gets to race on the track which she trains; she's hit the board in every start (10:3-4-2-1) and keeps getting better as she steps up the class ladder; third start after layoff as first two were her best yet, the latest a runner-up effort in $100k stakes

        

#3 – Startwithsilver (3-1): This NY-bred has exclusively competed at NYRA tracks with majority in restricted company on turf; rediscovered the dirt surface this winter earning black-type with a state-bred stakes victory and a SHOW effort in a non-restricted stakes; best outing speed figure-wise came on a sloppy track
REST OF THE FIELD
#2 – Toby Girl (20-1): Strange spot for her after winning '18 debut going two turns at Prx v. OC25k/n2x; 6f record (4:0-1-0) doesn't indicate she wants to cut back to sprint but could surprise if the Pim surface turns up sloppy or muddy…
#5 – Luckyallmylife (30-1): Tough spot to make '18 debut; ended '17 campaign winning minor sprint stakes on synthetic at TP; will need to take a huge step forward as she ventures beyond Tdn, Mvr & TP races…
#6 – Katalust (20-1): Tdn-based mare who has competed well v. OH-breds gets a shot at the big time, though a likely scratch as she's cross-entered in DuPont Distaff (R13) going 1 1/8 miles and connections are leaning that way; adds blinkers…
#7 – Everlasting Secret (20-1): Hasn't been the same since just missing on Preakness Day '17 in an OC25k/n2x; just 3 races over past year w/ two conditioners, best came two back when distant runner-up to #1 in here then buried in first stakes try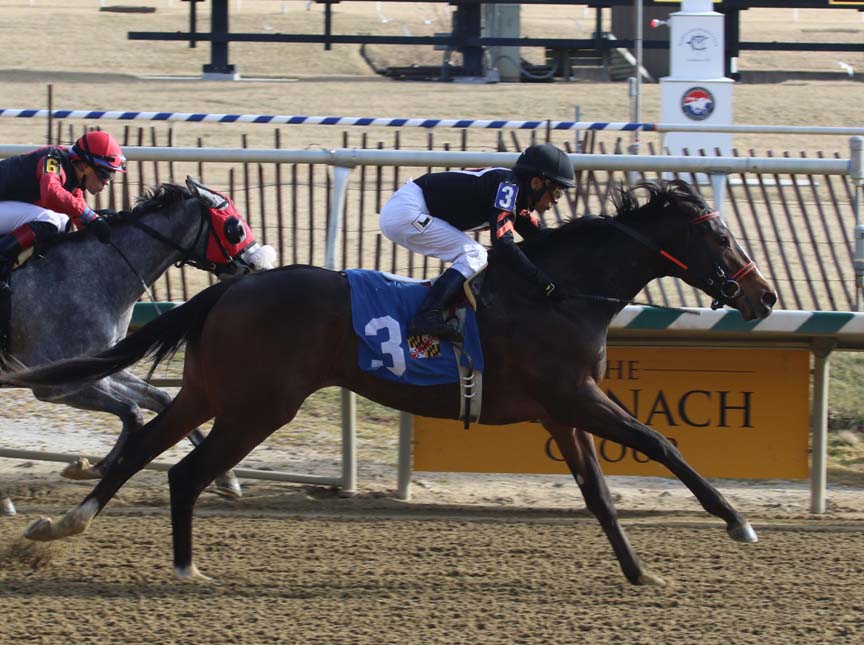 Limited View. Photo by Laurie Asseo.

Race 7 — GRADE 3 ADENA SPRINGS MISS PREAKNESS S.
RACE PARTICULARS: Race 7 (2:39 pm EST), $150,000 guaranteed purse for 3-year-old fillies, 6 furlongs (Dirt)
THE PICKS
#9 – Good Move

(3-1):

Very quick daughter of Broken Vow is a perfect 2 for 2 in gate-to-wire fashion earning 90+ BRIS#s in each; flattered by runner-up in latest who came back to win an OC75k/n1x; sloppy track could boost her chances based on bullet work over it

                  

#8 – Almond Roca

(5-1):

Turf to dirt angle as she showed early speed then weakened going two turns in G3 FL Oaks; has consistently finished her 6 furlong efforts in sub-13 seconds; gets plenty of pace to chase

 

#1 – Happy Like a Fool

(5-1):

Wesley Ward trainee burst onto the scene in debut last year and has only raced four times since; may have been short in G3 Beaumont in '18 debut and/or not up for 7 furlongs; tough rail assignment for one who will try catch leg-weary speed

        

#6 – Lezendary (4-1): Goes for the natural Hat Trick as adding blinkers seems to have been what turned the lightbulb on for this gray filly; can boast best career BRIS# (98) among this group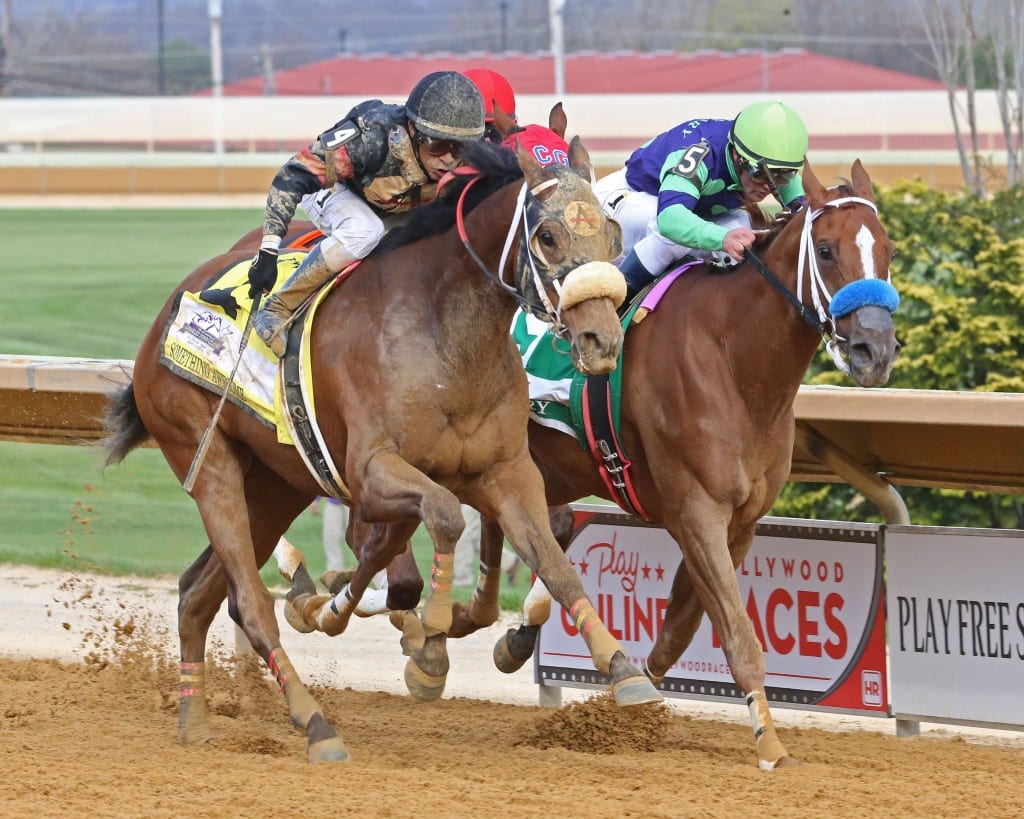 Something Awesome. Photo by Coady Photography.

Race 9 — GRADE 3 PIMLICO SPECIAL
RACE PARTICULARS: Race 7 (3:43pm EDT), $300,000 guaranteed purse for 3-year-olds and upward, 1 3/16 miles (Dirt)
THE PICKS
#3 – Rated R Superstar

(8-1):

BRIS#s have been climbing once again reaching triple-digits in G3 Ben Ali win at Kee with a visually impressive late run; improved when blinkers came off and asked to go two turns

                   

#7 – Afleet Willy

(10-1):

Knows only one way, directly to the lead, willing to turn back those who challenge him early; has a string of five straight triple digit BRIS#s when going two turns; loves an "off' track (5:4-0-1)

#2 – One Liner

(7-2):

3 for 3 when taken off Derby Trail last year as "something just wasn't right" per trainer T. Pletcher; makes third start of '18 after getting back to Winners' Circle against much easier foes in latest

#8 – Something Awesome (5-1): Riding a three-race win streak, two in graded stakes and has won 5 of 6 since transferred to J. Corrales barn and returning to natural dirt; HOF rider E. Prado recently won #7000, this one would be "Special"  
REST OF THE FIELD

#1 – Irish War Cry (3-1): Beaten favorite in both starts of '18 campaign, badly in latest when eased; hard to trust this Jekyll & Hyde type-runner, especially at short odds and if track is sloppy
#4 – Discreet Lover (20-1): Dull effort in G2 CT Classic after winning G3 Excelsior at Aqu; finished an equally dull 6th in last year's Special when 87-1…
#5 – Hedge Fund (7-2): A need the lead type runner threw in the towel early when hopped at the start in the G2 Oaklawn Hcp unable to get lead; pace factor
#6 – Papa Zulu (30-1): Local runner took seven tries to pass N2x condition which he did in latest effort; faces tough task in this graded stakes event…
#9 – Untrapped (10-1): Never on the lead early in previous 14 starts, was in latest, weakened; troubled trip in prior two starts; has hit the board in last eight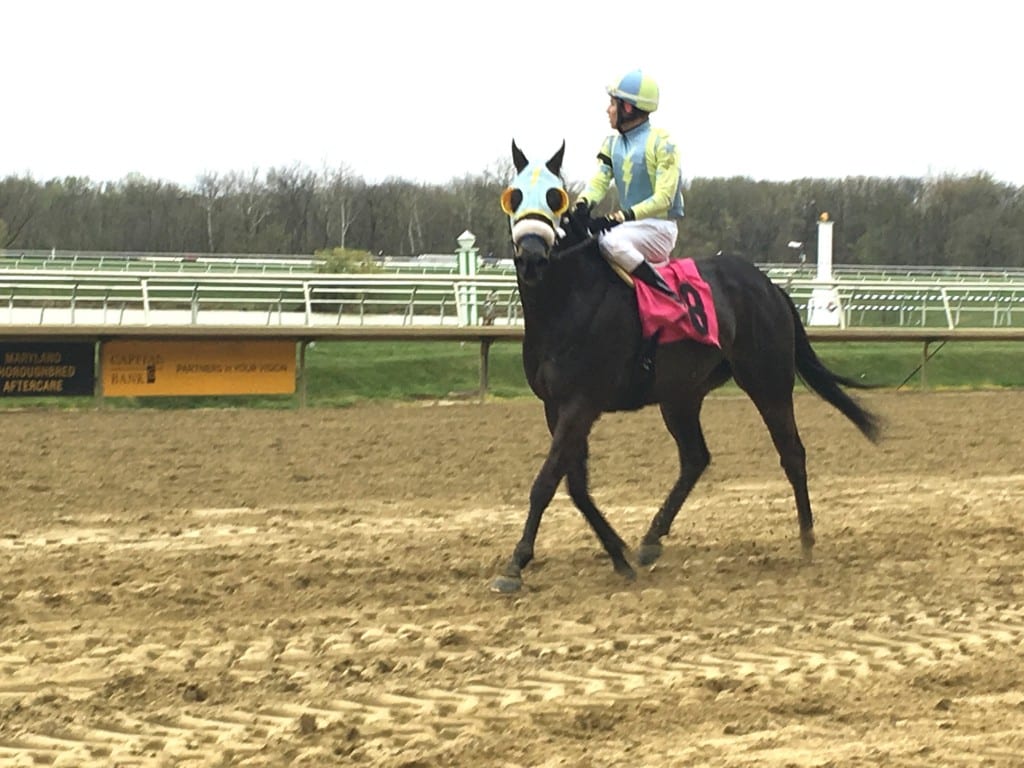 Rocket Heat. Photo by The Racing Biz.

Race 10 — JIM MCKAY TURF SPRINT (MATCH SERIES)
RACE PARTICULARS: Race 10 (4:14pm EDT), $100,000 guaranteed purse for 3-year-olds and upward, 5 furlongs (Turf)
THE PICKS
#1 – Rocket Heat

(6-1):

Appropriately named gelding is the speed of the speed, riding a two-race win streak but failed in this event last year when sent off 4-5 favorite, yielding late to Ben's Cat; didn't face early pressure then and won't this year either; career best BRIS# in latest

 

#7 – Hogy

(2-1):

Gone are the triple-digit BRIS#s but 9-year-old can still get it done with a strong late kick as he won G3 Canadian Turf two back going one mile after a   minor stakes sprint win; will need pace help from unlikely sources to get past top pick here

#3 – Vici

(10-1):

Game gelding doesn't get to Winners' Circle often (22:3-7-4) but fits this 5f distance, appears to like some "give" in the ground which there will be in the Pim turf after receiving plenty of rain this week; needs a top effort in only his second try in a stakes event

#3 – Imprimis (3-1): Late-blooming 4-year-old made a winning debut in Feb. at GP following that with two more wins, each more impressive than the previous one, all going 5f on turf and from off-the-pace which is rare on the GP lawn; taking a big step up in class will test whether he belongs in stakes company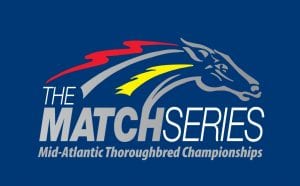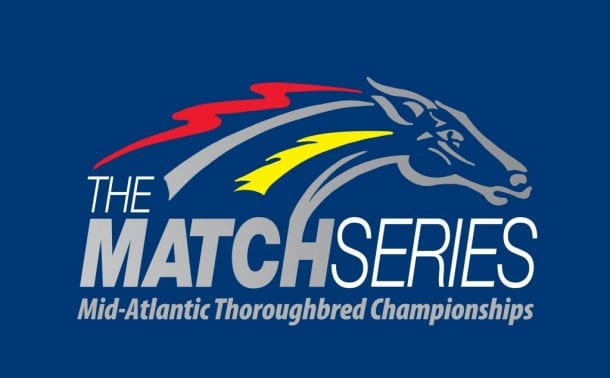 REST OF THE FIELD

#2 – Field of Courage (12-1): Winner of the G2 Neartic at WO when 40-1 last Oct. is lone turf victory on "soft" footing from 5 outings, but none going 5f; third race after layoff and first time with J. Castellano in the irons… #4 – Oak Bluffs (6-1): 8-year-old gets to run at home track for first time in 41st start; exits successful winter sprinting on GP grass (4:1-3-0) but hasn't won a stakes race since Aug. '15
#6 – Unbridled Daddy (30-1): An early speed type when going long but will be coming from off the pace here; only sprint effort came 18 starts back in debut…     
#8 – Pool Winner (15-1): Likes the Pim turf (2:1-1-0) but has struggled of late just to hit the board when in stakes company
#9 – Triple Burner (20-1): Local gelding earned career best (98) BRIS# in latest, a runner-up effort against Alw50k foes; needs more real estate than 5f
#10 – Dubini (12-1): Lightly raced 5-year-old is 4 for 6 at this distance; makes '18 debut in a tough spot; shows just one A.M. drill; hard to recommend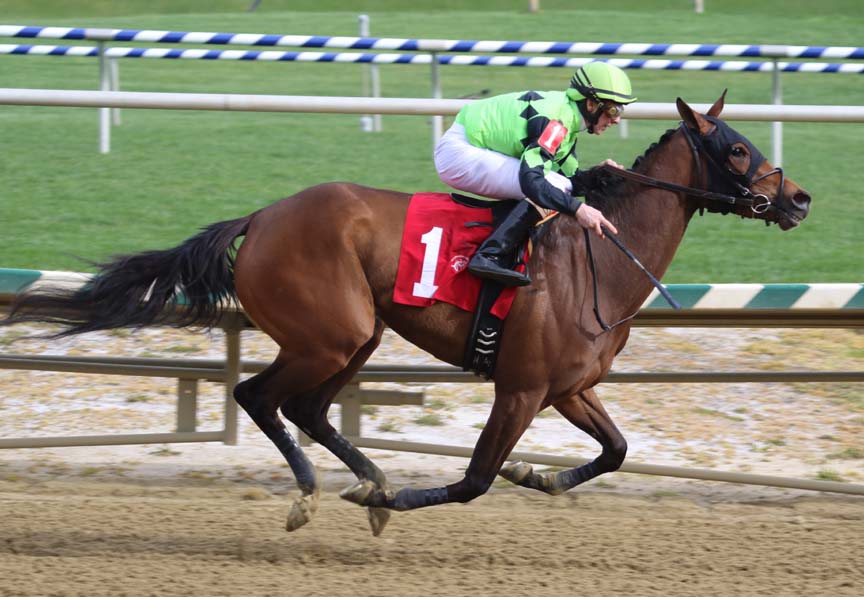 Goodonehoney. Photo by Laurie Asseo.

Race 11 — GRADE 2 BLACK-EYED SUSAN STAKES
RACE PARTICULARS: Race 11 (4:48pm EDT), $250,000 guaranteed purse for 3-year-old fillies, 1 1/8 miles (Dirt)
THE PICKS
#7 – Goodonehoney

(5-1):

Local gal won automatic bid into this race via 7-length romp in the Weber City Miss; having witnessed both of her starts, she's shown the maturity and talent to compete against these out of town invaders with just another small step forward

                  

#9 – Sara Street

(4-1):

Game in half-length defeat in the G2 Gazelle at Aqu after being bridesmaid to the #2 in here; is one of just a few who will want the early lead which bodes well for to improve off her latest at the same distance as today; jock's only mount on the card

  

#4 – Red Ruby

(5-1):

Failed as 4-5 choice in the G3 Honeybee when fourth with no apparent excuse; trainer K. Gorder is 0 for 28 in graded stakes races the past few years but wouldn't ship from Kee unless she felt her filly belongs based on her winning with 26% of beaten favorites in their next outing; moves up on an "off" track

#8 – Indy Union (10-1): Distant runner-up to top pick in '18 debut when equipped with blinkers; second time with the hood often provides handsome returns; will be passing rivals in the stretch with J. Ortiz back in the irons
REST OF THE FIELD

#1 – Tell Your Mama (20-1): Considering a maiden won this event last year, don't auto-toss  this one whose been ITM 5 of 10 starts; toss her turf and BC Juv. Fillies outings she looks even better; a distant fourth in the G2 Oaks two races back…
#2 – Midnight Disguise (4-1): NY-bred/based filly didn't fire as bettors choice in G2 Gazelle; adds blinkers and reunited with I. Ortiz, Jr. who was aboard for first two wins of her career…   
#3 – Coach Rocks (7-2): Exits disappointing run in G1 KY Oaks which followed gutty win in G2 GP Oaks; asking a lot for a top effort 14 days since last race…
#5 – Mihrab (30-1): Made short work of local fillies in N1x after melting down in Post Parade prior to G2 GP Oaks; third race after layoff; will relish the 9f
#6 – C.S. Incharge (30-1): Not up to the task in G1 Ashland  when unable to hang early with eventual winner who came back to win G1 KY Oaks; pace in here  will be more to her liking…
#10 – Stakes On a Plane (20-1): First time Lasix in seventh start;  claimed for $25k last Fall out of maiden win on turf; pedigree says she doesn't want distance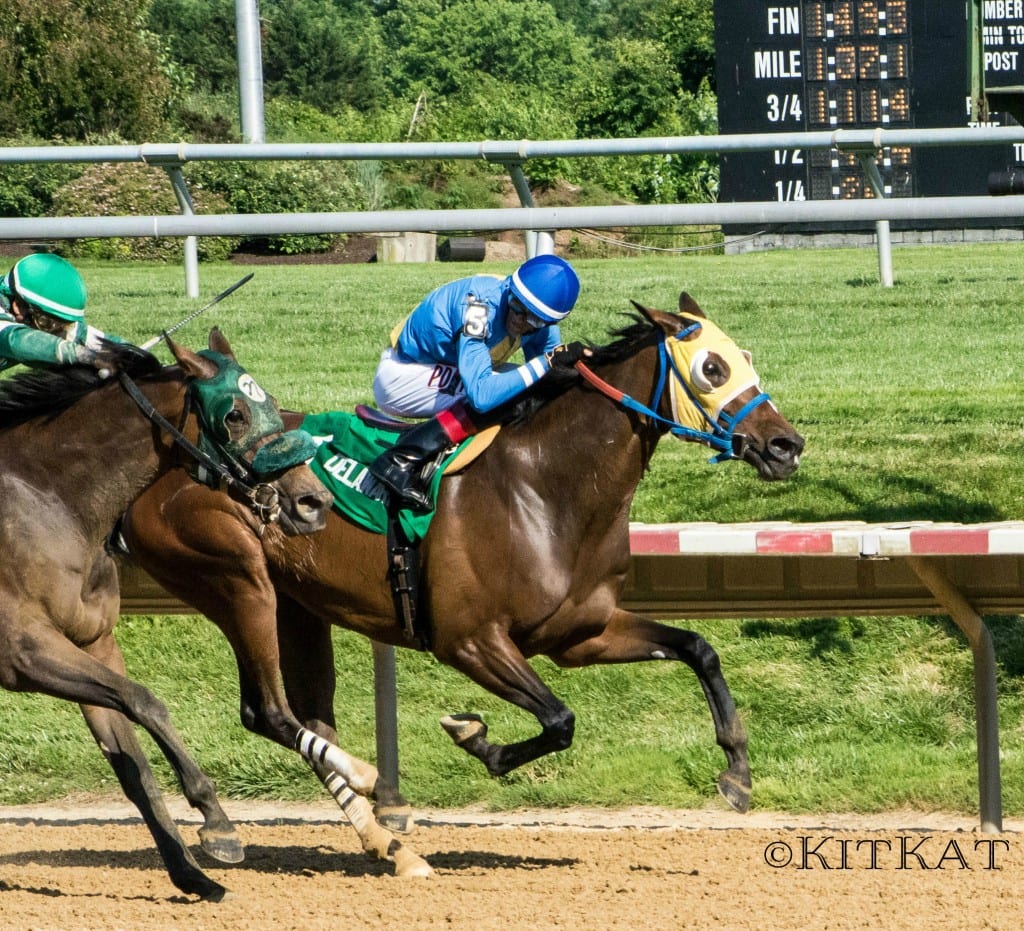 Power of Snunner. Photo by Kathleen O'Leary.
Race 12 — HILLTOP STAKES
RACE PARTICULARS: Race 12 (5:25pm EDT), $100,000 guaranteed purse for 3-year-old fillies, One Mile (Turf)
THE PICKS
#8 – Thewayiam

(3-5):

We know, thanks Capt. Obvious! As long as this stays on the turf, if not she'll likely be scratched; winner of 4 of 6 turf races since arriving in the U.S. with two of those in G3 events

#1 – Peach of a Gal

(10-1):

Conquered MD-bred/sired group when returning home after spending winter at Tam to break maiden and progress to a troubled run in G3 FL Oaks; faces tall task but turf speed figs are decent; another likely scratch if taken off the turf

#10 – Judge Lee

(30-1):

Makes fifth career start, first on the turf; this gray daughter of Street Sense out of an El Prado mare should take to the grass like a duck to water; adding blinkers three back was a winning move;  price will be more attractive on turf than off it

#2 – Souper Striking (8-1): Consistent turf runner speed figure-wise only needs to improve a tad to be in the mix turning for home; leapt form beating N1x to G3 didn't work out but a better, stalking trip here, whether on turf or main track, could yield favorable results
Race 13 — GRADE 3 ALLAIRE DU PONT DISTAFF
RACE PARTICULARS: Race 13 (5:57pm EDT), $150,000 guaranteed purse for fillies & mares, 3-years-old and upward, 1 1/8 miles (Dirt)
THE PICKS
#1 – Fuhriously Kissed

(5-1):

Ran her eyeballs out in G1 Apple Blossom Hcp to earn SHOW purse just one race after being claimed for $62k; 103 career best BRIS# came at this distance on a sloppy track by 4-lengths over #7 in here; will need early pace help to be heard from in deep stretch

#7 – Blue Prize

(2-1):

May only face an early challenge from one other rival (#4) which will make her trip much easier than previous graded stakes efforts; third start since layoff and always part of Trifecta at distance (5:2-2-1) and when the track is "off" (3:1-1-1) makes her the one to beat

#6 – Verve's Tale

(9-5):

Logical program choice as she's hit the board in 18 of 19 starts consistently earning BRIS#s in the high 90s while competing in more than twice as many graded stakes events (9) than her closest competitors; an "off" track is her Achilles Heel (4:0-2-0)

#3 – Power of Snunner

(12-1):

Don't sleep on this 8-year-old mare who got a public workout in '18 debut last month in a PA-bred stakes contest going 7 furlongs which seemingly was used as a prep for this two-turn event; tries to make amends for fourth-place effort in '17