Lukas: Justify has "great chance" to sweep Triple Crown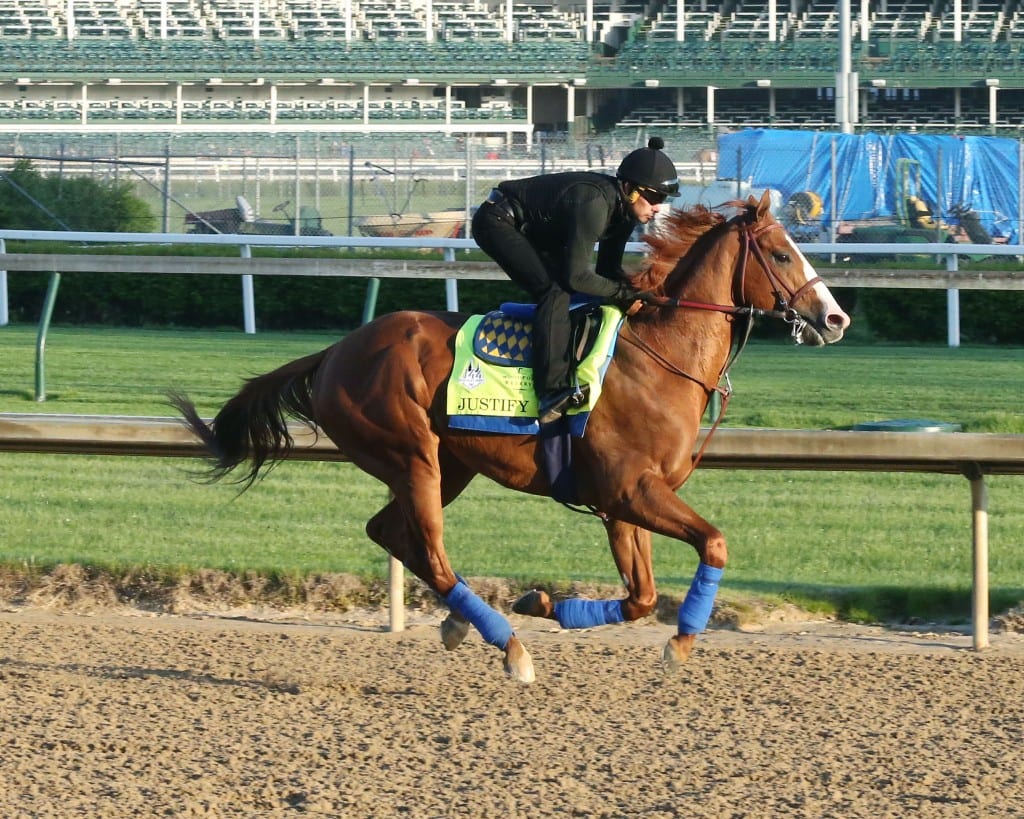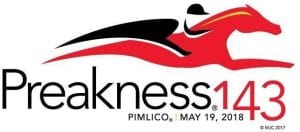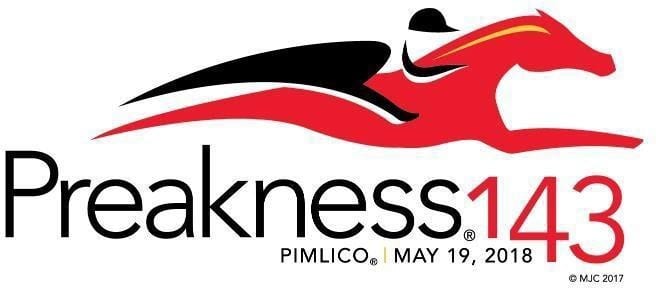 Justify galloping at Churchill Downs. Photo provided by Maryland Jockey Club.
From a Maryland Jockey Club release
Trainer D. Wayne Lukas, a six-time Preakness winner, correctly predicted that American Pharoah would sweep the 2015 Triple Crown even before the Bob Baffert trainee ran in the Kentucky Derby. The Hall of Fame trainer, who is scheduled to run Calumet Farm's Bravazo and Robert Baker and William Mack's Sporting Chance in the May 19 Preakness at Pimlico, said he thinks Justify will do the same.
"I think this horse has a great chance; I wish I had him," Lukas said. "There's no horse out there right now that can stop him on this run. He's going to get a mile-and-a-half (in the Belmont). He's going to run well in the Preakness. It's his Triple Crown to lose. Ironically, we'll have two Triple Crown winners in a short period of time. I really think it could happen.
"But you can't concede anything. My job is to spoil the dream. That's what I get paid for. I'm a good friend of Bob Baffert's, but when the gate opens, he's on his own. He didn't cheer for Oxbow all the way around there," Lukas added with a laugh, referring to his 2013 Preakness winner. "Unless somebody shows up, he's the dominant horse. I feel Bob is in a beautiful position to pull off another Triple Crown. This field of horses has to really step up in order to beat him."
Before the Derby, many observers talked about how deep and strong the 3-year-olds were. Lukas long has said the best recipe for a Triple Crown is a superior horse in an inferior year. This did not appear to be an inferior year.
"They got maybe a test of reality a little bit in the Derby," Lukas said. "I think it's a very good field, very good 3-year-old crop, but Justify, to me, is the dominant horse. And the fact that he's so lightly raced and now that he's got the Derby under his belt, he should get better. Bob's horses generally always stay in top form. I think it would be silly for us to think he's going to be less than tough in this race. I expect him to run a huge race in the Preakness, and I think we'll see that."
Justify's light schedule to date — he's raced only four times, including the Derby — was widely seen as a disadvantage prior to the Run for the Roses. Now, some are wondering if it actually gives him an edge on the competition, at least those who faced him in Louisville.
"Could be," said WinStar Farm president and CEO Elliott Walden after watching the Bob Baffert-trained colt gallop Saturday morning at Churchill Downs. "And the horse is a big, strong horse. That plays in your favor. You see a lot of horses get sucked up with the run to the Derby. And I think the points thing makes people run a little harder in those races. You can't miss, so you really have to have your horse ready and honed in for those points races. By the time you get to the Derby, you're honed in pretty hard.
"So when you have a horse like Justify, who is 1,280 pounds going into the race, he's got a little more in reserve than a lot of horses," he added. "I don't know what he weighs now, because they weigh them in California when they go to the races. When they walk to the paddock, they walk on a scale. That's why Bob knows what he is. I don't think Bob has a scale in his barn. He did say that at the same point, (2015 Triple Crown winner) American Pharoah was 1,180 in the spring."
There aren't too many Thoroughbreds who push 1,300 pounds, with a much smaller pool of such big horses who are so fast.
"That's a good combination," Walden said.
Justify galloped Saturday morning at Churchill Downs and left his connections pleased.
"He looked good," Walden said. "I've been really happy how he's been galloping the last few days… Good energy level, pulling the rider — everything you like to see."
Jimmy Barnes, the chief assistant overseeing Justify's training in Kentucky, said Baffert is expected to fly to Louisville Sunday evening. Though Baffert certainly has been known to change his mind, Justify is expected to gallop into the Preakness. The Derby winner is scheduled to fly to Baltimore on Wednesday and is expected to land about 1:30 p.m.
"Justify couldn't be looking any better," Barnes said. "Going into Baltimore this next week, I couldn't be happier with how he looks. The next seven days it's just keeping him healthy and happy. He had a hard race in the Derby, and the Preakness comes up quick. You just want to go in there with a happy, healthy horse."
Lukas' Preakness duo of Bravazo, sixth in the Kentucky Derby, and Pat Day Mile (G3) troubled fourth-place finisher Sporting Chance also galloped beneath the Twin Spires, shortly after the Churchill Downs track opened Saturday. They are scheduled to work at Churchill Sunday morning before vanning to Baltimore Monday.
"We'll keep hammering away at him obviously," Lukas said of taking on Justify. "Our horses are tough. The thing about the Preakness is that you've got to have a tough horse, a horse that can rebound very quickly from the Derby, regardless of the trip. We've got one of those this year – Bob (also) has one is the problem. You can see it by the way he gallops, how aggressive he is.
"Our horse (Bravazo) is tough. I'd like to run it today; I don't want to wait a week."
How does Lukas beat Justify?
"Sporting Chance is a very talented horse," he said of Saratoga's Grade 1 Hopeful winner who was disqualified from third to fourth in Keeneland's Blue Grass (G2) after coming out sharply in the stretch and impeding Free Drop Billy. "All we've got to do is get a clean trip and see it. I see it every day out there. He has got to get over all the little hiccups – and they were man-made in my opinion; the horse is an absolute professional. It's no question he was over-ridden in the Blue Grass and so forth. We get a smooth trip and I think you'll see a very talented horse. He fits with the rest of them."
Bravazo won the Risen Star (G2) at Fair Grounds, then faded badly when eighth in the Louisiana Derby (G2).
"The problem with Bravazo is very simple: We go from the Risen Star to the Louisiana Derby four weeks later and we get nothing out of it. By that, I mean from a training standpoint we did not move forward. That was a move backward in condition and everything. Now you go six weeks from Louisiana Derby to Kentucky Derby. In my mind as a trainer, I trained him for 10 weeks to the Derby. I didn't get anything out of the Louisiana Derby. You're going to see a horse move forward off the Kentucky Derby now."
Luis Saez will ride Bravazo for the first time in the Preakness, while Luis Contreras has the mount aboard Sporting Chance.