Wes Hamilton, Vargas vying for top jock honors at Laurel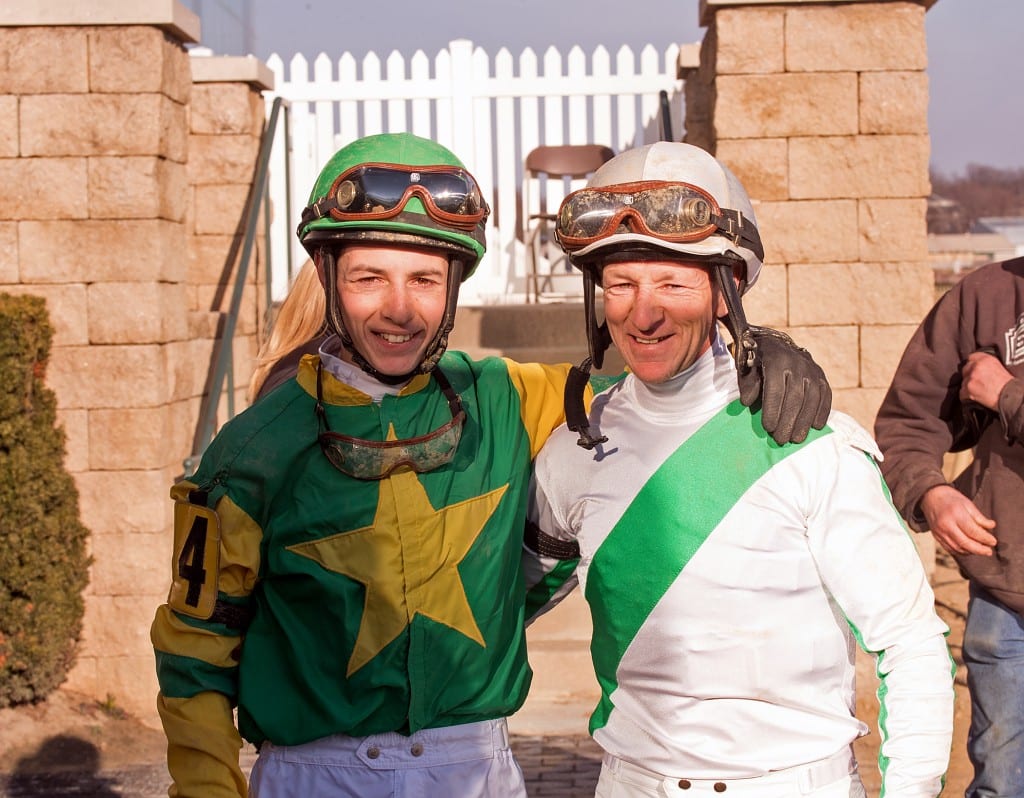 Weston (left) and Steve Hamilton. Photo by Jim McCue, Maryland Jockey Club.
From a Maryland Jockey Club release
While Claudio Gonzalez has eliminated all suspense when it comes to the leading trainer at Laurel Park's 2018 winter-spring meet, the race for the riding title is still very much up for grabs.
Apprentice Wes Hamilton has a one-win edge over journeyman Jorge A. Vargas Jr., 45-44, as the two jockeys head into the final four days of the meet starting Thursday, May 3. The 60-day stand concludes Sunday, May 6.
In The Racing Biz alternative jockey rankings, Vargas has led the colony virtually throughout the meet and had about a 20-point lead in our last listing, with 330.44 points. Hamilton was fourth in those rankings with 269.13.
Hamilton, 19, is named in eight of 10 races Thursday and six of 10 Friday at Laurel, while Vargas, 23, has mounts in six races both Thursday and Friday. Hamilton is also named on a horse Thursday night at Penn National, where Vargas also has a mount Thursday and Friday.
The youngest son of veteran rider Steve 'Cowboy' Hamilton, tied for sixth in the Laurel standings with 24 wins but third with $984,339 in purse earnings, Wes Hamilton leads all riders with 288 mounts and is second with a $1.116 million bankroll.
Hamilton turned pro Dec. 2 and rode his first two winners nine days later – his only mounts on the card – both at Laurel. Since then he has enjoyed 12 multiple-win days including four each on Feb. 18 and March 17.
Seven of those multi-win days have come since March 23, when Hamilton entered that weekend trailing Vargas by nine victories.
"We're duking it out and we're pretty competitive toward each other, so it's really fun," Hamilton said. "I never thought I was going to be this far along. I've learned so much in the past month or two, and it's just all come together really nicely. I'm picking up just basics and getting better overall. I'm very happy with my spot right now. I've been getting on eight to 12 horses every morning, so it's all paying off. We're getting a lot of mounts."
The elder Hamilton, 43, won spring meet titles at legendary Pimlico Race Course in 2004 and 2005. He beams with pride from a front-row seat watching his son's development.
"I couldn't be happier for my son. It's awesome watching him grow into being a rider and a young man, his efforts he puts in in the morning [and] all the people he's riding for that are behind him," he said. "He's out there every day and he gets on 10, 12 horses. You can't knock hard work. He was there [the other] morning when it was raining right straight down and he was on eight or nine horses. My hat's off to him. Hard work's paying off and, as a rider, he's really grown and doing well."
Vargas, whose father and grandfather were trainers in his native Puerto Rico, is riding full-time in Maryland for the first time after establishing himself as one of the leading riders at Parx since his arrival in the U.S. in 2013.
He has weathered a slump that has seen him go 9-for-82 since March 18, missing some days to ride in out-of-town stakes. Vargas ranks first with $1.585 million in purse earnings and second with 242 mounts and holds an in-the-money strike rate of 57 percent.
Overall Vargas owns 11 multi-win days, including four on March 5, and his single biggest triumph came aboard Ms Locust Point in the Barbara Fritchie (G2) Feb. 17.
"It's been a very good meet for me. It's the first time I ever came here for the meet and I can't complain," Vargas said. "If we win, I'll be very happy and very pleased. If we don't, I'm good with the work that we have done. We're just thinking of the future."
Vargas said the immediate future calls for him to remain in Maryland. The 12-day Preakness Meet at Pimlico opens Thursday, May 10 and concludes with a special Memorial Day program Monday, May 28.
"The plan to stay here. We're riding for good people and riding good horses, so it's all good," he said. "I can't wait for Pimlico. There's such a history there and really good races coming up ahead so I'm looking forward to it."
Gonzalez, Maryland's leading trainer in 2017, has a 37-20 win lead over Kieron Magee entering the final weekend, and also has the most starters (148) and purse earnings ($1,006,410).
It will be the sixth individual meet title for the 40-year-old Gonzalez and third in a row following Laurel Park's 2017 summer and fall stands. He also topped the standings during the Maryland State Fair at Timonium at preceded Laurel fall.