Edgar Prado, having come full circle, nears milestone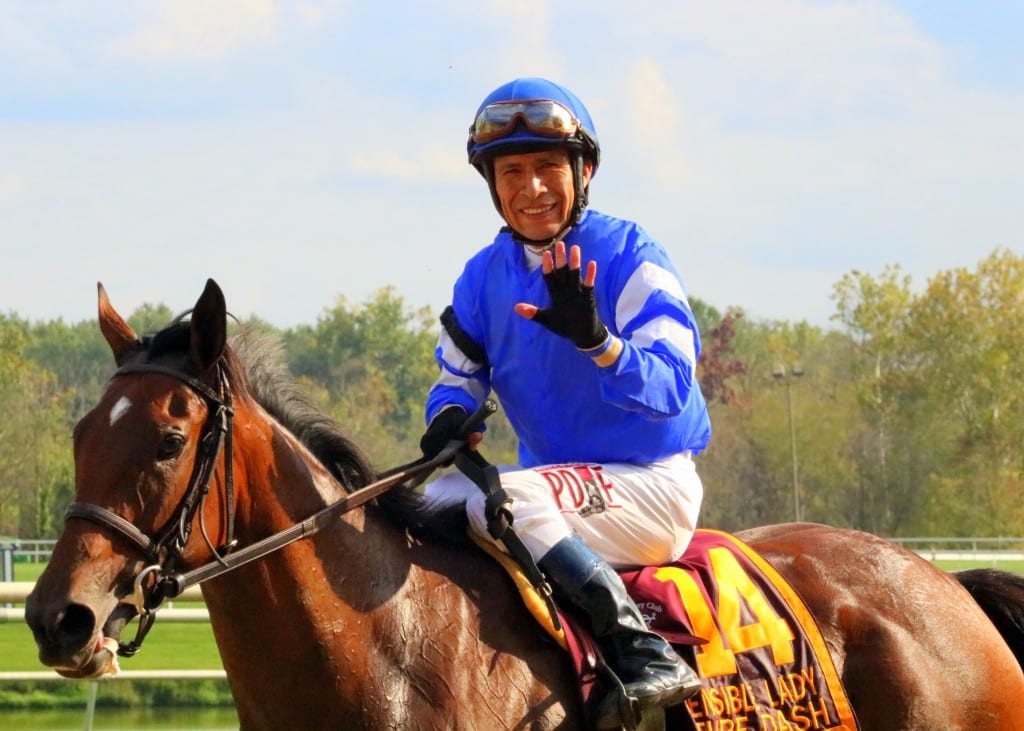 Edgar Prado smiles after Always Thinking won the 2017 Sensible Lady Turf Dash. Photo by Dottie Miller.
From a Maryland Jockey Club release
Edgar Prado was still a teenager when he first came to the United States, unable to speak English but with an undeniable talent to ride racehorses. More than three decades later, as he approaches his 51st birthday in mid-June, the soft-spoken Peruvian is closing in on a rare milestone that speaks to both his ability and durability.
Entering the penultimate weekend of Laurel Park's winter-spring meet, Prado needs six wins to reach 7,000 for his career and join an exclusive club that currently has only seven members – six of them, like himself, enshrined in the National Museum of Racing's Hall of Fame.
Prado is named in four of 11 races both Friday and four of 12 races Saturday at Laurel, where he has five wins, two seconds and one third from 17 mounts at the current meet after spending the early part of 2018 in South Florida.
"I'm very excited, I'm very happy, I'm very thankful, I'm very blessed. I've met so many great people over my career and ridden so many great horses that makes this possible," Prado said. "I thank God for letting me be here and getting this far knowing that this is a career than can be very dangerous. I've been very blessed to have a great career."
Prado is the leading active rider with 6,994 wins, ranking eighth all-time behind Russell Baze (12,842), Laffit Pincay Jr. (9,530), Bill Shoemaker (8,833), Pat Day (8,803), David Gall (7,396), Chris McCarron (7,141) and Angel Cordero Jr. (7,057). He ranks seventh with $266.5 million in career purse earnings, a category led by Hall of Famer John Velazquez's $383.3 million.
"I want to get to 7,000. It's all about winning, it's all about riding, it's all about competing. So far, I feel great," Prado said. "If I have the opportunity to continue to ride I'd like to try to reach Cordero. That would be amazing.
"It's all about opportunity. When you have the opportunity to ride horses and you're able to show up at the track," he added. "I'm feeling great and I feel excited to do it. I haven't forgotten how to ride over time so I want to keep going."
Bob Klesaris, a former leading trainer in New York and New England with more than 2,200 career wins from 1976-2007, now works as Prado's agent. Klesaris has been instrumental to Prado's success over the years, and was the rider's choice to present his plaque at the 2008 Hall of Fame induction ceremony.
"You think of all the riders there have been in the last 100 years. I think [7,000 wins] is a huge deal," Klesaris said. "You look at some of the very, very top riders and they're at 2,000 or 3,000, sometimes 4,000. It's a huge accomplishment. Edgar is a credit to the profession."
Klesaris points to Prado's dedication to fitness and nutrition as a key to his success, helping his longevity and his recovery from injury particularly in recent years. He injured his neck in a Keeneland training accident in 2014 and the next December missed time after breaking six ribs in a spill at Gulfstream Park.
Mental preparation is also important for Prado, who grew up as the second-youngest of 12 children to his father Jose, a former exercise rider and trainer in Peru, and late mother Zenaida. Two of his brothers, Jorge and Anibal, were also jockeys.
"The guy runs five miles a day. Never has a weight problem. Watches what he eats. He's very disciplined in his eating. He's constantly telling me I don't eat right," Klesaris said. "It's funny because when we work a horse for somebody they'll tiptoe around asking me if he can possibly work a second one. My reaction is, 'Yeah, that's one less mile he runs today.' He works two, he only runs three miles.
"He's very dedicated. I'm not saying it because I represent him; I say it because I believe it – one race, one horse, for the money, you want Edgar Prado. I think his stakes record proves that. He'll go back five, six races and watch the replays of every horse he's riding against and watch and see what intimidates them. If he's riding a horse for the first time, he'll go back five or six races and get to know the horse that way."
Prado began riding in 1983 in Peru where he was the leading apprentice before arriving in South Florida, getting his first mount on Always Misty April 16, 1986 at Hialeah. His first U.S. win came June 1, 1986 on Single Love at the former Calder Race Course, his 17th mount.
When Klesaris was looking for a rider to bring back to Suffolk Downs with him, he reached out to Prado's then-agent, Victor Sanchez, now the Clerk of Scales at Gulfstream Park. Klesaris said Sanchez told him, "You don't know him, but he's pretty good."
"I met Edgar the next morning. Of course he couldn't speak English," Klesaris said. "It was very, very broken, but he tried. He must have spent all night rehearsing. He said, 'Mr. Klesaris, how are you? If you give me the opportunity I won't prove you wrong.' I know he rehearsed it all night long but he was sincere in how he did it."
Prado went to Boston where he impressed Klesaris and infuriated his fellow riders with a fearless, aggressive style that often found him in trouble with the stewards.
"He wasn't dangerous by any means but he rode tight. He intimidated a lot of the riders up there and they were complaining to the stewards and the stewards started giving him days after days after days. It was incredible," Klesaris said. "One steward said to me, 'Bob, listen. You're the leading trainer here and we like you, but believe me when I tell you I've been in this business 40 years and this kid is not gonna make it.'"
Instead, Klesaris sent a string of horses to Maryland with Prado as his stable rider. He got his first win May 14, 1989 at Laurel on a Klesaris-trained long shot named Long Allure. The horse paid $42.
"It was going to be a negative riding [at Suffolk]. I went back to the barn one day and talked to Edgar," Klesaris said. "I told him, 'I have good news and bad news.' The good news is, the stewards here will never bother you again. He goes, 'OK, what's the bad news?' I told him, 'You're going to Maryland.' He said, 'What country is that?' The rest is history."
Prado flourished in Maryland, winning 24 riding titles at Laurel and legendary Pimlico Race Course between 1991 and 1999 and leading the nation in wins from 1997-99 including an incredible 535 in 1997.
"Maryland has been great to me. From the first time I came here in the early 90s they opened the door for me and gave me a very good welcome," Prado said. "I really worked hard to maintain my position for many years and people here gave me the opportunity and I was very successful here. To get No. 7,000 here would be very special. I would be very thankful to all the people that stood behind me for so many years."
Prado moved his tack to Saratoga in 1999 to ride first call for trainer John Kimmel, launching him to even greater heights. He won 11 riding titles in New York, captured the Belmont Stakes (G1) in 2002 and 2004 – both times spoiling Triple Crown bids – and in 2006 won the Kentucky Derby (G1) on ill-fated Barbaro.
An example of Prado's skill and class were on display during a race at Saratoga Aug. 2, 2008. Fellow rider and 2017 Hall of Famer Javier Castellano lost his right rein out of the gate and found himself on the lead and unable to control his horse. Prado, racing to his inside on the rail, reached across with his whip under the neck of Castellano's mount and lifted the rein back into the jockey's hand while Velazquez, on Castellano's outside, kept the horse from bolting out.
"Edgar helps all young riders. He doesn't criticize anybody. He's just a class person, he really is," Klesaris said. "People ask me about him and I tell them he's very hard, but he's very, very fair. There's a lot of respect there."
Though his business has slowed considerably in recent years – 2017 came and went with career lows in wins (54) and mounts (383) – Prado continues to win big races. He earned his fifth and most recent Breeders' Cup victory with Runhappy in the 2015 Sprint (G1), and won the Matriarch (G1), Shadwell Turf Mile (G1) and Woodford Reserve Turf Classic (G1) in 2016.
On April 21, Prado guided Something Awesome to a hard-fought triumph in the $1 million Charles Town Classic (G2). It was the third straight stakes win and second together for horse and jockey, following the Harrison E. Johnson Memorial March 17 at Laurel. Now with $901,000 in career purse earnings, Something Awesome also captured Laurel's Barbara Fritchie (G2) Feb. 17.
"The horse is moving forward," Prado said. "Don't get me wrong, every horse counts but when you win a Grade 1 or Grade 2 race it makes it very special. Now that my career is going a little slower this is like a big shot of vitamins. It gives you a little energy and moves you forward to continue to work hard and continue to win races."
Since returning to ride regularly again in Maryland in the spring of 2016, Prado has been a mentor and a competitor for a strong colony of riders. He continues to be well-received by horsemen and fans alike.
"This is where my career started and brought me to a different level," he said. "It's a very special, warm feeling when you come back to the winner's circle and you hear the ovation from the people and the cheering from the people. It makes you feel good. It makes you feel like you did something right and it makes you feel like you made someone happy."