Colonial Downs: Back to the future as sale is completed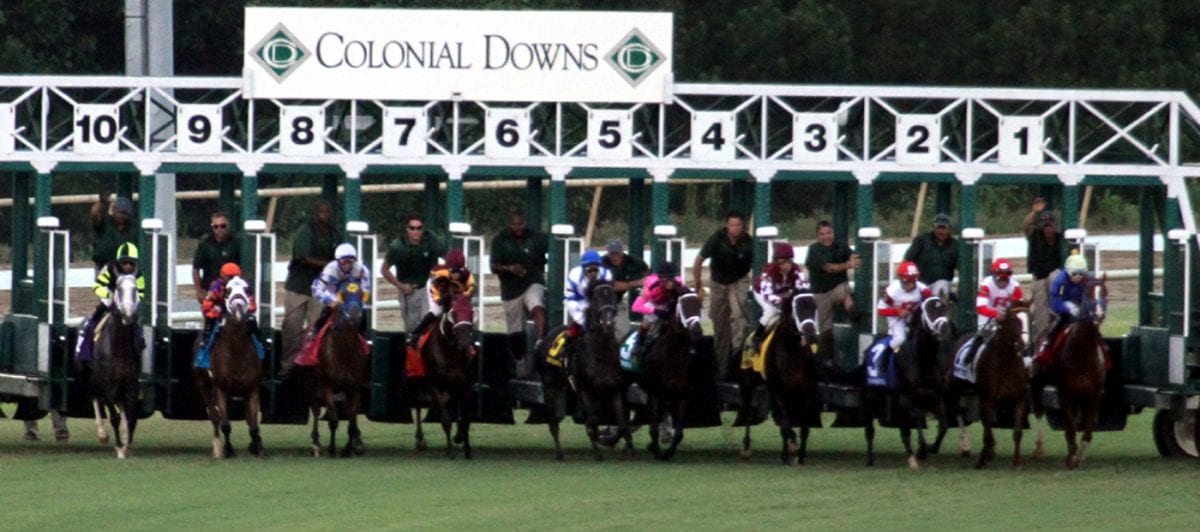 Photo by Laurie Asseo.
by Frank Vespe
Looks like it's back to the future in Virginia — with a twist.
Revolutionary Racing and Peninsula Pacific on Wednesday announced they had closed a deal to purchase Virginia's Colonial Downs, located in New Kent County, for "in excess of $20 million."
Next stop: the return of live racing, perhaps as early as 2019.
"The return of horse racing to Virginia will mean the creation of new, good-paying jobs, the generation of much needed tax revenue for the state and localities, and a significant economic impact statewide," Revolutionary's CEO, Prentice Salter, said in a statement. "In a race, only one horse can come in first; but with the reopening of Colonial Downs, the entire Commonwealth will win."
Colonial Downs, which opened for live racing in 1997, hosted as many as 45 days of live racing per year, though most years it held fewer. It conducted its most recent live meeting in 2013, when it held 24 days live. Since then, however, live racing has fallen victim to an acrimonious dispute between Jacobs Entertainment, which owns Colonial, and the state's horsemen.
Since then, the horsemen, through the umbrella group Virginia Equine Alliance, have gradually been rebuilding the state's off-track wagering network — once 10 outlets strong, it had declined to none but now is back up to four — while seeking a venue at which to hold live Thoroughbred racing. They have also held a handful of Virginia-bred and Virginia-sired races in Maryland and at Great Meadow near The Plains, VA.
Part of what had kept the track dark these last years was the difficulty of offering a critical mass of racing days with competitive purses in an environment in which every nearby state — except Virginia — had purses enhanced with revenues from other forms of gaming.
That is about to change. Earlier this month, Gov. Ralph Northam (D) signed HB 1609 into law. That will permit Revolutionary to deploy "historical horse racing" machines, which provide players a slot machine-like experience while using the results of previously run races to generate winning numbers. The machines are expected to fatten the company's revenue by nine figures — and pump millions of dollars into racing purses.
"This moment would not be possible without the proactive leadership shown by the General Assembly and Gov. Ralph Northam," added Larry Lucas, chairman of Revolutionary, in a statement. "A vibrant and successful Colonial Downs is critical to ensuring that horse racing can thrive and grow in the Commonwealth. Horse racing can be traced to the earliest years of the Colony of Virginia. And every Virginian takes great pride in this being the birthplace of Secretariat, the most famous horse to ever take the track. Now with this purchase we are well on our way to bringing back this historic industry."
Racing advocates have predicted that live racing could return to Colonial as early as 2019, although that first meet is expected to be a short one.  A study commissioned by Revolutionary estimated the build-out of the off-track wagering network — including historical racing machines — to be completed by 2022, at which time, it suggested, there would be 25 days of live racing at Colonial Downs.
Of course, there are many questions still to face. Among them will be when Colonial will race and what niche in the racing world it will occupy. In its former incarnation, Colonial ran in the summer when the Maryland tracks took off and played a leading national role in turf racing, particularly for three-year-olds. Now, however, the Maryland tracks run virtually year-round — including through the summer — and the sophomore turf division is increasingly crowded with races.
Still, there's no question that for Virginia racing interests, the purchase of Colonial Downs by Revolutionary represents an important step towards the future.