"Man of steel" Cintron hoping to get back in saddle soon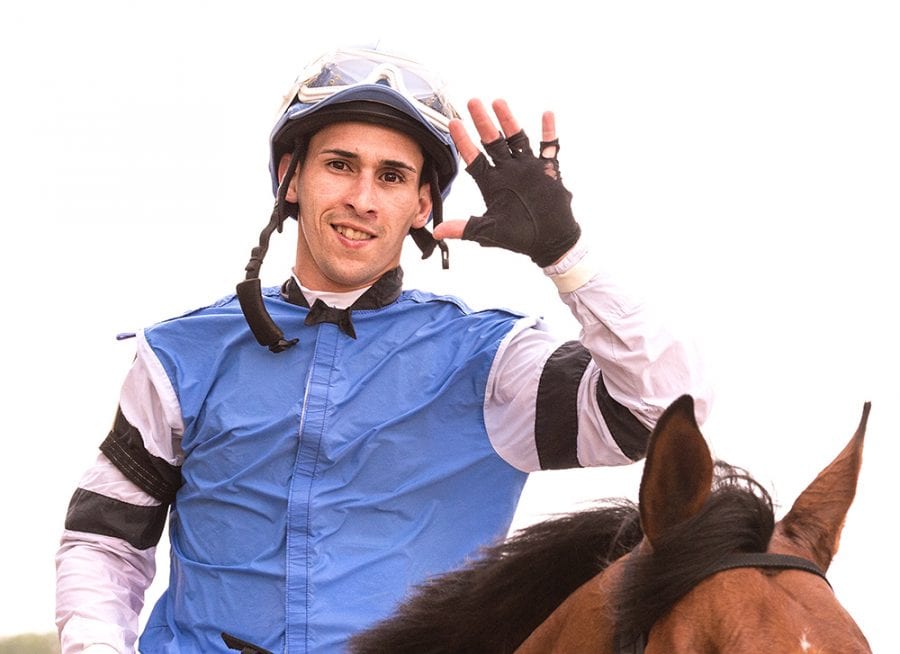 Alex Cintron. won five on April 22, 2016. Photo by Jim McCue, Maryland Jockey Club.
by Doug McCoy
Their job title is jockey but to each other and to themselves they are "riders." When a rider can't ride, he or she is like a fish out of water: out of his element and totally lost.
For the past five months Alex Cintron has been unable to do the one thing he loves to do more than anything else, ride race horses. Since November 19 of last year when he went down in a spill at Laurel Park, Cintron's life has centered not around the thrill of riding and the exhilaration of winning but surgical procedures, medical tests, rehabilitation, pain and uncertainty.
It's not the first time Cintron has faced the challenge of recovery following injuries suffered in a serious riding accident. In 2014 the rider was having a banner season with some 125 winners and purse earnings of almost $4.3 million when he went down in a spill the day before that year's De Francis Dash card. The accident left the rider with serious fractures and injuries to the facial area.
Adding insult to injury, the accident cost the rider a considerable loss in income. Several horses he was named on for De Francis Day won with substitute riders, including Zee Bros, winner of the $350,000 De Francis Dash. Cintron may have lost approximately $33,000 in earnings from that day alone.
Oddly enough Cintron was on pace for his best season ever when he went down last fall. At the time of his accident the rider had won a career-high 132 races and his mounts had earned over $4.1 million.
This latest spill was particularly hard on the rider. The trauma to his facial area affected and dislodged previously implanted plates and appliances. It took an extended period of time for the swelling to subside before doctors could work in the area and begin repairing the damage. During that period Cintron had a very difficult time sleeping. In addition to the facial injuries, there was also damage to his shoulder and knee. The rider admitted that for a time he was depressed and considered hanging up his tack.
"When I couldn't sleep, couldn't rest, it was very tough mentally and I was just really down for a while," the rider said last week. "But my family rallied around me, they help to boost my spirits and once I was able to rest better, I started to think about coming back."
In addition to the procedures done to repair the damage to his facial area, Cintron also had surgery to repair damage to his knee, and it took more than two months of rehabilitation to regain full use in that area.
Cintron had a consult with his surgeons last week about the progress from work done around his facial area and came away from the meeting with some positive news.
"They told me if everything continues as it has, they're going to clear me to get on horses by the end of April, and I should be ready to ride sometime in early May," he reported. "I've been going out in the mornings, going to Fair Hill to visit some the barns like Graham's (Motion), and while it kills me to not be able to be able to get up in the saddle, I know it won't be long now. I can't wait!"
Cintron, a talented rider who's had more than his share of bad luck, is philosophical when it comes to the possibility of injury.
Great to see jockey Alex Cintron out and about at Fair Hill this morning. The guy is made of steel, literally.

— GrahamMotion (@GrahamMotion) April 12, 2018
"You know when you're a jockey that there's always the chance you're going to be in accidents and get hurt. We know this and live with it," he explained. "I've had some bad luck but I'm still young, I still have the drive to win and succeed and I still love riding and competing. Right now I just want to get back in the saddle."
Cintron is matter-of-fact, but others — trainer Graham Motion among them — are more impressed.
"The guy is made of steel, literally," he said of Cintron in a recent tweet