Charles Town Classic: Something Awesome proves best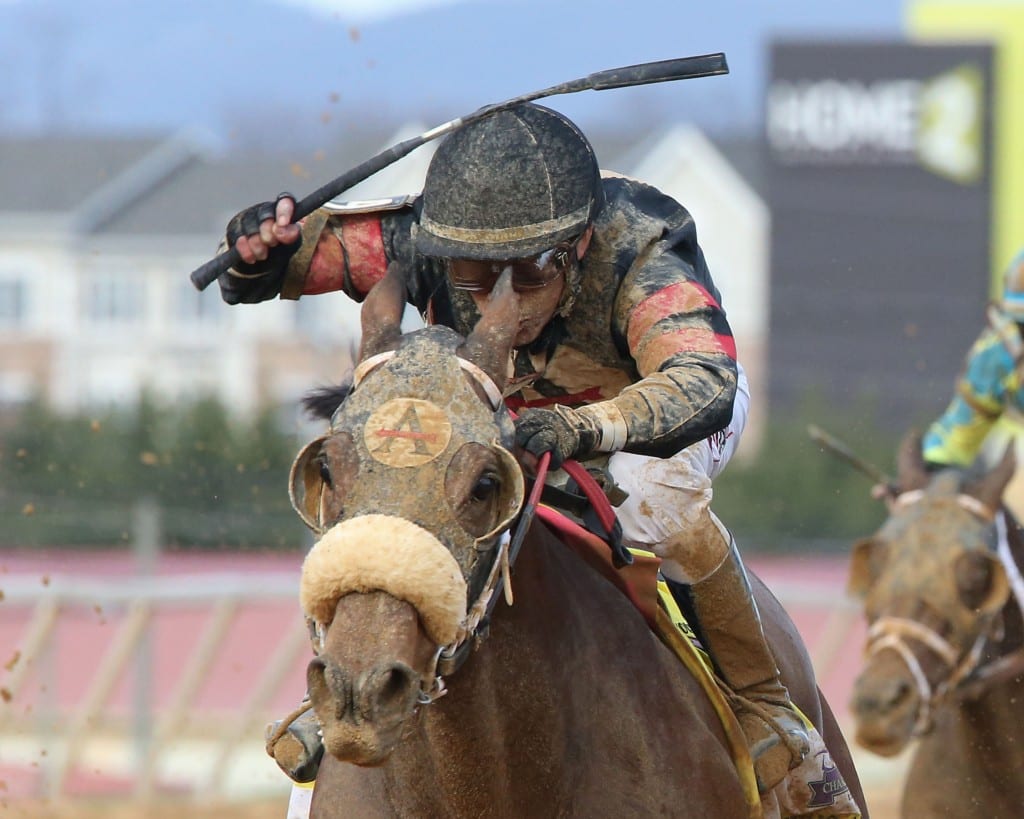 Something Awesome. Photo by Coady Photography.
by Frank Vespe
Trainer Jose Corrales' young son Pachi was resplendent in a three-piece suit Saturday afternoon at Hollywood Casino at Charles Town Races, the top button of his shirt undone, the wings of his collar poking out of his vest.
Perhaps bettors should have seen it as a sign.
"Probably," Corrales said with a laugh. "Pachi is always ready."
After all, if you're headed to the winner's circle, you want to look your best.
Pachi did, and so did Corrales after his trainee Something Awesome registered a 9-1 upset in the 10th running of the Grade 2, $1.2 million Charles Town Classic at Hollywood Casino at Charles Town Races, prevailing over 3-2 second choice War Story in a determined drive by a neck in 1:50.84 for the three-turn, 1 1/8 mile distance. It was another length back to show horse Fear the Cowboy.
Favored Diversify got away with easy fractions, leading the field through a half-mile in 48.48 seconds. But he had no answers when the running began and faded to last in the seven-horse field.
It was Something Awesome's third consecutive win, second in graded stakes company, and fifth win in six tries since the horse's owner, Stronach Stable, transferred him to Corrales' Laurel Park barn.
"I really am so thankful to the Stronach Group," Corrales said. "They gave me the opportunity, they gave me this horse – we're lucky to get it done. Now I think they will send me a little bit of horses, and we may be able to do it with another one."
Two months ago, Corrales had never won a graded stake as a trainer. Now he — and Something Awesome — have won two, one of them a seven-figure event.
"I never won one of these before," Corrales said when asked how he felt. "I don't know yet."
In the days leading up to the Classic, Corrales said that getting Edgar Prado aboard for the big race was one of the factors that gave him the confidence to go forward to a spot that, admittedly, would be the toughest of his career.
When Something Awesome had won the Grade 3 General George in February, Corrales' nephew, Elvis Trujillo, rode the horse to victory. With Trujillo injured, Corrales turned to Hall of Famer Edgar Prado to do the honors in the $100,000 Harrison Johnson Memorial Stakes at Laurel Park March 17, a decision that became a two-length victory.
And today, Corrales' confidence in Prado was fully justified.
"I saw the pace was very slow (early in this race) for this kind of horses. I thought it was going to be a little quicker," Corrales said. "But when I saw the horse in the first turn, it looked like Prado had the horse the way he should. When you ride a professional rider like Edgar Prado, you don't have to worry about it because he's done it so many times."
With a slow pace up ahead, Prado and Something Awesome were able to bide their time just three or four lengths off the pace up ahead.
"I was able to work out a clean trip," Prado explained. "I knew there was a little speed to my outside, so I just sat off of them."
After three-quarters of a mile, another Laurel Park-based runner, the Claudio Gonzalez-trained Afleet Willy, put his head in front. Diversify was fading, but Something Awesome, second choice War Story, and Fear the Cowboy all were beginning to rev up runs of their own from a couple of lengths back.
"When I asked him going into the far turn, he really responded," Prado said. "I knew (War Story) was right there and my horse dug in."
With a furlong to go, Something Awesome, War Story, and Afleet Willy were all heads apart; as they barreled to the wire, Something Awesome inched to the advantage, while Afleet Willy tired slightly. He ended up fourth, 1 1/2 lengths behind the winner and a quarter-length behind show horse Fear the Cowboy.
Something Awesome returned bettors $20.60 to win and topped an exacta worth $36.90 for a buck.
Something Awesome now has nine wins from 24 career starts. The sizable winner's chunk of the purse — $681,000 — pushed his career earnings past $1 million. He's a Stronach homebred by Awesome Again out of the multiple graded stakes-winning Dance Floor mare Somethinaboutlaura, herself a millionaire.
Half a year ago, Something Awesome, then toiling on the synthetic surface of Woodbine in Canada, was just a horse, 18 races into his career and still eligible for a second-level allowance. Now, having found a new home in Maryland, and on dirt, he is a millionaire and has propelled his trainer to the greatest heights of his career.
"I feel very blessed," Corrales said.