Tesio Stakes win makes Diamond King Preakness-bound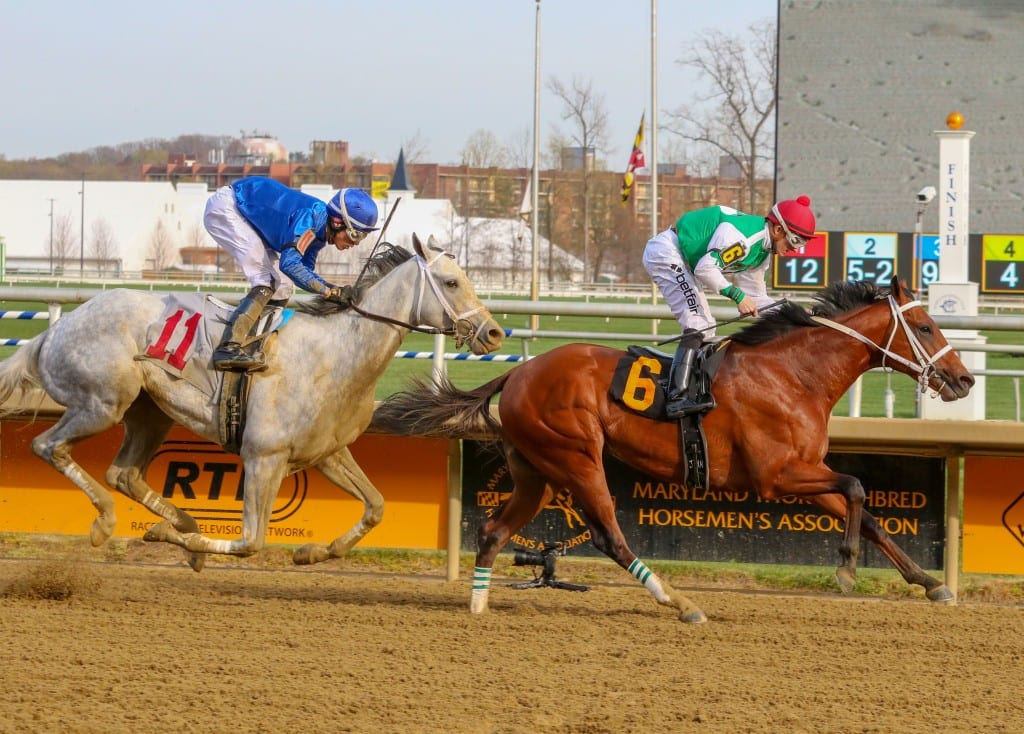 HOW IT HAPPENED
Stretching out to two turns for the first time in his sixth start, Diamond King (2-1) took command entering the stretch and held off the late charge of Holland Park (9-1) to win the $125,000 Federico Tesio Stakes Saturday at Laurel Park by three-quarters of a length. The win earns him entry into the Grade 1 Preakness Stakes at Pimlico May 19.
Patiently rating behind early leader Noble Commander, jockey Frankie Pennington sat chilly on the son of Quality Road, drew even entering the stretch and kicked clear in the final furlong to secure the victory for ownership group Cash is King, LLC who experienced the thrill of Preakness victory with Afleet Alex in 2005.
After a troubled trip early, Holland Park proved good enough to be second best ahead of the pace-setter Noble Commander (4-1), while American Lincoln (6-1) who made a strong middle move, leveled off to be fourth.
Diamond King will be pointed to the G1 Preakness Stakes at Pimlico on May 19.
Local hopefuls Still Having Fun, winner of the Miracle Wood Stakes, and V. I. P. Code, who took the Private Terms last month, finished sixth and seventh, respectively.
Running time for the 1 1/8 miles was 1:50.31.
Photo of Diamond King by Dottie Miller.
QUOTABLE
"He settled in really, really nicely which I was happy about. Going into the first turn I thought maybe he might be a little rank because he's a sharp horse but he settled right in and handled himself very well."
When asked if his mount will be able to handle the additional 1/16th of a mile Preakness distance, "Yeah, you know when we were coming down in the stretch, right before we got to the wire he began to prick his ears, so I said we're going to be all right."    
— Jockey Frankie Pennington
"It's exciting to get back in a Triple Crown race. I'm not the kind of guy who likes to run in those big races unless I have some powder in my gun. This horse is legit."
— Trainer John Servis
"He did every right going into this race. The only concern was a mile and an eighth… no doubt, he did really, really well. On to the Preakness!"
— Charles Zacney of Cash is King Stables, LLC
FACTS AND FIGURES
Winner paid: $6.60 – $4.00 – $3.20
Winning time: 1:50.31
Margins: Three-quarters of a length from Diamond King to Holland Park, another one-and-one-quarter lengths back to Noble Commander and three-and-one-quarter to American Lincoln
Winner's record: 6-4-0-1, purse earnings of $222,600
CONNECTIONS
Owner: Cash is King, LLC.
Breeder: JSM Equine, LLC., bred in Kentucky
Pedigree: Quality Road-Akron Moon, by Malibu Moon
Jockey: Frankie Pennington
HOW WE 'CAPPED IT
#6 – Diamond King (4-1): Rough trip in G3 Swale going 7 furlongs at GP yet salvaged SHOW purse, his first defeat not counting G2 KY Jockey Club as he clipped heels and lost the jock in scary scene into the first turn; will be first real test at two turns but has pedigree to get it; like seeing work tab filled with 5f drills and one at 1 mile
 #2 – Still Having Fun (5-2): Nightmare trip as 3-5 favorite in $100k Private Terms when seeking third consecutive victory in a stakes, his first two-turn start and hung late; willing to excuse him due to poor start, pinched back thereafter, rank in the back and jock putting the brakes on throughout then was green in the stretch; can make amends with jock switch to S. Russell
#10 – V.I.P. Code (8-1): This MD-bred $74.40 winner of the $100k Private Terms shocked trainer P. Schoenthal who gave him one last chance to prove he belonged; got a perfect trip which isn't guaranteed every race but pace scenario looks favorable; one bullet work since indicates he's a force to be reckoned with in here 
IN YOUR STABLE MAIL
Runner-up Holland Park had a horrific trip… off a step slow, ducked out on the first turn, checked near the seven-eighths, was rank behind foes nearing the three-quarter pole, finally relaxed five furlongs out and advanced nicely to gain in the final furlong.