In Focus: Wagering Tesio Day at Laurel Park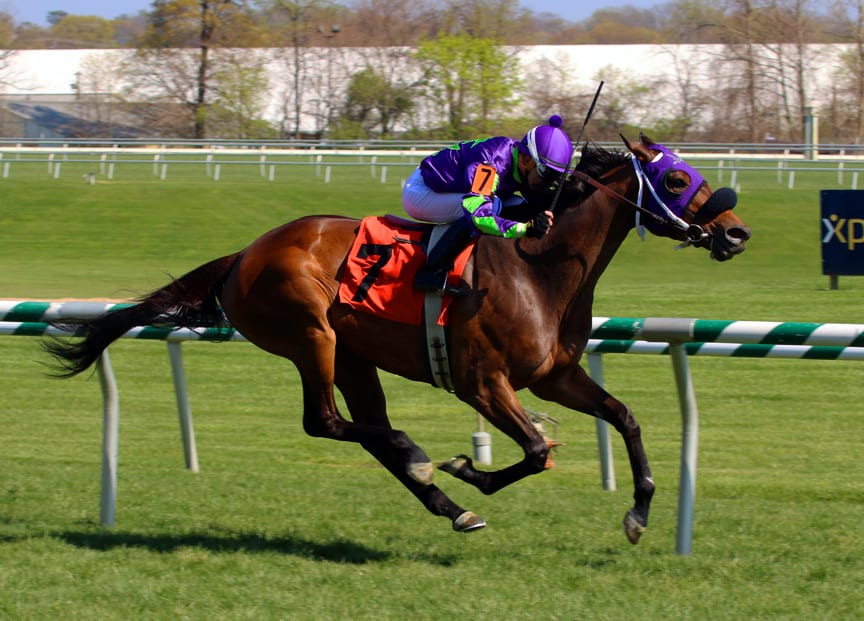 2016 Dahlia winner Seeking Treasure. Photo by Laurie Asseo.
Our In Focus Guide offers the most in-depth analysis and commentary to the All Stakes Pick 4 Saturday at Laurel Park!

Also, check out some other race info:
ALL STAKES PICK 4
Race 7 – 4, 8
Race 8 – 1, 3, 4
Race 9 – 4, 7, 10, 12
Race 10 – 2, 6, 9, 10
TOTAL COST – $48 on a 0.50 ticket
RACE 7 – DAHLIA STAKES
RACE PARTICULARS: Race 7 (4:10pm EDT), $100,000 guaranteed purse for fillies and mares 3yo and up, 1 mile (turf)
THE PICKS
#8 I'm Betty G (5-1): Has run a bunch of good races, including multiple G3 placings and can run well on the engine or from a stalking position; doesn't win much, though, with two wins but five shows from 12 starts; with two starts this year, might have fitness edge over some rivals
#4 Hawksmoor (7-5): Has towering class advantage over this group, owning multiple graded victories and G1 placings; this will be her first start in an ungraded stake since career debut; note presence of regular rider Leparoux, which suggests connections are serious; on best, the winner, but we're looking for more value than likely to be on offer here
#1 Compelled (7-2): Never worse than third at the distance and has plenty of room to improve off last after rugged trip left her nowhere to go until too late; odd that trainer-jock combo winless in 10 tries
#10 Full of Zip (15-1): Trainer Graham Motion has tried and failed twice recently to get this one back on the lawn; City Zip filly figures to need much-improved effort to compete here; gets top rider Vargas
REST OF THE FIELD
#2 Flower Fashion (6-1): No shame in last visit to Laurel, as two-length defeat came to multiple G3 winner Rymska; trainer Clement not the type to tilt at windmills, so assume she'll be ready to run here…  #3 Sophia Is an Angel (30-1): Added ground here probably isn't a bad thing, but she'll need major improvement to be a factor… #5 Hallie Belle (15-1): Tough one last out when empty in the lane in the Stall Memorial, but two-back win in the Pago Hop was solid, and that race produced two next-out winners; lightly raced and still has upside… #6 Tanya's Gem (30-1): Hard to see this miss being a factor here… #7 Broken Bridle (12-1): Local runner training forwardly for her season debut and has run well off the bench before; was well beaten in lone stakes try and gets a class test here… #9 Aura Rose (20-1): Makes first start in barn of Lacey Gaudet, which does well in this circumstance – but this looks to be a heavy lift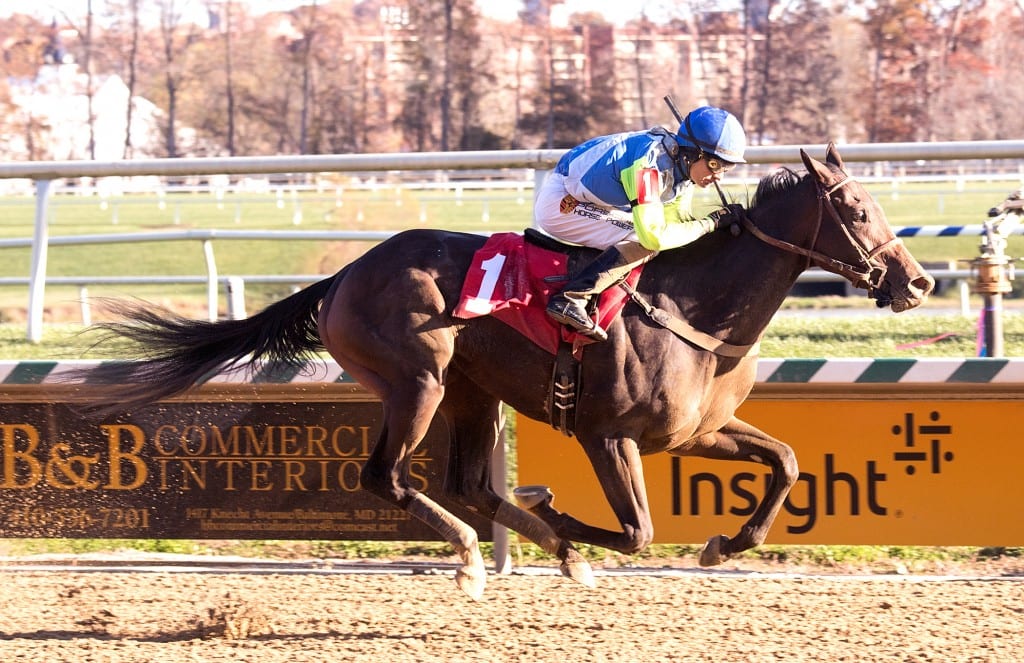 Layla Noor. Photo by Jim McCue, Maryland Jockey Club.

Race 8 — WEBER CITY MISS STAKES
RACE PARTICULARS: Race 8 (4:40pm EDT), $125,000 guaranteed purse for three-year-old fillies, about 1 1/16 miles, "Win and You're In" for the Black-Eyed Susan S.
THE PICKS
#1 – Goodonehoney (6-1): Makes just her second career start as she won impressively in debut sprinting on the local dirt oval after a slow start and encountering traffic along the way; connections are asking a lot of this MD-bred daughter of Great Notion to stretch out to two turns and taking a huge step up to face seasoned fillies but only needs to improve a tad based on speed figures
#4 – Shamrock Rose (7-5): NY shipper for one of the top nationally known trainers M. Casse who gets J. Leparoux (17% as a team) to ride as they also have one in the Tesio Stakes; third race after layoff angle; runner-up in the $100k Cicada Stakes at Aqu going 6 furlongs; dirt BRIS#s are going in the right direction 
#3 – Blue Union Rags (10-1): Goes for the natural Hat Trick in here as the lightbulb came on two back when finally breaking her maiden in sixth career start; can boast best last race BRIS speed-figure (93)     
#8 – Layla Noor (7-2): Home/KY-bred for Lael Stables makes '18 debut; appears plan was to be a turf runner as she broke maiden and was 4th in G3 Jessamine on turf; proved otherwise winning off-the-turf OC50k/n1x contest at Lrl after less than ideal trip; clear runner-up won Alw25ks v. older last weekend
FIELD IN FULL

#2 – Stormologist (12-1): Got second career win in latest when changed tactics coming from well off the pace versus OC50k/n1x gals; had a troubled start in only OTB finish (6:2-2-1) … #5 – Firth (15-1):  Showed big improvement in first race off trainer L. Gaudet claim when weakening late in try to take field gate-to-wire, DQ'd from 2nd to 4th for drifting late; could upset here as rivals lack early speed; second star w/blinkers… #6 – Empress Livia (30-1): PA-bred/based runner lone win came sprinting on a sloppy Pen surface, then failed miserably as PT favorite in state bred allowance going one mile… #7 – Indy Union (6-1): Away since Dec. 2 when she didn't respond in the 9f G2 Demoiselle at Aqu; been steadily working in the A.M. and might try to get early lead and not look back… #9 – Stakes On a Plane (12-1): Third start after brief layoff; prevailed in Lrl/'18 debut in slop then earned minor award (4th) in most recent local stakes, the $100k Beyond the Wire for 3 y.o. fillies; pedigree says sprinter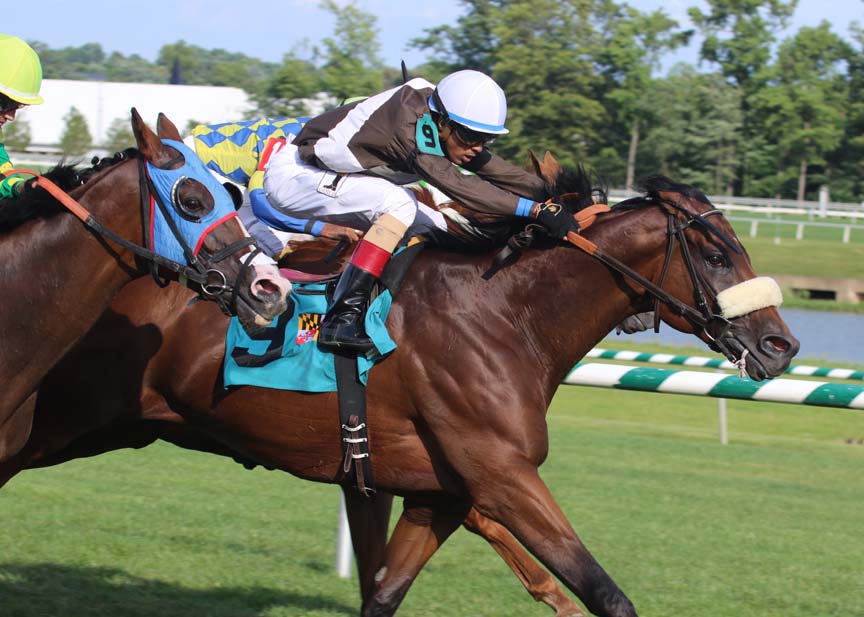 Phlash Phelps. Photo by Laurie Asseo.

Race 9 — HENRY S. CLARK STAKES
RACE PARTICULARS: Race 9 (5:10pm EDT), $100,000 purse for 3yo and up, 1 mile (turf)
THE PICKS
#4 Ring Weekend (7-2): Two back posted first win since '16 and followed with a credible try against multiple G3 winner Synchrony despite rough trip; former G1 winner has the class edge
#12 Phlash Phelps (5-1): Big question here is the 10-month layoff; capable sort usually runs his race and likes the distance
#7 Celebration (12-1): Leparoux picks up the mount on a runner making North American bow; adds Lasix
#10 Ghost Hunter (9-2): G3 winner on the lawn kicked off his '17 campaign in this event, beaten less than a length; trainer Ness 10-for-37 off similar layoffs in last five years
REST OF THE FIELD

#1 Murad Khan (10-1): Solid effort in last when in for the tag in optional claimer but note rider Leparoux jumps ship for #7 here… #2 Econometric (50-1): 50-1 morning line, figures to drift up to 99-1 by post time… #3 Cooptado (15-1): Five of six career wins are on the main track; just 1-for-24 on the lawn… #5 Caribou Club (8-1): Makes season bow after decent work tab; two of three career wins at sprint distances… #6 El Areeb (12-1): Not a bad effort in last, when a close-up fourth as the chalk, but sibs are 0-for-13 on the green stuff… #8 Dalarna (20-1): K One King colt had his moments last year, including win in the English Channel, but late season tries just so-so; inclined to wait and see on this Rubley trainee… #9 Glorious Empire (15-1): Runner has a history of in-and-out form; first time out for trainer Lawrence, and shows a spiffy worktab in preparation… #11 Even Thunder (15-1): Siblings haven't tried the green stuff and dam was 0-for-2 on it; sire was a decent turfer but better on the main track... #13 Bolting (20-1): The three North American tries are pretty bland for this previously France-based runner; can improve in second start of campaign… #14 Doctor Mounty (15-1): Has lengthy string of works as trainer McGaughey looks to bring this guy back after he fell in last; McGaughey and rider Boyce have had success locally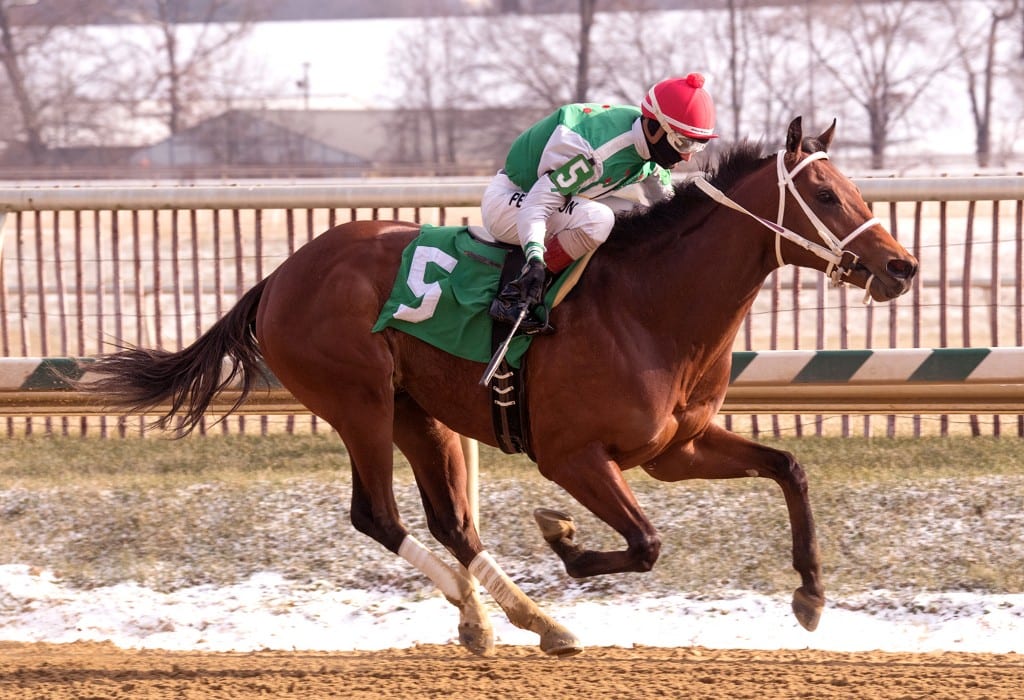 Diamond King. Photo by Jim McCue, Maryland Jockey Club.

Race 10 — FEDERICO TESIO STAKES
RACE PARTICULARS: Race 10 (5:40 pm EDT), $125,000 guaranteed purse for 3-year-olds, 1 1/8 Miles (Dirt), "Win and You're In" for the Preakness
THE PICKS
#6 – Diamond King (4-1): Rough trip in G3 Swale going 7 furlongs at GP yet salvaged SHOW purse, his first defeat not counting G2 KY Jockey Club as he clipped heels and lost the jock in scary scene into the first turn; will be first real test at two turns but has pedigree to get it; like seeing work tab filled with 5f drills and one at 1 mile   
#2 – Still Having Fun (5-2): Nightmare trip as 3-5 favorite in $100k Private Terms when seeking third consecutive victory in a stakes, his first two-turn start and hung late; willing to excuse him due to poor start, pinched back thereafter, rank in the back and jock putting the brakes on throughout then was green in the stretch; can make amends with jock switch to S. Russell
 #10 – V.I.P. Code (8-1): This MD-bred $74.40 winner of the $100k Private Terms shocked trainer P. Schoenthal who gave him one last chance to prove he belonged; got a perfect trip which isn't guaranteed every race but pace scenario looks favorable; one bullet work since indicates he's a force to be reckoned with in here     
#9 – Dynamic Asset (12-1): Got SHOW purse when 61-1 in $100k Private Terms; draw a line thru Miracle Wood when making '18 debut after 4-month layoff and just 3 works, then here's a live local longshot who'd only have to take a modest step forward, get a nice stalking trip to be a threat to get free entry into 143rd Preakness Stakes
REST OF THE FIELD

#1 – Takedown (20-1): Has done well since transferred to local trainer L. Gaudet barn; plenty of early speed in here to set it up for this late running son of Take Charge Indy; nice bullet 4f work on Sunday; MVR jock in for lone mount on card is a head-scratcher… #3 – Not Fake News (30-1): Fresh off maiden win at Pen in 7th career start as even money favorite but first going two turn; simply doesn't have the speed figs to compete at this level… #4 – Noble Commander (6-1): 2 for 2 though against fellow FL-breds; impressive pair of works at CD for trainer M. Casse as J. Leparoux reason to have 4 mounts on card is to ride this one as he did in first two… #5 – Split Verdict (10-1): Moved forward in second start to break maiden at Aqu when stretched out to one-turn mile getting pressure every step of the way; might regress a bit but regular jock K. Carmouche will ride… #7– Navy Commander (12-1): BRIS#s continue to climb after a pair of victories by combined 17+ lengths at Prx v. Alw foes; loses jock to #6 but replacement has won with 5 of 12 mounts for trainer R. Reid, Jr past year…  #8 – American Lincoln (8-1): 1 of just 2 runners in here to have won at this 9f distance which came in latest, maiden win by 18-lengths at Aqu in slow time; third start after layoff angle…   #11 – Holland Park (10-1): Royally bred gray for NY-based trainer K. McLaughlin sheds blinkers after maiden win at Aqu in second start going 9f; been sent off 3-5 or shorter favorite in all 3 races so expectations have been high; jock opts to stay in NY to ride a trio of maidens v. stakes here is a negative