With first Lucy's Bob Boy Stakes, memories, and "what ifs"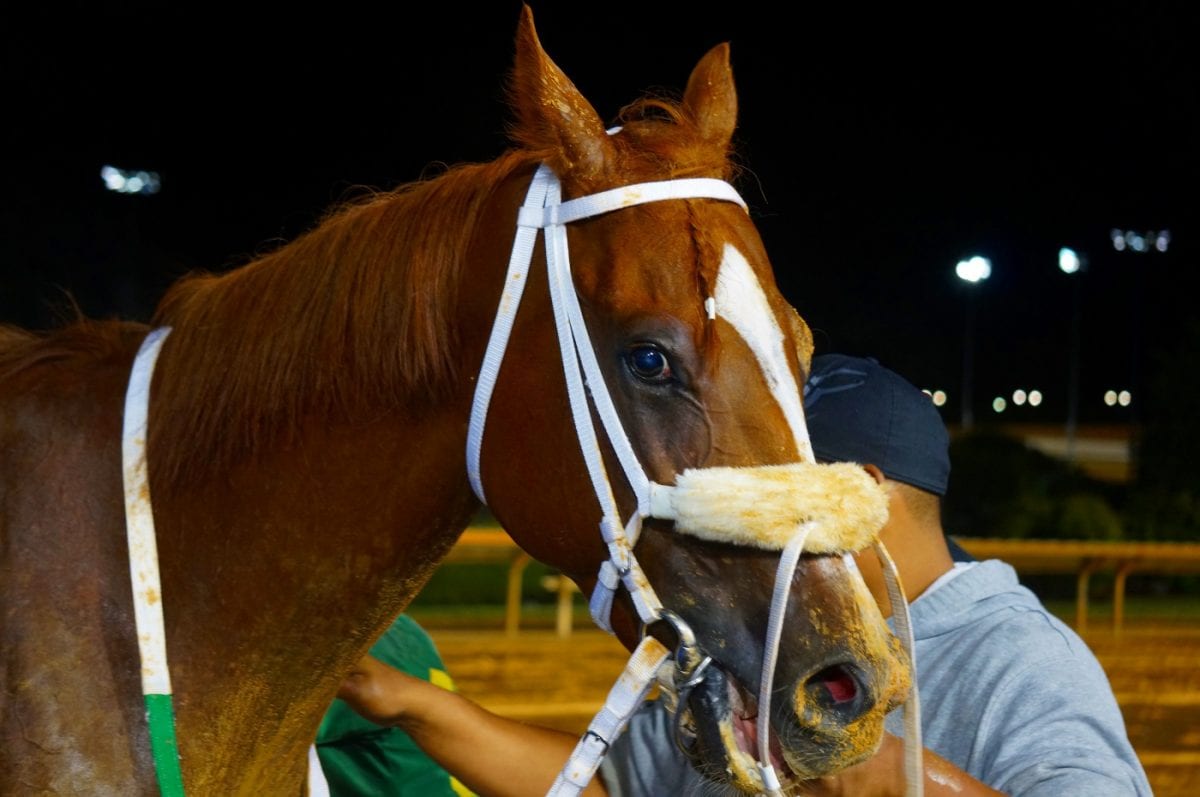 Lucy's Bob Boy. Photo by Vas.
by Ted Black
While the Grade II, $1.2 million Charles Town Classic will take center stage Saturday's and several talented state-bred runners will have the chance to shine in restricted stakes, the track will also offer several stakes that will honor runners who made their presence known over the historic Jefferson County oval during their careers.
Onlookers will recall the numerous battles that Russell Road and Lucy's Bob Boy partook during their prominent local careers at Charles Town and this Saturday will mark the first time that both of them will be honored on the same day. Charles Town will host the second edition of the $50,000 Russell Road Stakes, an open event that features defending champion Shaft Of Light, and the inaugural running of the $35,000 Lucy's Bob Boy Stakes for state-breds going seven furlongs.
Lucy's Bob Boy, a gelded son of Flatter out of the Not For Love mare Love for Lucy, won 26 of 50 starts and earned just over $1 million in his career for trainer Sandra Dono, winning a bevy of stakes and taking home the West Virginia Breeders Classic at age three. He was bred by Robert "Tuffy" Furr, who saw the gelding win the first two starts of his career at age two before he passed away.
Lucy's Bob Boy also owns the track record for 6 ½ furlongs, 1:16.44, set when he blitzed an allowance field by 17 lengths in December 2012. But Dono believes there might have been even more to the best horse she's trained.
"The biggest question with him will always be 'what if?'" Dono said. "He had so much talent, but he always had those foot issues. His right front foot was typically the one that gave him the most trouble. He almost lost one-third of that foot after one of his races. For the most part he was sound, but his feet always bothered him. He always loved training and racing and it didn't matter if it was cold or hot he just loved being at the track."
Soon after Robert Furr passed away, his nephew, Michael Furr, inherited the horse and Lucy's Bob Boy embarked on a superb local career. He won the Classic once and then nearly captured it a second time only to be nailed in the final strides by Russell Road. Along the way, Dono admits she learned as much from Lucy's Bob Boy and training horses as she did about him. The Flatter gelding is now enjoying his retirement at Furr's farm in Purcellville, Virginia, less than 30 miles from the track where he recorded his biggest victories and will be honored for his success.
"It's definitely an honor that they named a stakes race for him," Dono said. "That horse gave the me and the whole family such great memories. He taught me so much about training horses. I was so glad that Robert had the chance to see him win his first two races. He was waiting a long time to see a horse that special and he finally got a really good one. I know he was watching from above and rooting for him the whole time. It's an honor for me and the whole family that they named a race for him."
Perhaps even Lucy's Bob Boy would applaud the group of state-bred older males that entered the inaugural edition of the seven-furlong stakes named in his honor. Among the entrants are two-time West Virginia Classic hero Charitable Annuity for trainer James W. Casey, Jeff Runco trainees North Atlantic and In The Fairway and Ollie Figgins, III trainees, Ello Govna and Prince of Windsor, along with the late-running Follow The Notion for owner-trainer Gary Williams, Jr.
On Saturday afternoon, Charles Town will also offer the second running of the $50,000 Russell Road for older runners. A Wheaton gelding out of a Verification mare trained by James W. Casey for owner Mark Russell, Russell Road won 31 of 62 starts and earned just over $2 million in his career. He prevailed in 23 stakes, including the Classic on two separate occasions and retired as the second-richest West Virginia-bred of all-time, behind only Grade I winner, Soul of the Matter, who won seven of 16 starts and earned $2.3 million and was second to Cigar in the inaugural Dubai World Cup in the final start of his career for trainer Richard Mandella.
"I know that California horse (Soul of the Matter) made a little more money than Russell, but he competed in a lot more big money stakes," Casey said. "Russell made almost all of his money racing at Charles Town. He won a few races at Laurel and Mountaineer, but he made most of his money right here at Charles Town. He's got to be the best West Virginia-bred to race here his whole career. I'm glad they named a race for him again this year. He was talented and durable, and he won races at a number of different distances."
Last spring Shaft Of Light won the inaugural edition of the Russell Road Stakes for trainer Jorge Navarro by getting the seven furlongs in 1:24.93 and he looms the solid favorite again this Saturday having won a seven-furlong claiming race at Gulfstream Park in his most recent outing by eight lengths in 1:20.85. Jockey Irad Ortiz, Jr., who will be aboard morning live favorite Diversify for trainer Richard Violette, Jr. in the Charles Town Classic, will have the mount aboard Shaft Of Light on Saturday in his Russell Road title defense, with Maryland invader Struth his main threat.
One race prior to the Classic, Charles Town will host the inaugural edition of the $100,000 Dance to Bristol Stakes, named in honor of the Ollie Figgins, III trainee who won 10 of 20 starts and earned just shy of $1 million for owner Copperville Farm (Susan Wantz). Dance to Bristol finished second in a one-turn maiden special weight event at Charles Town in her career debut, but she later won the 2013 edition of the $200,000 Sugar Maple Stakes – a race renamed for her this year – by nine lengths in 1:23.78 as the 6-5 second choice.
The Sugar Maple was part of a seven-race win streak for Dance to Bristol that was eventually capped by a determined score in the Grade I, $500,000 Ballerina Stakes at Saratoga Race Course, the first such triumph for Figgins and jockey Xavier Perez. Dance to Bristol concluded her 2013 season with seven wins and $820,000 banked from 10 starts, finishing sixth in the Grade I, $1 million Breeders Cup Filly and Mare Sprint at Santa Anita in her career finale. She was also among the finalists for champion distaff sprinter that year, an award that fittingly went to Breeders Cup heroine Groupie Doll.
The Dance to Bristol is clearly among the most competitive races on the card with a group of distaffers that includes Frosty Margarita, Lake Pontchatrain, Inspeightofyou, Riverter Gloria, In The Navy Now, Ascertain, Keep Your Distance and Angel At War. Inspeightofyou arrives riding a three-race win streak for trainer Tom Amoss, while Ascertain hails from the Todd Pletcher barn. Both Lake Pontchatrain and Riverter Gloria have always thrived over the local strip and both loom serious threats in the renamed edition of the Dance to Bristol.
Other past state-bred local runners who are being honored with a stakes race named for them on Saturday include Coin Collector, a two-time West Virginia Classic winner who won 12 of 43 starts and earned nearly $330,000 for owner John A. Casey; Down Town Allen, a durable mare owned, bred and trained by John A. Casey who was a winner of 25 of 42 starts and earned over $1 million in her career, which tragically ended on Charles Town Classic day, and It's Binn too Long, a daughter of My Boy Adam trained by James W. Casey who won eight of 16 starts and earned over $120,000.
Horses trained by James W. Casey will be among the serious contenders in both the Coin Collector and the It's Binn too Long as he will send out William and Mary in the Coin Collector and Bound to Windsor in the It's Binn too Long. Defending Cavada heroine Moonlit Song and 2015 Cavada champion Cuppa Mocha Mojo along with T Rex Express and Lies and Scandals will be the primary contenders in the Down Town Allen for state-bred fillies and mares.