Commonwealth Derby, Oaks will not be run in 2018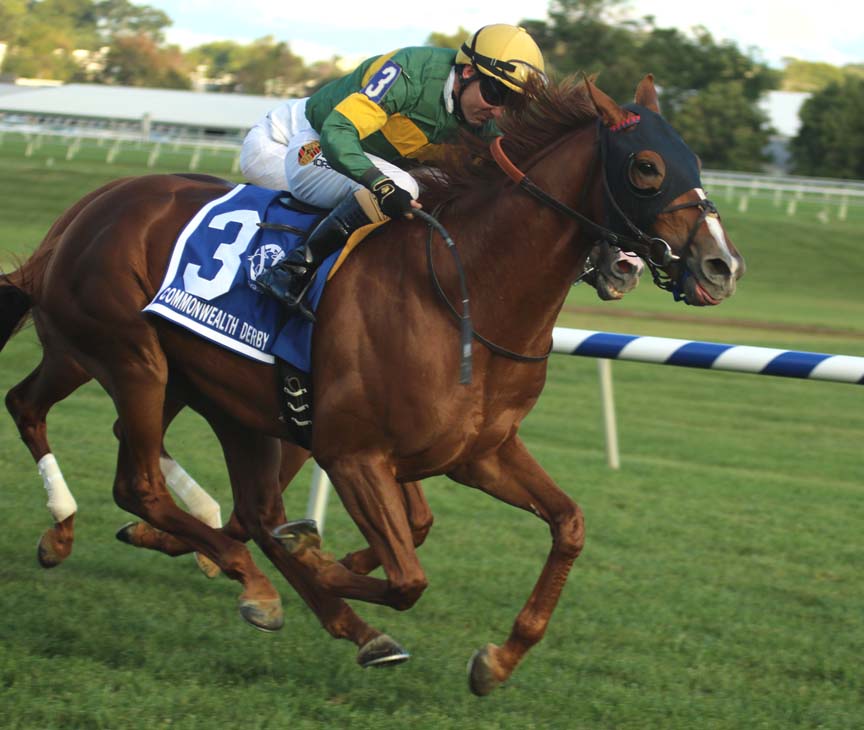 Just Howard powered to victory in the 2017 G3 Commonwealth Derby. Photo by Laurie Asseo.
by Nick Hahn
In its first meeting of the year, the Virginia Racing Commission on Wednesday approved a 2018 calendar of restricted races that will be held both in and out of state while hibernating two graded stakes until the possible reopening of Colonial Downs.

The Commonwealth Derby and Commonwealth Oaks, once run as the Virginia Derby and Virginia Oaks, respectively, when run at Colonial Downs, will not be run this year. The twin three-year old turf races were also shelved in 2014 after Colonial Downs closed.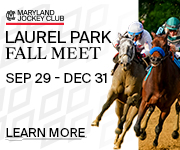 The races had been run at Laurel Park the last three years. The Derby, which had been the signature race at Colonial Downs, once offering a purse of $1 million, is these days a Grade 3 event, as is the Oaks. The Maryland Thoroughbred Horsemen's Association had in February voted not to provide any funding to the races.
Commissioners approved a slate of Virginia-restricted races that will be run on the Saturdays of June 23, August 4, and September 22 at Laurel Park, a similar schedule that Laurel has hosted in the last several years. Total purses for those races will exceed $1 million.
The Virginia Gold Cup races were licensed and officials approved for that event, easily Virginia's largest attended horse racing event. The Virginia Gold Cup is held in The Plains, just north of Warrenton, on May 5 and offers pari-mutuel wagering, including on the Kentucky Derby, which takes place the same day.
Before and after taking action on agenda items, commissioners were optimistic and gracious on the recent approval of the General Assembly of the historical horse racing bill that Governor Northam signed on April 9.
"What I see is a major change of course and a huge breakthrough," chairman D.G. Van Clief, Jr. commented at the open of the meeting. "It does signal a quick emergence of regrowth of this traditional industry."
Van Clief credited the Governor and General Assembly. He also acknowledged the Governor's concern on implementing historic racing, expressed in an executive directive he issued when signing the legislation.
"I want the Commission to be coordinated and comprehensive in how we write the rules. I want the Commission to be coordinated and comprehensive with the localities that participate," added Van Clief who wasn't alone in his hopes of Virginia's racing future.
"I have found the experience with Revolutionary Racing professional and serious and look forward to working with them," reported Jeb Hannum, the Executive Director of the umbrella Virginia Equine Alliance.
Colonial Downs opened in the fall of 1997 and switched its calendar to summer racing in 2001 until closing in 2013. A pending sale of Colonial Downs from Jacobs Entertainment, Inc. to Revolutionary Racing, LLC could be finalized as soon as the end of April. One report has Colonial's signature turf course in excellent condition, other than a moderate population of wild onions, which stands to be quickly eradicated.
"I'd like to maximize the live racing experience not only for the stakeholders but to racing fans that have been without racing since 2013," commented Commissioner J. Sargeant Reynolds.