VIP Code, Still Having Fun to meet again in Tesio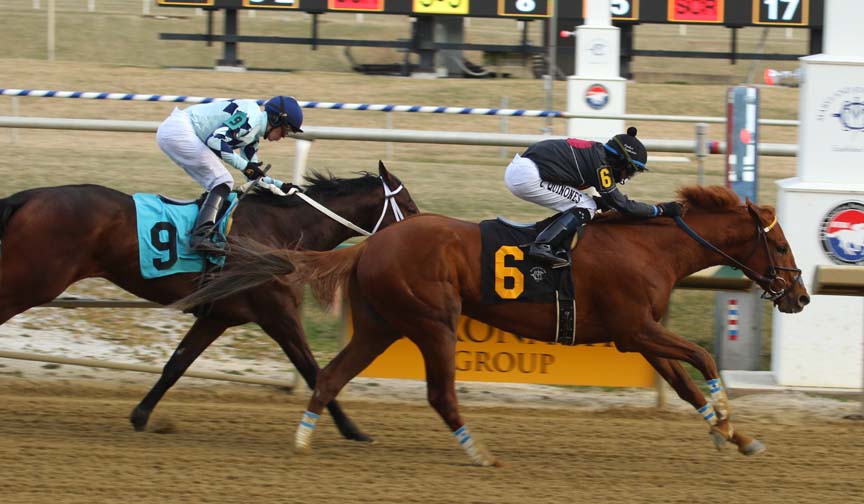 V. I. P. Code edged Forest Fire to win the Private Terms Stakes at Laurel Park. Photo by Laurie Asseo.
From a Maryland Jockey Club release
Two turns or not two turns, that is the question facing the connections of multiple stakes-winning 3-year-old Still Having Fun in Saturday's $125,000 Federico Tesio at Laurel Park.
The 37th running of the Tesio for 3-year-olds at 1 1/8 miles is one of five stakes worth $550,000 in purses on an 11-race Spring Stakes Spectacular program. For the third straight year, the Tesio is a 'Win and You're In' event for Triple Crown-nominated horses to the $1.5 million Preakness (G1) May 19 at legendary Pimlico Race Course.
Also on Saturday's card are the $125,000 Weber City Miss for 3-year-old fillies, a 'Win and You're In' race for the $250,000 Black-Eyed Susan (G2) May 18 at Pimlico; the $100,000 Primonetta for female sprinters 3 and up on the main track, and the $100,000 Henry S. Clark and $100,000 Dahlia at one mile on Laurel's world-class turf course.
The Primonetta, Clark and Dahlia each received a $25,000 purse increase from 2017.
Gary Barber, Wachtel Stable and Terp Racing's Still Having Fun made his two-turn debut as the favorite in the Private Terms March 17 at Laurel, following victories in the seven-furlong Frank Whiteley Jr. and one-mile Miracle Wood to open his sophomore campaign.
The bay Old Fashioned colt stumbled at the start and got shuffled back seeking position on the first turn, trailing the field for a half-mile until moving into contention at the top of the stretch. Unable to make up ground, Still Having fun wound up fourth behind long shots V.I.P. Code (first at 36-1) and Dynamic Asset (third at 61-1), beaten 2 ¼ lengths.
"He came out of the race great," trainer Tim Keefe said. "Unfortunately, the result still kind of left us wondering. It wasn't what we had hoped. He did have a troubled trip and it still didn't answer the question whether he finished where he did because of the trip or because of the distance. I'm still not ready to say he's not a two-turn horse. We decided in talking to the owners that we'd give him another shot in the Tesio. We thought that made the most sense. Hopefully we get a little better trip with him and see what happens."
Still Having Fun has breezed twice since the Private Terms, most recently going six furlongs in 1:13 April 14 in a move designed to reacquaint him with going two turns. He will break from Post 2 in a field of 11 with a new rider in Sheldon Russell, replacing Feargal Lynch, who had been aboard for each of the colt's first five starts.
"Just being able to walk out of the barn and run is huge and that's what we'll be able to do Saturday. I worked him for the race. He's ready to go," Keefe said. "We all think we'd like to try him one more time here just so we can get a better idea as to what his abilities may or may not be as far as distance."
Everest Stables Inc.'s homebred V. I. P. Code stepped up with a breakthrough performance in the Private Terms, getting a perfect trip under regular rider Carlos Quinones and holding off Forest Fire to win by three-quarters of a length. It was the third win and first in a stakes for the City Zip colt, who has only been worse than third twice in nine starts.
Quinones returns to ride from Post 10 at 122 pounds, co-highweight with Still Having Fun, in the Tesio, V. I. P. Code's third try around two turns. Prior to the Private Terms he tried 1 1/8 miles in the Remsen (G2) last December at Aqueduct, a race where he brushed the gate and was never in contention, finishing ninth.
"Obviously the PPs will show that he did not have his best day that day. He had a reason. He had a throat issue and it was kind of a non-race for him," trainer Phil Schoenthal said. "We have felt all along that he wants as much ground as he can get. A mile and a half might be better for him. He just puts his head down and has this big, long stride and just kind of gallops and kind of keeps on going with that rhythmic, machine-like long stride, and that's the kind of horse that goes the mile and an eighth, mile and a quarter, mile and a half.
"The race that he ran in the Private Terms last time was the race that I was looking for in the Remsen last fall. I thought he would get out there and get that long stride going and just be the best horse in the end," he added. "Obviously, the trip is what matters. Tim Keefe's horse didn't have the good trip and it cost him the last time. If he gets a clean trip and I don't, maybe the roles are reversed. [Dynamic Asset] I thought ran a huge race last time. He got trapped down at the rail and got outside and came running, so he's going to improve with a better trip. The trip is the difference, so you just hope to get a good trip and a clean trip and see what happens."
Trainer Lacey Gaudet, like Schoenthal, feels Dynamic Asset will improve as the races get longer. Co-owned by Team Gaudet and Keith Crupper, the bay son of Astrology won his first two starts last summer and fall at Laurel sprinting and was sixth on an off-track in the Miracle Wood, his first time going long and first race in five months, prior to coming with a determined late run in the Private Terms that saw him beaten just 1 ½ lengths.
His work tab suggests Dynamic Asset is sitting on a huge race for the Tesio. He has fired two bullets since the Private Terms, going a half-mile in 48.40 seconds April 9, fastest of 14 horses, and 47.60 April 15, the best of 37.
"He came out of the race great. He's been training really well. Clearly I think anybody that's watching will see a difference in his work tab. He's had some more aggressive works going into this race," Gaudet said. "He looked like he needed more ground last time so hopefully that's all he needs, but I think he's going into this race a little bit better.
"We got him over there for the [Miracle Wood] knowing that he wasn't 100 percent keyed up. It was his first time going long, first time going a mile, and then to bring him back and ask him to go even further … a lot of people thought it was going to be a disaster. But he's fitter now," she added. "The Miracle Wood had to be a non-race, between the track and first time being back over there. Last time was huge. We knew he was going into the last race really well and it was very exciting to see him get back to his old form."
Gaudet also entered Ron Paolucci's Takedown for the Tesio. By Grade 1 winner Take Charge Indy, Takedown will be making his stakes debut exiting a 1 ½-length entry-level optional claiming allowance victory going one mile April 2 at Laurel. He has also finished third twice but was promoted to second one start prior to his latest win.
"He's been a really nice horse to have in the barn. He's a little different from Dynamic. It's taken him some running, and honestly you see it all over the country in the last couple of weeks, these Take Charge Indys are just getting better as they kind of get a little bit older, and I think that's him," she said. "I think he's a little green but he wants ground, he wants to go further and further. We saw that in his last race and even the first time we ran him when he was third with that late kick he came running. We do think that he's a pretty nice horse."
Cash is King, D.J. Stable and LC Racing's Diamond King, winner of the seven-furlong Heft Stakes Dec. 30 at Laurel to cap his juvenile campaign, is set to make his second 3-year-old start in the Tesio. He finished third in the seven-furlong Swale (G3) Feb. 3 at Gulfstream Park, his first start since being moved to trainer John Servis, and had to be scratched from the Private Terms after getting sick.
"He spiked a little fever and it was kind of touch and go. It was up and down and I was afraid to ship him down there and run him when you're not going to get your best race out of him and it would probably knock the [heck] out of him so we just decided to skip it and get him better," Servis said. "It's crazy because it wasn't two days later he was fine but I had like seven, eight horses do the same thing in a period of about two weeks. It was probably just a viral thing going through the barn.
"It gave me more time with him. I'm a little concerned because he's the kind of horse where you've got to put him with something to get a good work out of him," he added. "You hate missing too much time between races with a horse like that because you're wondering how much you're actually getting in him to get him fit. He seems like he's fit and he's ready to go. He's sitting on go."
John Oxley's undefeated stakes winner Noble Commander will make just his third career start in the Tesio for Canadian Hall of Fame trainer Mark Casse. Out of the Indian Charlie mare Indian Carlie, the Forestry colt beat next-out winner Noble Drama in his Feb. 16 debut at Gulfstream and came back with a three-length triumph in the seven-furlong OBS Sophomore Stakes March 25 at Tampa Bay Downs.
The Tesio will be Florida-bred Noble Commander's first attempt against open company, first outside of Florida and first beyond sprint distances. Two-time Eclipse Award winner Julien Leparoux, aboard for each of the first two starts, will be in town to ride.
"It's a big step up. He's never run two turns but he's trained extremely well so we'll try it," Casse said. "He's shown he's been special from the beginning. He broke his maiden fairly professionally and then came back and won a small stake. Julien's been really high on him, as well. He thinks he's really talented.
"He's a big, beautiful horse. This is a tall task we're asking of him but we'll see how he handles it," he added. "He's going to be fairly close to the lead. We'll find out whether he can get two turns or not. That will be the question. He's still figuring things out."
Completing the field are American Lincoln, an 18 ¾-length maiden winner in his sixth career start March 16 at Aqueduct for trainer Linda Rice; Godolphin homebred Holland Park, a maiden winner Feb. 15 at Aqueduct; Navy Commander, a winner of two straight at Parx by 18 combined lengths, the latter March 27 going one mile; and Not Fake News and Split Verdict, coming off maiden triumphs at Penn National and Aqueduct, respectively.
Diamond King, Dynamic Asset, Navy Commander, Still Having Fun and V. I. P. Code are all Triple Crown-nominated.