El Areeb lukewarm favorite in rugged Laurel allowance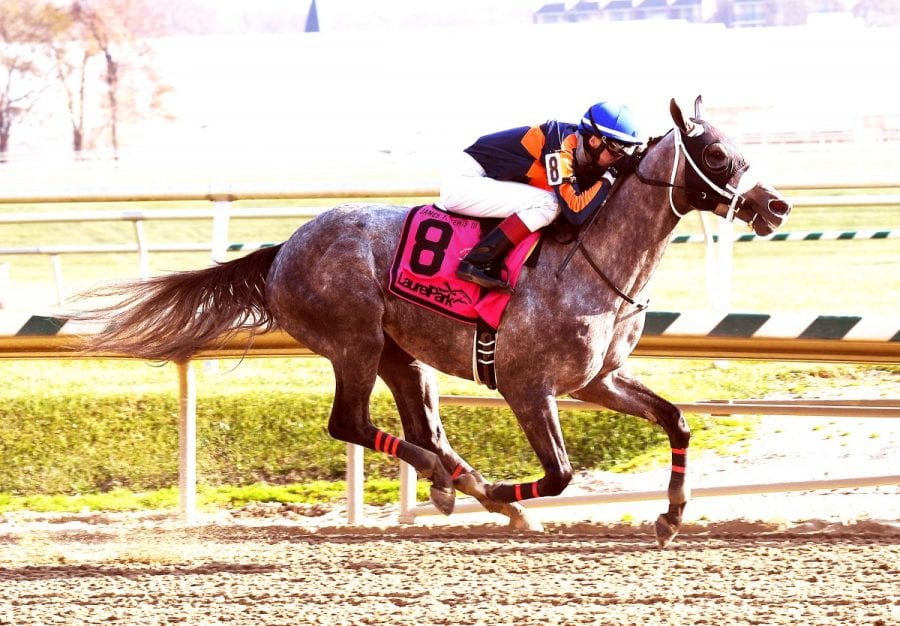 El Areeb won the 2016 James F. Lewis, III Stakes at Laurel. Photo by Jim McCue, Maryland Jockey Club.
From a Maryland Jockey Club release
MMG Stables' multiple Grade 3 winner El Areeb, one of the leading Triple Crown contenders last winter before being sidelined with a knee injury, seeks his first win in more than a year in the featured ninth race Friday at Laurel Park.
The $50,000 third-level optional claiming allowance for 3-year-olds and up going seven furlongs attracted a stakes-quality field of eight that also includes El Areeb's stablemate Irish Colonel, stakes winners Sonny Inspired and Noteworthy Peach and multiple stakes-placed Grasshoppin, Final Prospect and Rockinn On Bye.
"It's like a stakes race. There's some legitimate horses in there," trainer Cal Lynch said. "It's no soft spot."
El Areeb has been unable to recapture the form he showed last winter, extending his win streak to four races with victories in the Withers (G3) and Gotham (G3) at Aqueduct after closing his juvenile campaign with a decisive triumph in the James F. Lewis III at Laurel.
The 4-year-old son of Exchange Rate had surgery to repair his knee, injured while training for the 2017 Wood Memorial (G2), and he didn't return to the races until Nov. 11, finishing last of six in the seven-furlong City of Laurel Stakes.
El Areeb made his seasonal debut Jan. 8 in the six-furlong Dave's Friend at Laurel, but had been bothered by a foot issue both before and after the race. He shows six works at Laurel for his return, most recently going five furlongs from the gate in 59 seconds March 24, the fastest of 20 horses.
Jockey J D Acosta, aboard for the work, has the call on El Areeb from outside Post 8 at 120 pounds, two fewer than co-topweights Colonel Sharp and Irish Colonel.
"He had an abscess and for five or six weeks we couldn't get it to blow out until after his last race. He had it before the race and then it went away, those things come and go," Lynch said. "Then it came back after the race and a couple days later it blew out and drained, and now it's doing pretty good.
"He's been training well and he had a really good work last week from the gate with JD and we were quite happy with the way he came out of that. The blacksmith has done a great job," Lynch added. "He's got a nice post, a better draw this time. He's not going to be buried in the one-hole. We're hoping for a nice, clean trip and we're looking for him to bounce back to what he was."
Dun Roamin Farm and Wire To Wire Stable's Irish Colonel, seventh in the Dave's Friend, is exiting a half-length optional claiming victory going six furlongs Feb. 17 at Parx. Meet-leading jockey Jorge Vargas Jr. will ride from Post 5.
"We're cautiously optimistic, I think, is the way we are approaching this race. If El Areeb is back to himself and runs his race, he's going to have to be dealt with. On his day he's as good as anybody in there," Lynch said. "We're feeling like this is as good as he's been going back into this race, so we're hoping for a big effort. His work pattern would suggest that he's back the way he was before, and he'll have to be.
"Colonel Sharp's a nice horse and so is Grasshoppin and Sonny Inspired is coming out of a tough race where the winner ran a big number," he added. "Irish Colonel is going to be tough if all the speed sets up. I've been trying to get him in here at Laurel. He's run well at Parx but he's another guy that's very capable on his day."