In Focus: Wagering St. Patrick's Day stakes at Laurel Park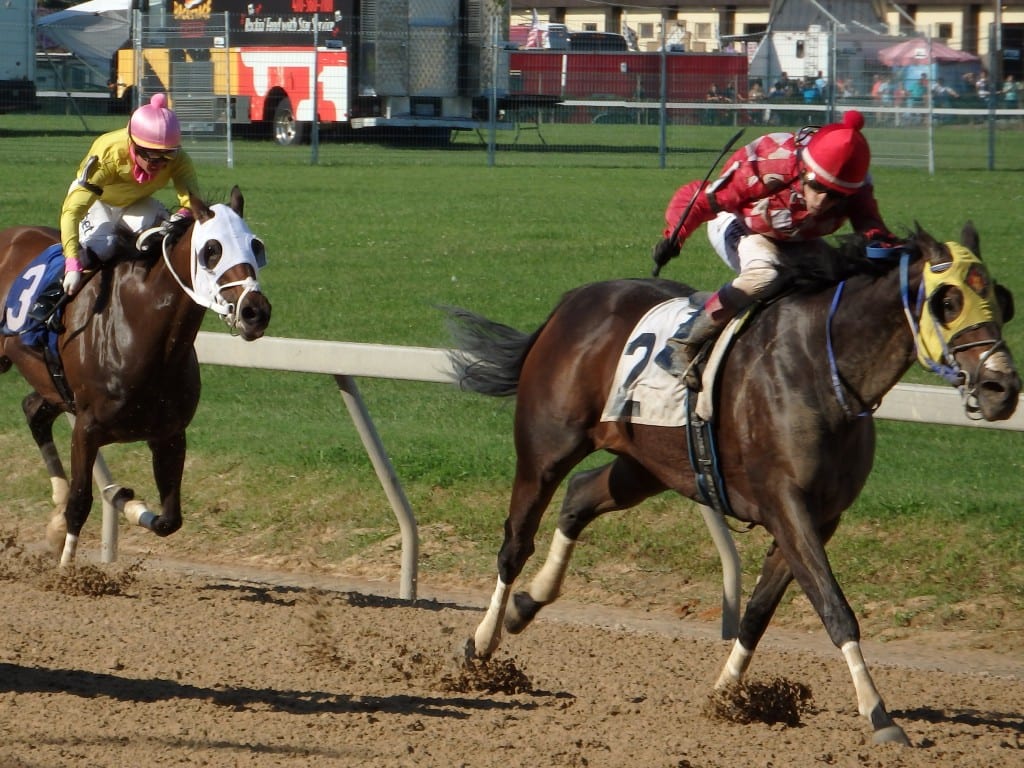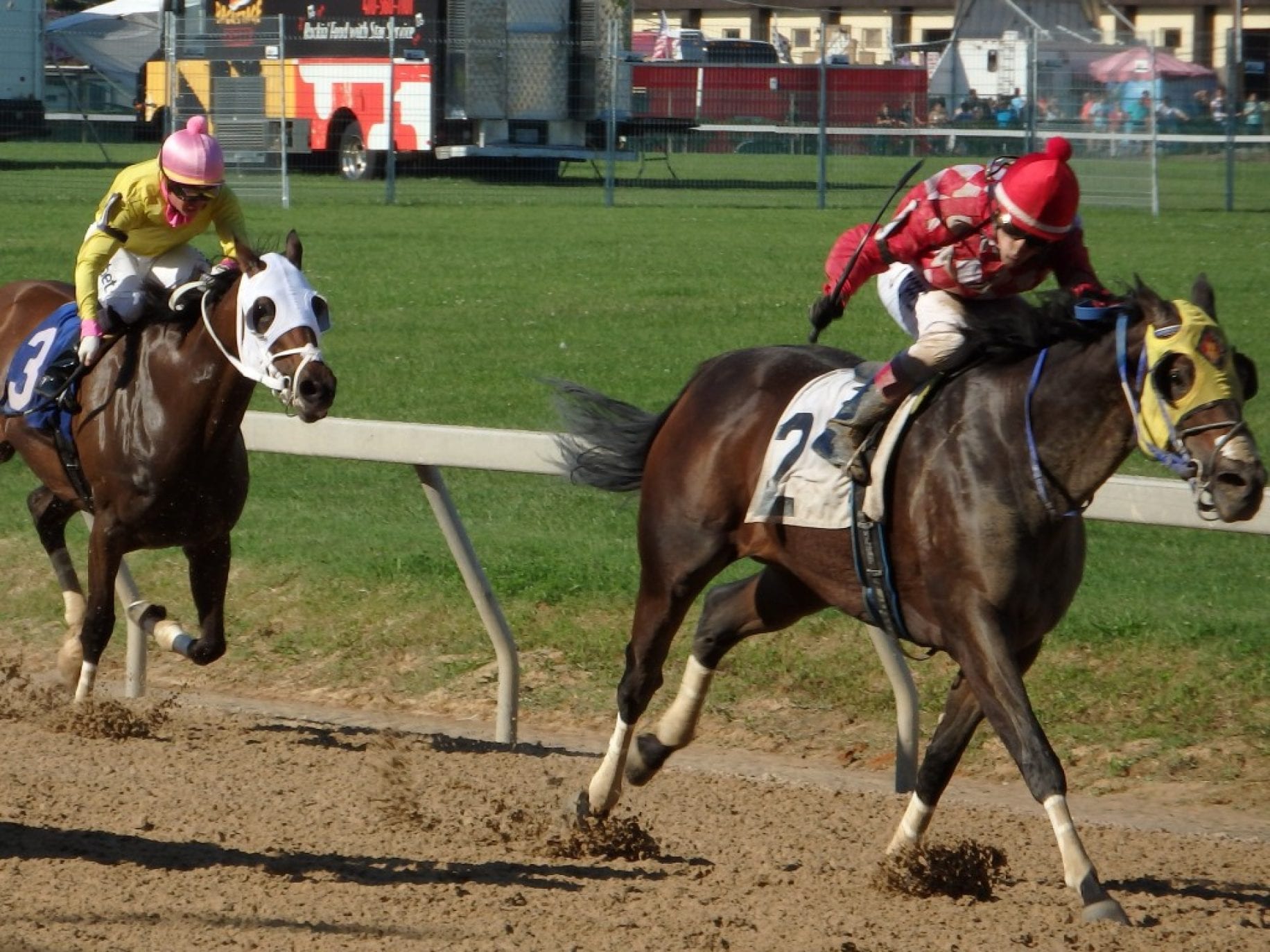 My Magician. Photo by The Racing Biz.
Our In Focus Guide offers the most in-depth analysis and commentary on all five stakes on Saturday's St. Patrick's Day card at Laurel Park. 

Also, check out some other race info:
RACE 6 – CONNIVER STAKES
RACE PARTICULARS: Race 6 (3:40pm EDT), $75,000 guaranteed purse for Maryland-bred/sired fillies and mares 3yo and up, 7 furlongs
THE PICKS
#5 My Magician (5-2): Gonzalez trainee has made a nice living of late winning state-bred stakes, having taken two straight, and looks to be the one to beat here
#4 Anna's Bandit (10-1): Stakes-placed runner has gradually rounded into form for trainer Robb, shows a pair of sharp works prepping for this one
#6 Up Hill Battle (3-1): Finished behind #5 in here in both the Politely and Md. Million Distaff; was a good third in the Politely, enters off a win, and can contend here
#2 Moon Virginia (12-1): Closing sort has been training forwardly for this tilt and picks up meet leader Vargas, Jr. in the irons – but is there enough pace to unleash her late kick?
REST OF THE FIELD
#1 Shaunna Alexandra (8-1): Like to see rider Pennington in for the mount on a runner who owns a win at the distance but generally has been handled like a horse a cut below this… #3 She Rolls (10-1): Career-best speed fig came when on the engine at this trip in Md. Million Distaff – but even then she couldn't hold off #5 in here; may have lead to herself again here… #7 Star Eighty (6-1): Loves the trip and enters off two straight wins but will need a huge one here; likely to stalk from the outside… #8 Item (15-1): Has been bested by the fave In here by 4-5 lengths twice… #9 Conjecture (6-1): Good $16k claim has won three of five since for trainer Abramson, one at the trip, rises off state-bred allowance win…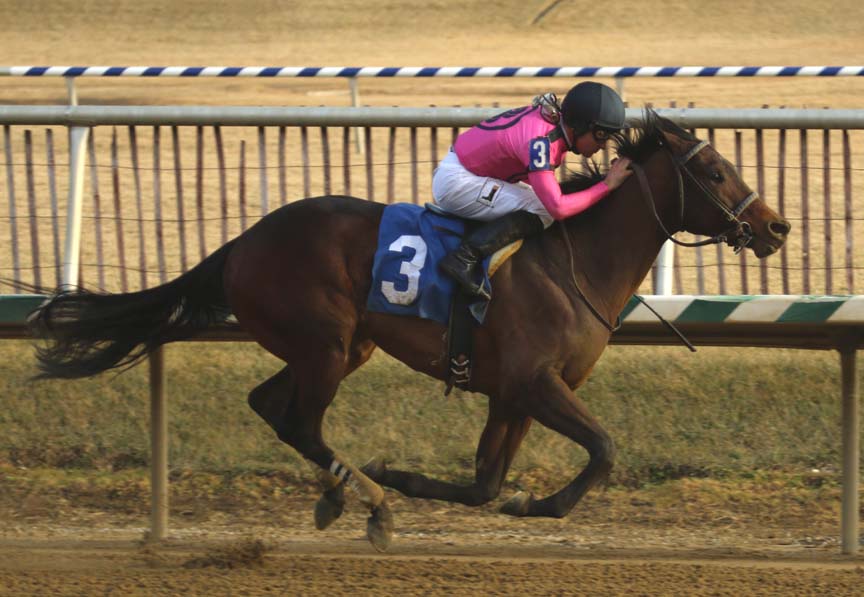 Something Awesome. Photo by Laurie Asseo.

Race 7 — HARRISON JOHNSON MEMORIAL STAKES
RACE PARTICULARS: Race 7 (4:10pm EDT), $100,000 guaranteed purse for 3-year-olds and upward, 1 1/8 miles
THE PICKS
#3 Zanotti (3-1): Formful sort gave a good accounting of himself last out, chasing loose-on-the-lead Afleet Willy all the way around and sticking with it after seeming to be done at the quarter-pole; wants a stalk-and-pounce type of trip here and may get it; first and second in two tries at the trip
#1 Something Awesome (9-5): Big late run got the money in the G3 General George, but this Corrales trainee has to do something he hasn't done in five prior tries: win going around two turns
#8 Admiral Blue (10-1): Enters off an allowance win at the trip but has finished behind #7 here twice; jockey Lynch and trainer Rodriguez do well together
#6 Discreet Lover (9-2): Repent horse won the Swatara last Thanksgiving eve to cap the best season of his career but was beaten by #3 in here in his follow-up; trainer St. Lewis has lackluster numbers off the layoff
FIELD IN FULL

#2 Dattt Melody (12-1): Ran decently at long odds in last but was never a threat to the top pair, one of whom returns here… #4 Grasshoppin (10-1): Even effort when sixth in the General George and could step forward here, but 0-for-14 stakes ledger gives pause… #5 Warrioroftheroses (20-1): Veteran has shown improved grit in recent efforts but would be a major surprise in this spot… #7 Doyouknowsomething (5-1): Winless in nine tries at the trip and enters off a disastrous fold last out, when stopping after three quarters as the chalk; trainer Barker 6-for-33 first off the claim…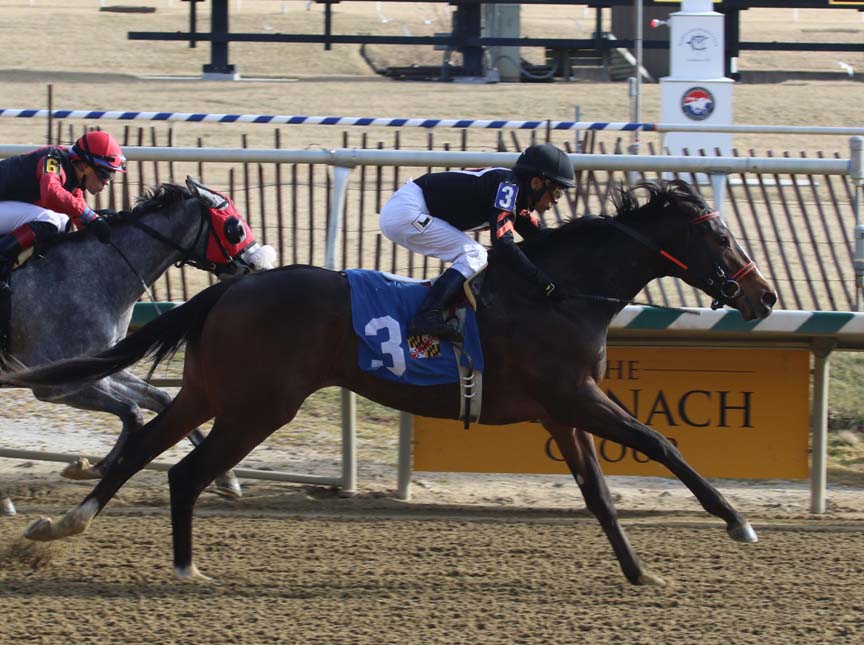 Limited View. Photo by Laurie Asseo.

Race 8 — BEYOND THE WIRE STAKES
RACE PARTICULARS: Race 8 (4:40pm EDT), $100,000 purse for 3yo fillies, 1 mile
THE PICKS
#6 – Smokinpaddylassie (5-2): First time beyond six furlongs for this Paddy O'Prado filly, who hasn't done a thing wrong to date; three of four to run back from her last won their follow-ups; second time with Lasix
#8 Fools Gold (8-1): It's not every day you get 8-1 on a Chad Brown trainee; this miss graduated last out in her fourth start, second on the main track, and the Beyer figs say she doesn't belong; but Brown has a 7-3-2-0 record in ungraded Laurel stakes the last five years and wins everywhere he goes
Limited View (5-2): Freedom Child filly has shown ability to lead or stalk; stretches out to a mile for the first time after a hard-fought win in the Marshua last out; blazing-faDeep Red (12-1): Astute Damon Dilodovico claim has placed in two stakes and won an allowance in her last three; will need to step it up another notch herest work a week ago says she's ready – but was it too fast?
#7 Deep Red (12-1): Astute Damon Dilodovico claim has placed in two stakes and won an allowance in her last three; will need to step it up another notch here
REST OF THE FIELD

#1 Stakes On a Plane (20-1): Amusingly named Jeff Talley trainee  runs without Lasix and figures to be up against it here… #2 Frigid Sister (20-1): Makes second start after a three-month break; must eliminate gate issues to have a chance to jump up here… #4 Vente to Go (12-1): Improving sort was thrashed by the favorite in only prior meeting; owns a win at the trip, but runners from that contest were winless in their follow-ups (0-for-7)… #5 Mo Shopping (2-1): It's a Todd Pletcher trainee, and bred to be a star – by hot sire Uncle Mo out of G1-placed Stopshoppingmaria – but doesn't seem to have beaten much in two victories; figures to get plenty of wagering action, and it'll be hard to take short odds on her…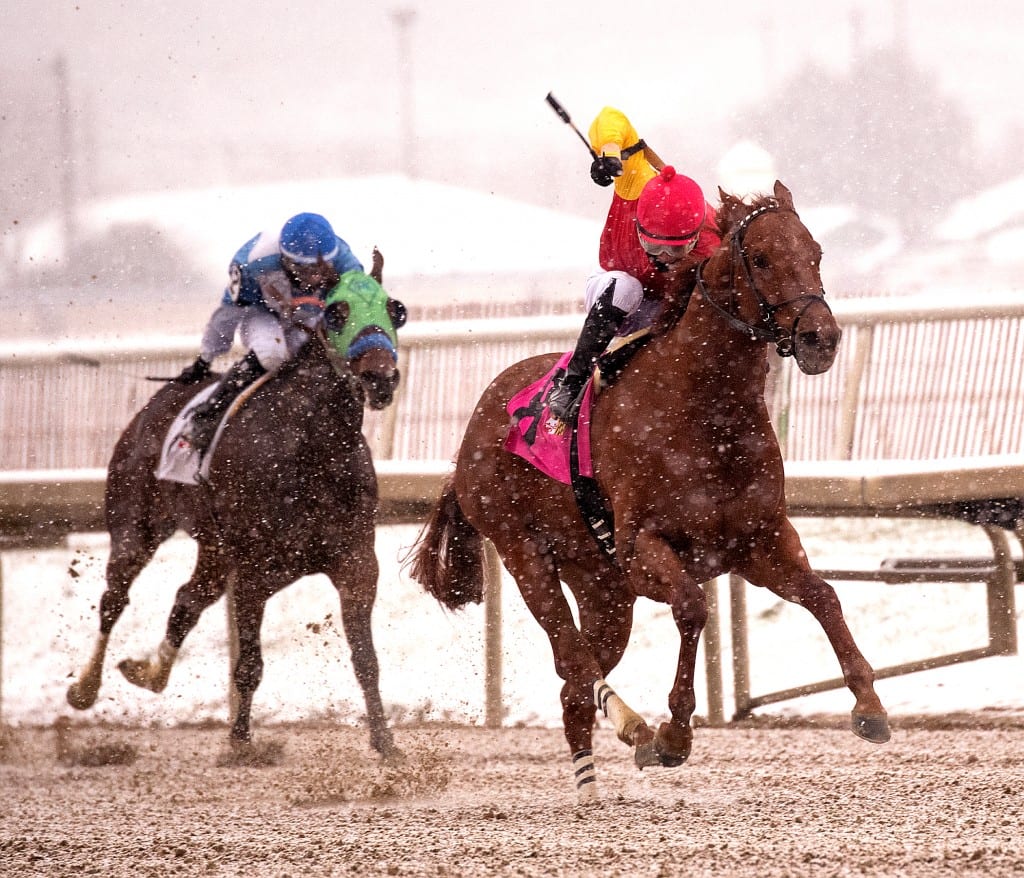 Struth. Photo by Jim McCue, Maryland Jockey Club.

Race 9 — NOT FOR LOVE STAKES
RACE PARTICULARS: Race 9 (5:10pm EDT), $75,000 guaranteed purse for Maryland-bred/sired 3yo and up, 6 Furlongs
THE PICKS
#2 Lewisfield (3-1): Lightly raced 4yo ran second to the favorite in here two back in stakes bow after getting stuck down inside; returned with dominant win against allowance foes and rates a major shot in here
#5 Struth (5-2): Astute $20,000 claim by Kieron Magee, winning or placing in five stakes since; loves this 6-furlong trip, and the Dave's Friend, where he ran second last out, produced three next-out winners; has fired fresh before and no reason to think he won't be around at the end here
#8 It's the Journey (3-1): Off near-miss efforts in the Fire Plug and the G3 General George, this Mike Trombetta trainee rates a long look here; best efforts put him right there, but you have to wonder if 7f might be just an inch better for him
#9 Eastern Bay (10-1): E Dubai gelding arrives on a three-race win streak and has shown the ability to lead or stalk, as circumstances warrant, outer post here probably pionting to the latter; curious fact: he's 4-for-4 on wet tracks, 0-for-5 on fast
REST OF THE FIELD

#1 Sonny Inspired (20-1): This 7yo gelding is creeping up on a half-million in earnings but figures to need a big one here… #3 Rockinn On Bye (10-1): Veteran closer is usually in the money but rarely wins — not since November 2015 — and it's hard to see that streak ending here… #4 O Dionysus (20-1): Gary Capuano trainee flashed plenty of talent as a 3yo, winning the Miracle Wood and finishing second in three other stakes; return to action off 10-month break was subpar, though, and this distance looks to be shorter than his best; do like to see him show up here, though… #5 Final Prospect (20-1): Expecting to see this Gary Capuano runner scratch; just 1-for-13 at the trip… #6 Easy River (30-1): Ran fifth, including behind two of these, in the Maryland Million Sprint last October; his recent form is worse now… #9 John Jones (8-1): Hasn't quite recaptured the 2016 form that saw him win five times, including two stakes, after a July claim, though two-back win in the Jennings was solid; distance a question here, as his best work has come at Laurel's one-turn mile; training forwardly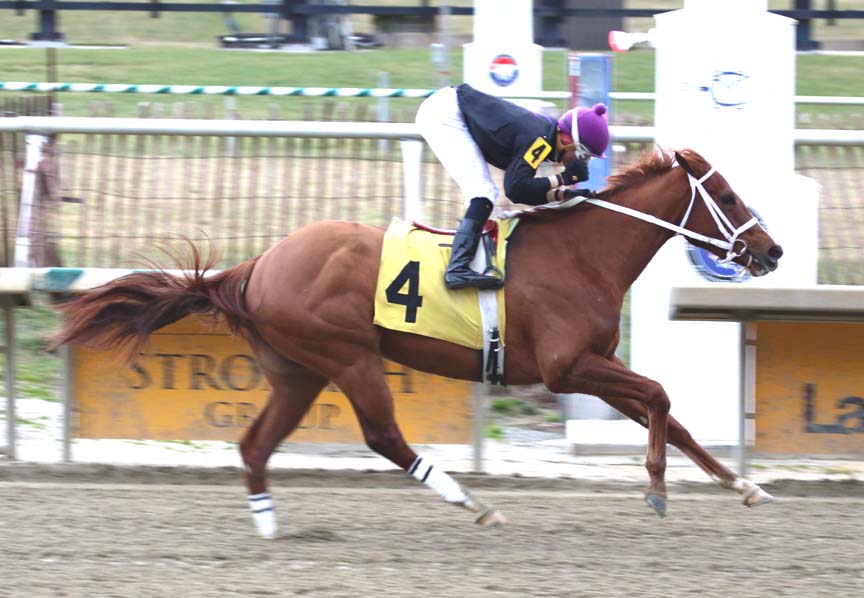 Still Having Fun.  Photo by Laurie Asseo.

Race 10 — PRIVATE TERMS STAKES
RACE PARTICULARS: Race 10 (5:40pm EDT), $100,000 guaranteed purse for 3yo, 1  1/16 miles
THE PICKS
#4 Still Having Fun (9-5): Morning line fave is a neck away from being four-for-four; narrow win last out was flattered when runner-up Old Time Revival ran second in the G3 Gotham while well clear of the rest; well drawn in the three-hole and added ground doesn't figure to be a problem..
#9 Forest Fire (8-1): Friesan Fire gelding looks to be a different horse since the calendar changed to 2018; ultra-game effort in win last out when turning back a perfect-trip rival, and that race has produced two next out winners; like to see Bisono return for the mount
#2 Bal Harbour (2-1): Pletcher shipper owns two stakes wins, including the Sapling around two turns at MTH, but had no answers in the G3 Withers; must rediscover better form to compete; short odds not enticing but pickup of leading rider Vargas nothing to sneeze at
#7 Diamond King (7-2): Servis trainee owns a stakes win over the strip and third-place finish in the G3 Swale wasn't bad; winner Strike Power returned to be second in the G2 Fountain of Youth; figures to be forwardly placed early and keeps regular pilot Pennington here
REST OF THE FIELD

#1 Dynamic Asset (30-1): Longshot began his career in promising fashion but will have to turn tables on favorite here, who beat him by 28 lengths last out… #3 California Night (8-1): Mike Maker trainee is cross-entered in an allowance at AQU, where he's 5-1; Maker runners are 11-for-34 when making second start off a layoff while getting blinks on; will need top effort here… #5 Roaming Union (12-1): Don't want to hold that last on the synthetic at TP against him too much, but that 89 Beyer in his maiden-breaker sure doesn't look like any of his other figs; next two from maiden score graduated in their follow-ups… #6 V. I. P. Code (15-1): Ran well enough two back in the Whiteley to be third but well behind the favorite in here; this has the look of a tough assignment… #8 Whirlin Curlin (15-1): Two wins – both in stakes – came at over 20-1 odds and you might get similar here; breeding says the stretch out should be a positive and gets regular pilot Toledo back