Horacio Karamanos set for weekend return to riding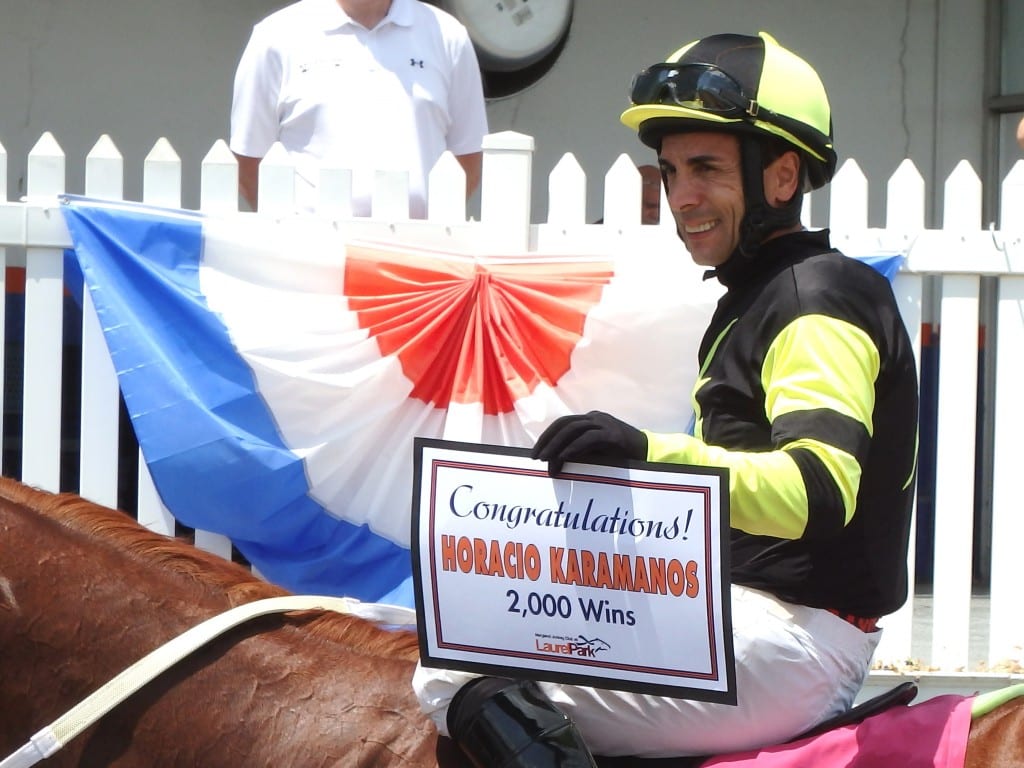 by Frank Vespe
Jockey Horacio Karamanos — out since mid-January — will make his return to the races this weekend. He is named on two horses Friday at Laurel Park as he gradually ramps up his work.
"I'm not going to bombard him with calls," said his agent, Frank Douglas. "I want to ease him back to being the old Karmanos."
Karamanos was injured in a January 14 race at Laurel Park. He was aboard Marie from Parie, a filly trained by Mary Eppler, in a Maryland-bred allowance race when the horse in front of them, No Love Lost, broke down. Marie from Parie ran into No Love Lost, unseating Karamanos.
According to Douglas, Karamanos suffered a "tiny" fracture of the T-5 vertebrae, but it was enough to sideline him.
Three weeks ago, the doctors cleared Karamanos to resume riding. But they cautioned him that waiting a little longer would enable him to reduce the possibility of aggravating the injury.
"I'm glad I did take the additional three weeks," Douglas said. "The back is a very dangerous thing to mess with."
Karamanos began getting on some horses last Wednesday in Florida for trainer Mary Eppler, who has a string down at Palm Meadows Training Center, near Gulfstream Park. He has since returned to Maryland, and Douglas said that the rider had galloped five horses at Laurel Park on Tuesday and six more Wednesday morning.
"He's been getting on horses, and he feels better than ever," Douglas said.
On Friday, Karmanos has a pair of mounts, both for trainer Jose Corrales. Douglas said he expected that Karamanos would have  two or three more on Saturday at Laurel, although at press time, entries were note yet up. Karamanos is named on a horse Thursday at Gulfstream, as well, but Douglas said the rider would not ride in that race.
Karamanos, who began riding full-time in the United States in 2000, earned his 2,000th victory here June 18, 2017. He now has 2,050 victories here, good for purse earnings of more than $52 million.
All of that success is in addition to some 2,200 wins that he estimates he racked up while riding for more than a decade in his native Argentina.
"I'm happy that I've done so good," he said on the day he earned win number 2,000.
And he's still going strong. His 2017 purse earnings of over $4.8 million were the second-highest of his career and the most he'd registered since 2002.
Karamanos also won two graded stakes in 2017. He won the Grade 2 Barbara Fritchie aboard High Ridge Road for trainer Linda Rice and later in the year took the Grade 3 Frank J. De Francis Memorial Dash with Chublicious, trained by Claudio Gonzalez.
Karamanos had two wins from 18 starts this year prior to his injury.