Charles Town: Latest jockey ratings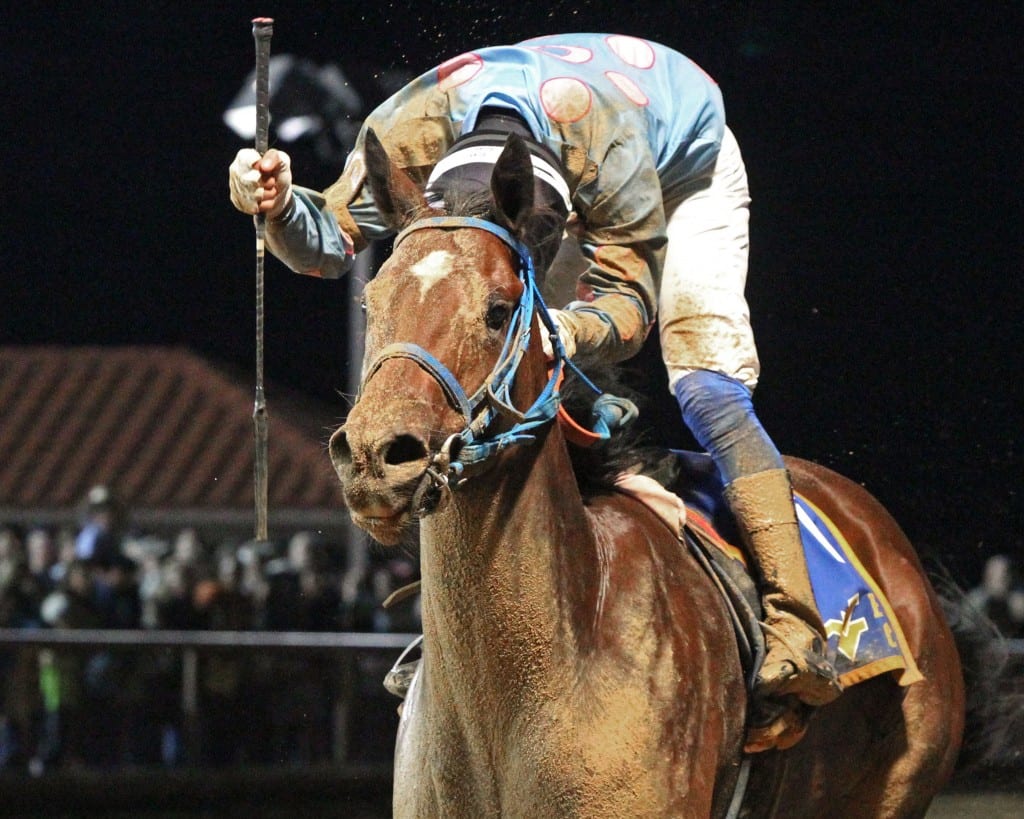 Bound to Windsor, here winning the West Virginia Triple Crown Nutrition Breeders Classic. Photo by Coady Photography.
by Frank Vespe
It's crowded at the top of the Charles Town jockey ratings.
In our rating system, five jocks have between 244 and 289 points, and nine have at least 200. Our system takes into account wins, win percentage, earnings per start, and wagering return on investment. The jockey leading the colony in each category receives a score of 100 for that category, with other riders getting a percentage of that. That would give a jockey leading in all categories a perfect score of 400.
In brief, the rating system rewards jockeys who win often and in the biggest races. We applied the stats to every jockey at Charles Town who's made at least 10 starts and won at least one race.
The meet leader through February 27 in our rating system is veteran Christian Hiraldo, who has a rating of 288.27. That gives him a short lead over Xavier Perez, with Gerald Almodovar — whose 19 wins are the most in the colony — in third.
Hiraldo doesn't lead the colony in any of our four scored categories, but he does well in virtually all of them. He is second in wins with 17, just two behind Almodovar. He is also second in win percentage (21.25 percent) behind Perez. And he's third among qualifiers in earnings per start, at $3,001. Though he's not among the leaders in wagering return on investment, he does have a positive ROI.
Perez, who's a part-timer at Charles Town, also riding at Laurel Park, has won with six of 22 mounts at CT. His resultant strike rate of 27.3 percent leads the colony. He's also second in earnings per start ($3,200) and fourth among qualifiers with a wagering return on investment of $3.20.
Almodovar, the meet leader with 19 wins, is third in ratings points with 268.71. He's fourth in earnings per start ($2,923) and fifth in win percentage (19.4 percent). Where he does not score well is wagering return on investment; bettors have recouped just $1.18 for each $2 wager on his mounts.
JD Acosta, who led the rankings two weeks back, drops to fourth overall with 247.15 points after winning with just one of 13 mounts in the interim period. Antonio Lopez, who leads the colony with earnings per start of $3,954, is just behind him in fifth, with 244.60.
The meet leader in ROI among qualifiers is Kim Cecil, who has won with just three of 37 starters — but whose three winners paid $21.20, $52.20, and $111.20.
The ratings are for every jockey with at least 20 mounts and at least one win.