Oh My! First win for trainer Brittany Trimble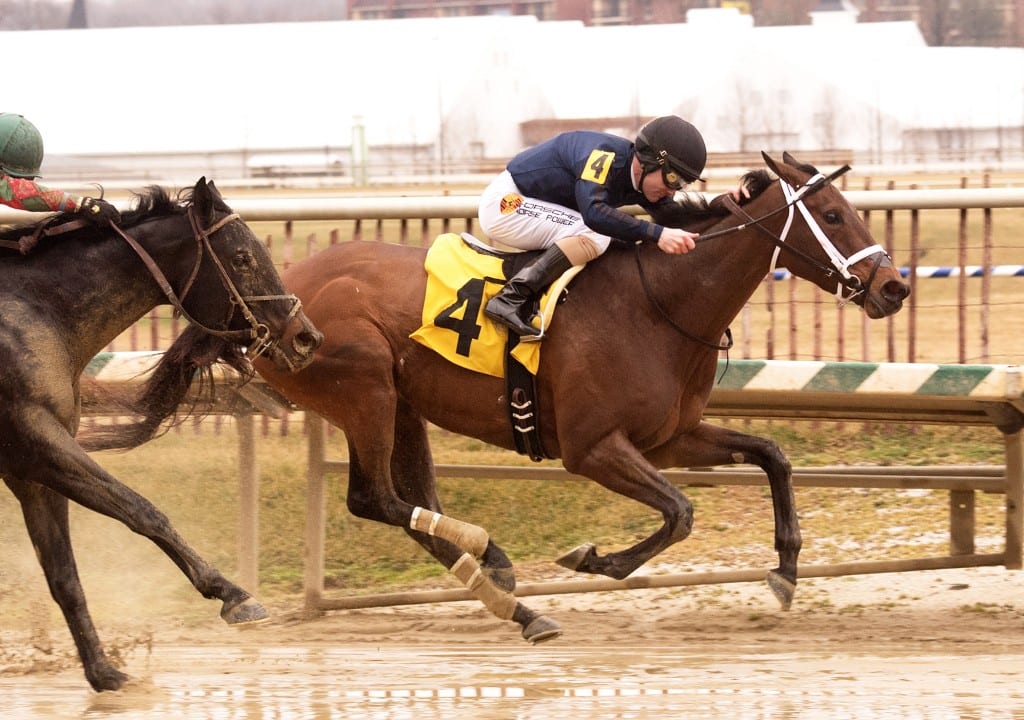 Oh My broke her maiden at Laurel Park. Photo by Jim McCue, Maryland Jockey Club.
by Frank Vespe
Brittany Trimble hesitated when asked if she'd expected Oh My, the four-year-old Medaglia d'Oro filly she trains for Peter E. Blum Thoroughbreds LLC, to run as well as she had following Sunday's fourth race at Laurel Park.

"She's been training good, but I'll tell you, I uh… no," she finally said with a laugh.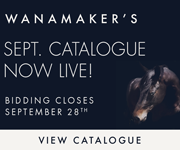 Making her first start in 13 months, Oh My grabbed the early lead and didn't look back, outgaming favored Sister Patricia and holding off the late run of Bash to win by a half-length to break her maiden in just her second start.
It was also Trimble's first start – and first win – as a trainer.
"Amazing!" Trimble said. "Awesome, really, it's great, especially with a nice little filly like this for Peter (Blum). He's been really, really supportive. He sent me a couple really nice horses, and he trusted me with them, and here we are. I'm lucky, and I'm honored that he trusted me with them."
Trimble, 28, got started in the horse business at age 13 in her native Pennsylvania.
"I was riding babies on the farm," she said.
She's also worked for trainer Ron Moquett, Jimmy Jerkens, and Brad Cox.
"I've had some really good jobs, some really good mentors," Trimble said. "Ron's been awesome. He helped me get set up here. I can't be any more lucky to have those guys behind me."
Trimble has eight horses in training at Laurel Park, and two of them ran on Sunday. Three races after Oh My's victory, Karma, also owned by Blum, ran sixth in an allowance race.
"My family is here, and they are not horse people at all," Trimble added. "So it's pretty cool. They have no idea."
Oh My is an extraordinarily well bred filly. By top sire Medaglia d'Oro, she is out of the Mt. Livermore mare Proposal. She is a half-sister to four stakes winners, including $400,000 earner Inspired.
She made her debut in January 2017, finishing a well-beaten fifth behind Corporate Queen. Corporate Queen went on to run third, beaten just two lengths, in the 2017 edition of the Grade 2 Black-Eyed Susan Stakes.
Oh My hadn't run since, but Trimble said that was — more or less — by design.
"Peter really just gives his horses time," she explained. "She didn't run good that first time, and she got a little sick. He just gave her plenty of time, so we had time to get her back right. Nothing remarkable — she got the time, she grew up, that's what she needed."
While she showed no speed in her debut, Oh My's dam was a stakes-placed sprinter, and today, she showed good speed in tugging the field through an opening quarter-mile in 23.39 seconds under Feargal Lynch. Sister Patricia, the favorite, challenged her nearing the quarter-pole but could not get by. And the late run of Bash, with Sheldon Russell in the irons, came too late to change the outcome.
Running time for the seven furlongs was 1:25.50 over a sloppy, sealed main track. Oh My paid $11.80 to win and topped an exacta worth $68.60.
Trimble is engaged to jockey Sheldon Russell, who ran second in this race, his mount's menacing late run falling less than a length short.
Trimble laughed when asked if she was thinking angry thoughts at her fiance as he loomed up in mid-stretch.
"We can't play that game," she said. "One of us will take the money home."