Ms Locust Point makes it look easy in Fritchie win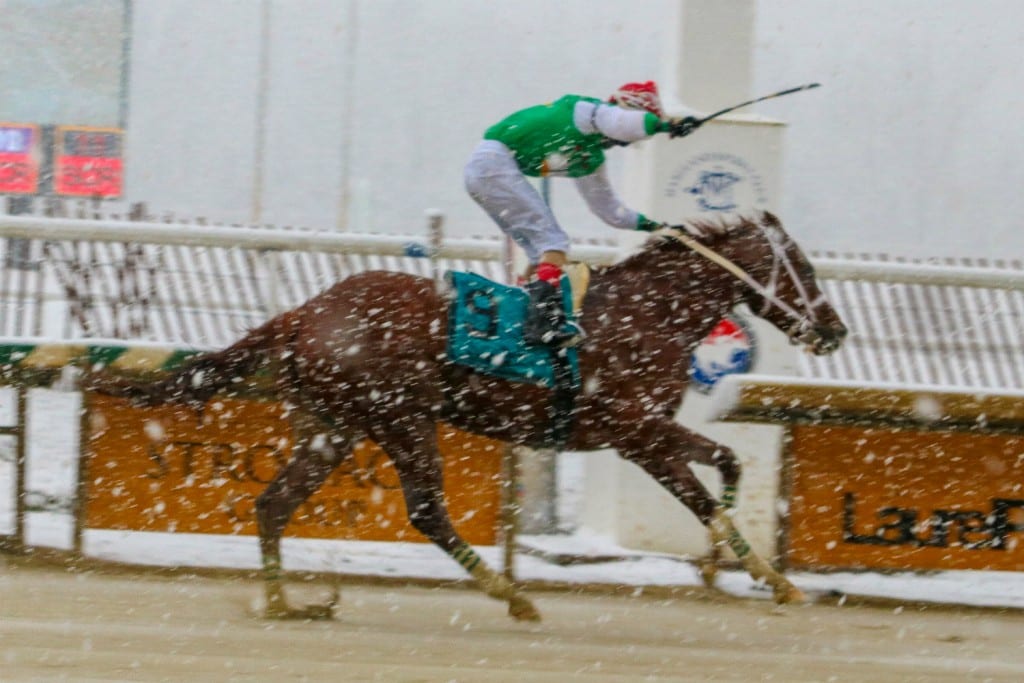 by Frank Vespe
There's easy, and then there's Saturday's Grade 2, $300,000 Barbara Fritchie Stakes at Laurel Park.
At least, that's how Ms Locust Point made it look.
The four-year-old Dialed In filly ran her Laurel Park record to a spotless four-for-four — all in stakes company — when she rolled to a 4 1/2 length victory to take the first graded event of her career.
"She just break out of there like she always does," said winning rider Jorge Vargas, Jr., who won two of the day's six stakes. "It's very easy for her. (She say) Let me take you."
Ms Locust Point broke alertly and owned a three-length advantage after a quarter-mile in 22.99 seconds. With Ms Locust Point fairly skipping across the muddy, sealed surface, the Fritchie was pretty much in the bag at that point.
"She's just so smart," Vargas added. "She saw we were going to be in front and she took me there."
"She's got such a brilliant cruising speed," explained winning trainer John Servis, who teamed up with Vargas earlier on the card to win the Maryland Racing Media Stakes with Miss Inclusive. "She clicks off those 12s (12-second furlongs) like it's nothing."
Indeed, her advantage never fell below three lengths at any subsequent point of call. Ms Locust Point stopped the timer in 1:24.13 for seven-eighths. She returned a paltry $3.20 as the 3-5 favorite, besting 6-1 Moiety and 3-2 second choice Berned.
If there was a cautionary note to be sounded, it was in the scratch-decimated field. Ms Locust Point loomed a contender no matter who showed up, but she certainly benefited when six runners scratched, victims of the equine herpesvirus quarantine in New York. Among those who did not post was the 7-2 morning line favorite, Highway Star.
"With the scratches and everything, I don't know how solid a field it was," said Servis, who trains Ms Locust Point for Cash Is King LLC and Jim Reichenberg. 
"I feel bad for them because it's a huge weekend for them, but it worked out good for me," he said with a laugh, admitting his own good fortune. "I felt bad for about three minutes."
It was a rewarding development for Ms Locust Point's connections, who have had high hopes for her all along. After she won the Gin Talking at Laurel Park in late 2016, they took her to Gulfstream Park, where she ran fifth as the favorite in the Grade 2 Forward Gal last February.
But she didn't race again until November, when she took an allowance at Parx Racing, as a result of foot issues. Those had proven elusive; she didn't seem to be quite herself, and eventually, the team focused on the feet. Glue-on shoes did the trick.
Since coming back, Ms Locust Point has won all four of her starts and now owns six win from eight starts with earnings of $438,960. Up next? Possibly the Grade 1 Madison at Keeneland in April.
"She's just now really learned to settle," Servis said. "You know the old saying, if it's not, broke don't fix it. I don't want to throw too much at her too quick."
Then again, she's handled everything he's thrown at her with aplomb.