Corrales-Trujillo family affair leads to General George win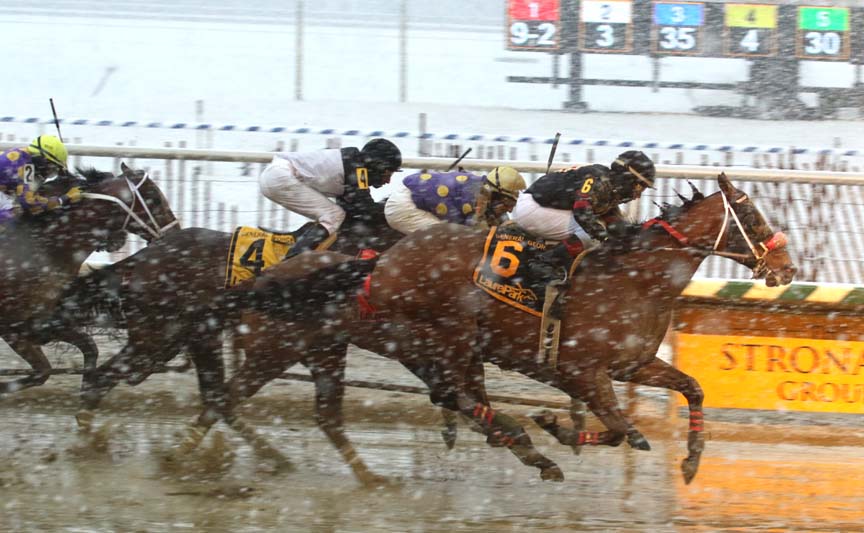 by Frank Vespe
Horse racing's nothing if not a family affair — what's breeding if not the study of families functional and otherwise? — and that fact was on display Saturday at Laurel Park's annual winter carnival, topped by the Grade 2 Barbara Fritchie Stakes and Grade 3 General George.
In the day's first stake, the John B. Campbell, the Claudio Gonzalez-trained Afleet Willy cruised to a 2 1/2-length, front-running victory for the father-son team of dad Bruno and son Bobby La Banca, who race as BB Horses.
"It's pretty awesome," said Bobby La Banca of the chance to partner with his dad. "He was in the business for over 40 years. I'm partnered with him in the business he started (also), the Appian Way restaurant in Orange (NJ), 44 years ago. He moved to Arizona and opened up another one 20 years ago. I run the one in New Jersey."
The elder La Banca said he once owned a horse who finished ahead of Spectacular Bid, albeit before Spectacular Bid was, you know, Spectacular Bid. La Banca's horse finished second in a division of the Tyro Stakes at Monmouth Park, while the Bid came in fourth. It was the only time Spectacular Bid ever finished out of the money.
For all that, it's doubtful La Banca has ever owned a horse who delivered the goods as consistently as Afleet Willy. Claimed for $25,000 out of his maiden win in December 2015, the five-year-old Wilburn gelding has since posted 11 wins in his last 21 starts — 12 for 27 overall — and today's victory pushed his career earnings to nearly $500,000.
Afleet Willy's connections had been on the fence earlier in the week, considering both the nine-furlong Campbell and the seven-furlong General George.
On the one hand, the lucrative $250,000 purse of the General George beckoned. On the other, "That race might be a little short for us. We didn't want to take a chance," explained Bruno La Banca. "We wanted to keep him going long. The distance (of the Campbell) suits Willy better."
Eventually, they said, they left it up to Gonzalez to make the decision, and the result was Willy's fourth stakes victory in his last five starts.
Four races later, an uncle-nephew combo found the winner's circle when Elvis Trujillo piloted Something Awesome to a late-on-the-scene neck victory in the Grade 3 General George for his uncle, trainer Jose Corrales.
"Thank you for my uncle, he helped me a lot," Trujillo said. "I feel so happy. This is my dream. My mom – I love my mom, you know, this is for my mother."
Trujillo's mother, Marisa, is Corrales' sister.
"He had a little bit of rough things that we all go through in life," Corrales explained. "To get a chance to have him back in the going because he's a good rider and he's well-known, to have a chance to give him that opportunity, and the family, that's great, and I'm very happy."
Something Awesome, a Stronach Stables-owned son of Awesome Again, came to Corrales from Canada late last year, and the switch from a synthetic surface to dirt seems to have done him good. He's now won three of four starts in Corrales' care, with a near-miss third in the Fire Plug Stakes the only blemish on his record
Today, in a race in which two major contenders were forced to scratch by the case of equine herpesvirus at Belmont Park, Something Awesome bided his time in seventh early while the speedy Cowboy Mz tugged the field through a quarter-mile in 22.73 seconds and a half in 45.90.
Four wide on the turn and floated even wider in the stretch, Something Awesome surged late to win by a neck over another late runner, the Kenny Decker-trained Fellowship. It's the Journey loomed a threat but settled for third. Running time for the seven furlongs was 1:23.31 over a sloppy, sealed track.
Something Awesome — surprisingly enough, the tepid favorite — returned $8.20 to win. The exacta was good for $49.00.
It was the first graded stakes win in Corrales' training career, and as the snow blanketed the central Maryland track, he gestured to the sky.
"I'm very happy for everything," he said. "Look at this: we got blessed from the sky."