Dr. Bill Solomon: The case for Royal Artillery and Almasty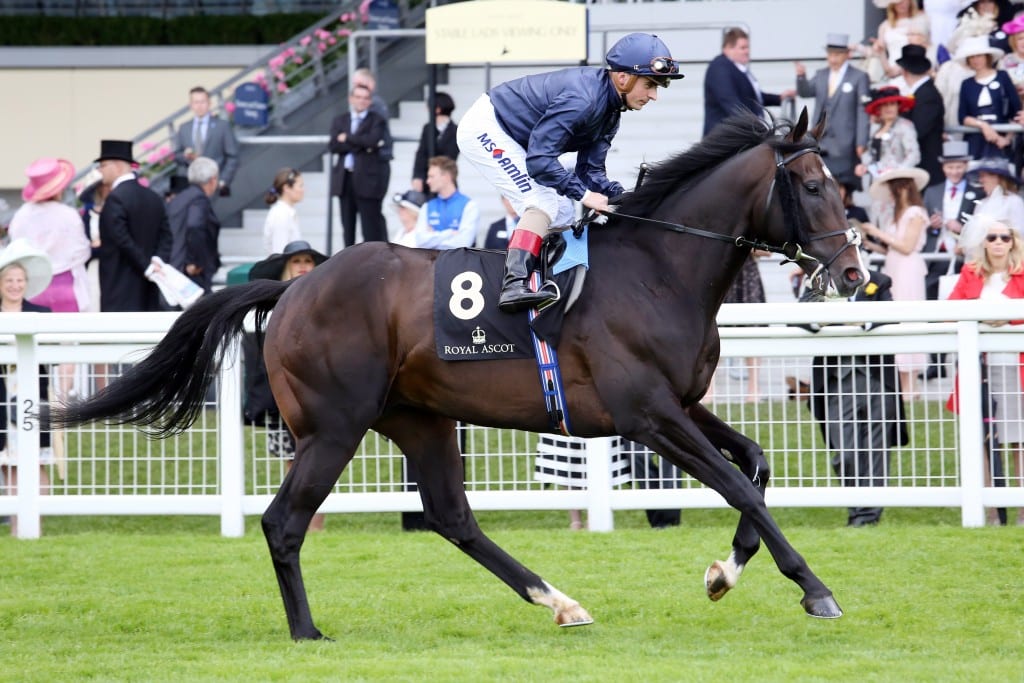 A sponsored story
There's a good reason the folks from Coolmore dropped $450,000 to purchase Royal Artillery as a weanling back in 2013, says Dr. William Solomon.
"He's an incredible-looking horse, and he's from a solid, black-type family," Solomon points out.
And of course, it doesn't hurt that he's by War Front, who in 2013 ended up fifth on the general sire list with progeny earnings of nearly $10 million. Today, War Front stands for a fee of $250,000.
It's these same attributes, bolstered by a graded stakes-winning racing career, that make Royal Artillery such an attractive stallion prospect. He is entering stud this season at Solomon's New Freedom, PA-based Pin Oak Lane Farm.
"War Front has proven himself to be a sire of sires," adds Solomon. "And Royal Artillery is the only graded stakes-winning son of War Front standing in the Mid-Atlantic."
Royal Artillery showed promise from the get-go, winning his only start at two, a seven-furlong maiden race over the turf at Doncaster, in Great Britain.
He followed that up at three by setting a new course record when winning the 1 ¼-mile, Group 3 Rose of Lancaster Stakes at Haydock Park. He also later placed third in a French Group 2 race.
Royal Artillery is out of the multiple graded stakes winner Masseuse, by Dynaformer. Masseuse earned nearly $440,000, and there's plenty of black-type in the family behind that.
Royal Artillery is standing for $4,000, with multiple-mare reductions available down to $2,000.
"He's an incredibly attractive prospect both by appearance and by fee," says Solomon. "Boy, is he good-looking!"
The same can also be said for Almasty, another newcomer to the stallion ranks standing at Pin Oak Lane. Almasty is standing for $2,500 with multiple-mare reductions available down to $1,500.
Almasty, winner of the Grade 3 Commonwealth Turf Stakes at Churchill Downs, showed the rare ability to excel sprinting or going long, also earning black-type in the Kentucky Downs Turf Sprint Stakes.
As good as Almasty was on the track, though, Solomon says his pedigree might make an even stronger case for him.
Almasty is by the late, great Scat Daddy, whom Solomon calls "probably the hottest sire in the country." Indeed, Scat Daddy in 2017 led the nation in stakes winners, stakes wins, and graded stakes wins, and six of his offspring won Grade 1 events, second most of any sire.
Almasty is the lone son of Scat Daddy standing in the mid-Atlantic region.
Almasty is out of the Pleasant Colony mare Minicolony, who herself was out of the great foundation mare Ministrella, by The Minstrel, whose 11 winning offspring include three stakes winners and four stakes producers.
That is also the female family of such luminaries as 2005 Horse of the Year Saint Liam and 2017 Horse of the Year Gun Runner.
"He is a powerful, well-conformed horse," Solomon says of Almasty, who stands 16.3 hands. "This is a rare opportunity to breed to a graded stakes-winning son of Scat Daddy out of a strong female family."
Solomon says the time is right to breed in Pennsylvania, and to Pennsylvania stallions. The Keystone State annually offers 22 restricted stakes of $100,000 or more, as well as over 400 races for state-breds. There's racing on dirt, turf, and synthetic surfaces. And Pennsylvania's bonus structure is so generous that Pennsylvania-bred, Pennsylvania-sired horses that win open races often end up earning far more than the entire purse offered.
"Breeding in Pennsylvania, to Pennsylvania stallions just makes common sense," Solomon says.