Dr. Patty Hogan to trainers: "Most important person is you"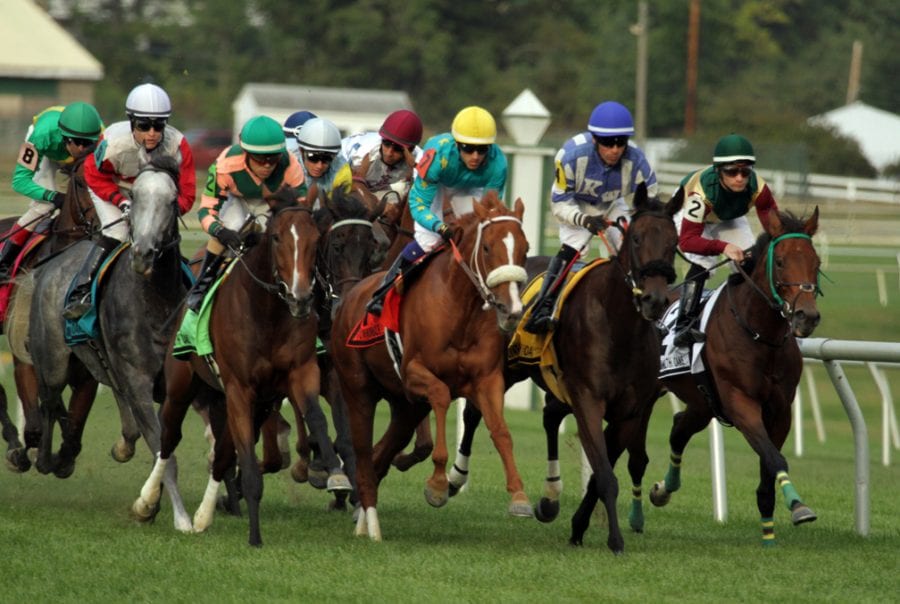 by Frank Vespe
About 60-70 people turned out to Laurel Park's International Room Tuesday for Dr. Patricia Hogan's "Injuries in Racehorses" presentation, and while the 75 minutes were filled with information, the ultimate message could be boiled down to a single sentence.
"The most important person," Hogan said, addressing the smattering of trainers in the audience, "is you."
Hogan, a New Jersey-based veterinarian, said that she sees nearly 3,000 horses each year at her clinic, the overwhelming majority of them racehorses, either Thoroughbred or standardbred. But, she says, "I live in a world that's not all racing," and what she sees by straddling the racing and non-racing worlds gives her serious concern for the future of the sport.
"We all love horse racing, but we all live in the little horse racing bubble not realizing we need the rest of the world to like horse racing, too," she explained. "And right now the animal welfare issues are really hot.
"If we don't change (how we deal with injuries and end-of-career questions) ourselves," Hogan warned, "it's going to be changed for us."
If so, Hogan believes, that may lead to an outcome like that which befell the Ringling Brothers circus, which earlier in 2017 closed after 146 years, or greyhound racing, which is now banned in 40 states and saw wagering handle drop by two-thirds from 2001 to 2011.
To stave off that end, Hogan is making the rounds presenting the talk she gave Tuesday. In it, she runs through a number of common injuries racehorses suffer – shins, ankles and the like – and discusses how to diagnose and treat them.
Pay close attention to what you see, hear, and feel, she urges. Let veterinarians use all the diagnostic tools in their arsenals. And if medical interventions are called for – surgical or otherwise – do them now, rather than later.
Avoid what she calls the "one last race" syndrome – the impetus to squeeze one more race out of the horse – because horses with chronic problems eventually suffer more severe injuries, which may lead to fatal breakdowns or horses retired with no good post-racing options.
"Racehorses are the most cared-for animals there are," Hogan said. "But there's a disconnect when they lose their economic value."
And that, she said, is one of the most important steps trainers can take: getting horses to the finish line sound and healthy so they can enjoy productive post-racing careers. That's especially important since they can live 20 or more years after their racing careers are up; the model of retiring them to what she calls "golden pastures" is simply economically infeasible.
That message wasn't lost on the trainers in attendance.
"A lot of this is stuff we deal with every day, but maybe it's presented to us in a different way than we're accustomed to," said trainer Jason Egan, who was in attendance. "And it's valuable to invite owners to these kinds of things because it makes the conversations easier when we're dealing with injuries and retirements and second careers and that sort of thing."
Indeed, owners easily outnumbered trainers in the audience, with the state's largest barns mostly unrepresented. Yet it is trainers who live where the rubber meets the road; they're the ones with eyes, and hands, on the horses every day, the ones interacting with vets and riders – the ones who can be the horses' most powerful advocates.
But perhaps the relative dearth of trainers was to be expected.
"We haven't really had many continuing education opportunities here for owners and trainers," said Jessica Hammond, program administrator for the Beyond the Wire program, which organized the event. "I think being a trainer is a profession like any other in that continuing ed is beneficial to be the best you can be at the job you're doing and do an ethical job with the horses."
Hammond says she hopes to muscle up Maryland's continuing education offerings for trainers with two or more similar programs each year, "hopefully on different topics with different speakers."
New York, Hammond said, requires trainers to take a certain level of continuing education each year, and, though Maryland may be a ways away from that, she, like Hogan, believes there's both an ethical and an existential aspect to events like Tuesday's.
"It's about the individual horse, but it's also about preserving the industry as a whole," she said. "People are concerned about ethics and animal welfare and that sort of thing, so people in the industry need to be making good decisions for their horses and we need to show people outside the industry we're teaching people to make good decisions for their horses."