West Coast takes over atop NTRA Top Thoroughbred Poll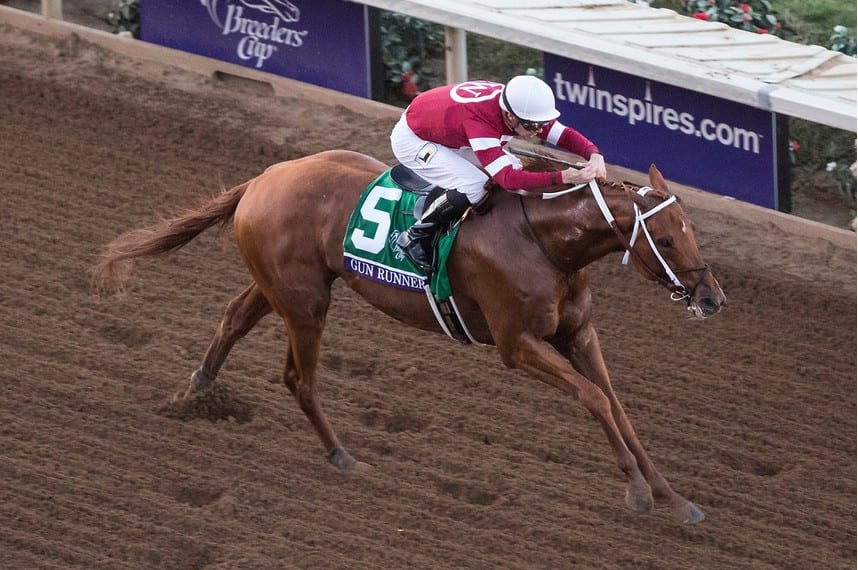 Gun Runner is second in the latest poll. Photo by Ting Shen/Eclipse Sportswire/Breeders Cup.
From a National Thoroughbred Racing Association release
Week two of the National Thoroughbred Racing Association (NTRA) Top 3-Year-Old Poll brings in two new sophomores (Audible and Avery Island) into the ranks of the top ten.
First, second and third positions remain status quo with Eclipse Award Champion for Two-Year-Old Colt Good Magic remaining in first-place with (30 first-place votes and 405 votes). Trained by Eclipse Award-winning trainer Chad Brown for Stonestreet Stables LLC, the 2017 Sentient Breeders' Cup Juvenile winner is currently in training at Palm Meadows training center in south Florida preparing for his 2018 campaign. Good Magic leads the Kentucky Derby Leaderboard with 24 points. The 20 horses with the most points will earn a spot in the starting gate on the first Saturday in May.
Remaining in second and third in week two on the ladder are Bolt d'Oro (10 first-place votes; 360 points) and Sham Stakes (G3) winner McKinzie (1 first-place vote; 300 points). Trained and owned by Mick Ruis, Bolt d'Oro is expected to take the Southern California route to the Derby; he currently has 14 points on the Kentucky Derby leaderboard. McKinzie with 20 qualifying Derby points is expected to make his next start in the San Felipe Stake on March 10 for Hall of Fame trainer Bob Baffert.
Moving into the ranks in fourth position this week is the recent Holly Bull Stakes (G2) winner Audible (245) for trainer Todd Pletcher and owners WinStar Farm, China Horse Club and SF Racing Stable. Audible earned 10 Kentucky Derby qualifying points with his 5 ½-length triumph. Audible's next start could well come in the $1 million Xpressbet.com Florida Derby (G1) at Gulfstream Park March 31.
Rounding out the field are: Solomini (206); Instilled Regard (1 first-place vote; 184 points); Catholic Boy (1 first-place vote; 150 points); Avery Island (141); Mask (72) and Mourinho (57).
The NTRA Top 3-Year-Old Poll is the sport's most comprehensive survey of experts ranking the generation of Thoroughbreds that includes all Triple Crown contenders. Every week eligible journalists and broadcasters cast votes for their top 10 horses, with points awarded on a 10-9-8-7-6-5-4-3-2-1 basis. The Top 3-Year-Old Poll concludes June 11 after the Belmont Stakes.
With the retirement of Gun Runner (35 first-place votes; 350 points) to stud duty, the Horse of the Year drops down a notch to second in the NTRA Top Thoroughbred Poll for horses four and up. Sitting chilly in second a week ago, Eclipse Award Champion for Three-Year-Old Males West Coast (7 first-place votes; 388 points) moves up the ladder to first for trainer Bob Baffert and owners Gary and Mary West. In his most recent start the son of Flatter finished second to Gun Runner in the Pegasus World Cup Invitational (G1) at Gulfstream Park this past January.
Remaining in third and fourth are Champion Turf Eclipse Award winner World Approval (276) followed by Champion Older Female Forever Unbridled (218).
Eclipse Champion Sprinter Roy H (1 first-place vote; 209 points) moves up two notches from seventh to fifth after his convincing win in the Palos Verdes Stakes (G2) at Santa Anita this past Saturday. Owned by Rockingham Ranch and David A. Bernsen, LLC trainer Peter Miller indicated that the Grade I Triple Bend Stakes on March 10 at Santa Anita would likely be next for Roy H.
Rounding out the top-ten are: Gunnevera (168); Abel Tasman (138) Sharp Azteca (110); Beach Patrol (84) and Unique Bella (79).
The NTRA Top Thoroughbred Poll concludes November 5 after the running of the Breeders' Cup.