Reminiscence: Horse racing on TV's golden age shows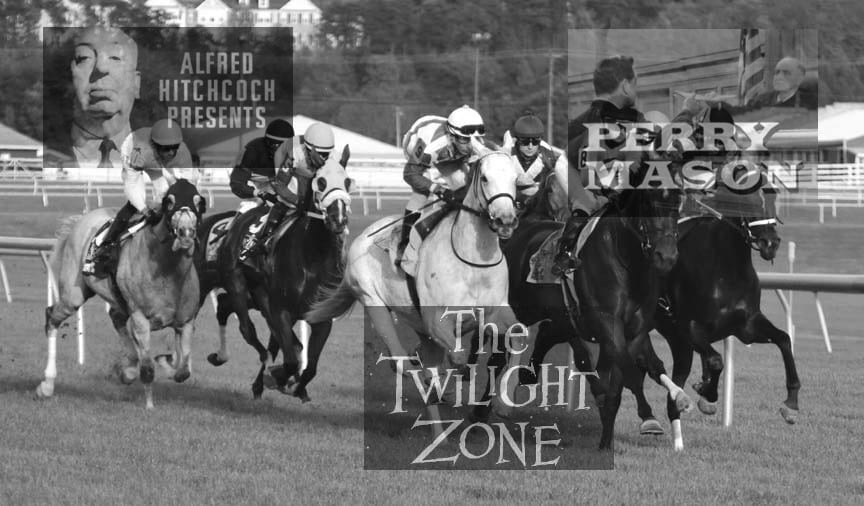 by Ted Black
Thoroughbred racing fans today have grown accustomed to seeing the sport televised live virtually year-round on the Television Games Network (TVG) and occasionally on ESPN and NBC when major races are on the slate. But it may seem hard to fathom that at one time horse racing was once a major focal point of media coverage in newspapers, magazines and on television.
It was so popular, in fact, that popular weekly dramas and anthology shows during television's "golden age" centered many an episode around the Sport of Kings.
And that's even tossing aside the "Mr. Ed" sitcom, a farcical show dedicated to a talking horse.
Even more interesting, many of these famed programs treated viewers as if they were racetrack regulars. "Perry Mason", "Alfred Hitchcock Presents," and "Twilight Zone," all shows that have long been staples of syndication for decades, all featured episodes revolving around the racing.
"Alfred Hitchcock Presents"
Alfred Hitchcock's television show began as the 30-minute "Alfred Hitchcock Presents" and later evolved into the "Alfred Hitchcock Hour." But several of Hitchcock's most memorable half-hour shows revolved around people whose lives were greatly impacted by horse racing.
The first such episode "On the Nose," aired February 16, 1958 – long before the advent of the Winter Racing Carnival at Laurel – and presented the story of a housewife, Fran Holland, played by Jan Sterling, whose occasional gambling on the horses through a local bookmaker forced her to sell modest household items to pay off the debt. In the episode she was overdue on a $25 debt and was too ashamed to ask her husband for the money or sell anything else, so she headed to the bus stop and asked riders and passerby for paltry sums of 15-25 cents each "for the bus," until she finally raised the funds to pay off her bookie before her husband returned from work.
But the episode had one last twist. While Sterling frantically contemplated ways to raise the necessary funds, she was repeatedly lured into making another wager by glancing at the entries in the newspaper, something current fans recall as a genuine thing of the past. After she pays off her bookie and gets a voice of approval from her husband for kicking the habit, she takes one last glance at the entries, calls her bookie and makes one last $2 wager on a horse running that day, putting the money, of course, "on the nose."
Three years later, Hitchcock unveiled another memorable episode entitled "The Horseplayer" which starred Claude Rains – perhaps best known today as the corrupt Capt. Renault in Casablanca — as a priest named Father Amion at a church with little heat and a leaky roof. During the early stages of the episode, Father Amion and fellow parish members are baffled by the generosity of Sheridan (Ed Gardner) who routinely drops a $20 bill into the collection basket while others are reluctant to submit more than a buck.
Impressed and flattered the Sheridan's generosity, Father Amion approaches him one day and asks him why he has been so generous. Sheridan replies that since he began praying at the church, his fortunes at the track have changed dramatically, and he simply wanted to share his good fortune. Eventually, Sheridan tells Father Amion that he has set aside most of his profits to parlay on a 'sure thing' that he expects to pay anywhere from 6-1 to 8-1 and with those winnings he plans to move to Florida to a place conveniently located between a church and Hialeah.
With the church desperate for funds to repair the leaky roof and restore heating, Father Amion approaches Sheridan about making a bet for him on the horse. Sheridan reluctantly agrees and Father Amion withdraws money from his personal savings account to wager on the horse with the hopes that the profits could go a long way toward paying for a new roof and proper heating. But after giving Sheridan the money to wager on the horse, Father Amion consults the local Bishop who promptly chastises the priest for seeking to accrue the funds through gambling and gives Rains some unexpected advice – pray that the horse loses.
While Sheridan is at the track, Father Amion returns to church, kneels at the altar and presumably prays for the horse to get beat. In the last scene of the episode, Sheridan returns and clearly appears dejected. He admits his 'sure thing' owned a comfortable lead turning for home only to be nailed in the final strides, ending his dreams of a Florida getaway. Father Amion is initially relieved and cheerfully tells Sheridan that everything is okay. But Sheridan has one last surprise for the priest. The longtime horse player admits that he did not have the nerve to wager the Father's entire amount on the horse to win, but instead bet him to place and the $8.40 price netted the priest a healthy $2100 and handed Rains a wad of $100 bills.
"The Twilight Zone"
Perhaps not wanting to be outdone by 'Hitch' and left off the horse racing caravan, "The Twilight Zone" had three memorable episodes that centered, either wholly or partially, around horse racing. Series creator and writer Rod Serling often had episodes that were based on the evils and perils of gambling, but only three centered specifically on the Sport of Kings.
In "A Most Unusual Camera" which aired Dec. 16, 1960, three criminals set up shop in a hotel suite after robbing a local antique store of largely junk when one of them stumbles across a camera that takes 10 pictures per owner. But they also discover that each picture, developed instantly, provides the image of something or someone five minutes in the future. Contemplating how to profit for this bizarre camera, one of them turns on the television where one of the channels is actually showing live horse racing from a local track.
Chester Diedrich (Fred Clark) convinces wife Paula (Jean Carson) and her brother, Woodward (Adam Williams) that they can parlay their money into a big payday by heading to the track, taking a picture of the infield tote board before the race and viewing the picture that will provide the results and payouts BEFORE the race. They pool their funds – $206 – and bet it to win on Tidy Too, who, as the picture reveals, wins the race and pays $47.60 for a $2 ticket five minutes before the race has been run. They bet the horse to win, head back to their box and root heartily as Tidy Too indeed posts a 22-1 upset.
The trio hits several more races that day and heads back to their hotel with two boxes filled with $100 bills. But the hotel concierge informs them that the camera offers only 10 images to each owner for some reason, and their greed and inability to part with the camera eventually leads all four of them – the three crooks and the hotel employee – to meet an unexpected, untimely death after falling from the hotel window.
Two months later in "A Penny For Your Thoughts", which aired Feb. 3, 1961, Hector B. Poole (Dick York of Bewitched fame) plays a bank employee who inherits the ability to read people's minds shortly after purchasing a newspaper and tossing a quarter into a tray that lands on its side. At the end of the episode, Poole tosses another quarter into the same tray that topples the other standing quarter, coincidentally ending his ability to hear other's thoughts. But in between he hears more thoughts than he can imagine.
In one scene, Poole is about to approve the loan for Mr. Sykes (Hayden Roarke) of Ajax Construction for $200,000 and after reading him the terms of the loan hears Sykes proclaim – to himself, at least – that he plans to bet one-half of the money to win on Lucky Lady in the fifth and then bet the remainder on another animal named Nimble Runner later on the card. Poole hurriedly tells his boss, Mr. Bagby (Dan Tobin), what he has heard Mr. Sykes "say," which the customer adamantly denies. Poole later attempts to convince Mr. Bagby that aging Mr. Smithers (Cyril Delavanti), a longtime trusted employee, plans to rob the bank at closing time and then venture to Bermuda never to be heard from again.
In one fell swoop, Mr. Smithers is apprehended soon after leaving the bank vault, but his briefcase is devoid of any money. Mr. Bagby immediately fires Poole and orders him to clean out his desk. But Mr. Smithers admits to Poole that he has the same "plan" every day, but only as a daydream and confesses to York, "I can never go through with it. I'm too set in my ways and I guess you can say I'm also somewhat of a coward." Before leaving the bank, Poole gets informed by Bagby that Sykes was arrested for gambling with company money, and the bank manager feels fortunate that the loan never got approved and reluctantly offers Poole a promotion.
Two years later in "The Last Night of a Jockey," which aired Oct. 25, 1963, Mickey Rooney plays a washed-up jockey who has garnered the headlines for all the wrong reasons – being implicated in a race-fixing scandal. Rooney pulls off the entire episode by himself in a small room, playing both the overweight, unkempt Grady, and his clean-shaven, alter-ego only visible in a mirror above his dresser.
Grady spends the whole episode attempting to reconcile his mistakes and perhaps find a way to revive his career, but he also tells his alter-ego in their conversations that all of his life he wanted to be big. His wish is unexpectedly granted and he arises from his bed far too tall and too heavy to ever be a jockey, much to his own delight. But then he hears from the racing commission that he has been reinstated to racing. He's overjoyed – except now he's far too large to ride, much to the delight of his alter-ego, who laughs at his misery while Grady tosses his clothes and furniture around his room.
"Perry Mason"
While the Twilight Zone episode starring Rooney was based on a fictitious jockey played by an actor, the Perry Mason episode "The Case of the Jilted Jockey," which aired Nov. 15, 1958, centered around a fictitious jockey, Tic Barton, played by a former real jockey, Billy Pearson. In the episode, Barton is approached by his wife to stiff a talented horse named Bright Star, which the jockey refuses to do. But when Bright Star finishes a dull third as the favorite, Barton is accused of cheating by the horse's owner, and he later gets accused of murdering a man having an affair with his wife.
Of course, Mason successfully defends Barton and the jockey is cleared of murder and egregious behavior on the track, as well. Ironically, Pearson, who won such races at the Del Mar Handicap, the Del Mar Derby, the San Diego Handicap, the San Carlos and the Santa Catalina Stakes during his career, would later garner greater acclaim as a contestant on "The $64,000 Question" where his knowledge of art enabled him to earn over $170,000. Pearson, who lived to be 82, was also married six times.
Nearly one year later another Perry Mason episode entitled "The Case of the Startled Stallion" aired October 31, 1959, and evolved around the ownership of a trotter being pointed for a stakes races at Hollywood Park, the now-defunct oval, which, among many other laurels, hosted the inaugural Breeders Cup in 1984. In fact, one of the opening scenes is at a training track where two trotters are racing side-by-side and then come off the track and head to the barn. In a show that offers a blend of murder, intrigue and thievery, eventually Mason wins the case for the rightful owner of the trotter.
Of course, Mason always won his cases. While that couldn't be said of protagonists in either The Twilight Zone or Alfred Hitchcock Presents, all three shows recall not just television's but also racing's golden age, a time when most Americans were conversant enough with horse racing that mainstream television shows often turned to the track for inspiration.