In Focus: Wagering Maryland Pride Day stakes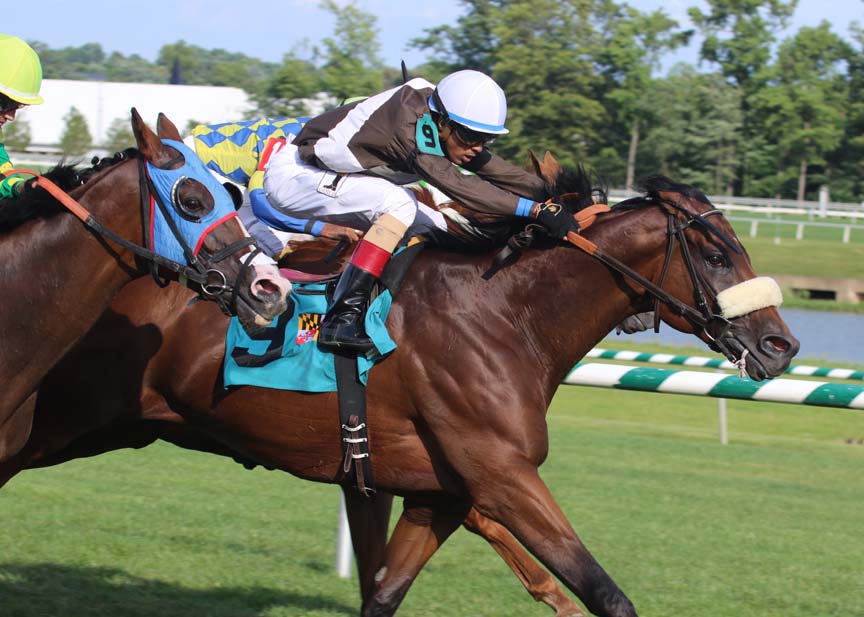 RACE 6 – FIND STAKES
RACE PARTICULARS: Race 6 (post time 3:40 p.m.), $75,000 purse, 1 1/8 miles (turf), Maryland-bred/-sired three-year-olds and up
THE FIELD IN FULL
How's Your Sugar (20-1) — Owns three wins on the turf but was fifth last out in a first-level allowance and would need a career-best effort to contend here…
English Minister (7-2) — Ran a big one to just miss last out in the six-furlong Mister Diz. This Mike Trombetta trainee just missed in this event a year ago when his rider's objection against the winner was not upheld. He hasn't raced since June but has been working well since and last out proves he can fire off a break. But he's tough to endorse on top with just three wins in 35 tries…
Just Howard (12-1) — Big run last out to win the Caveat, this Graham Motion trainee was rank for most of the first quarter-mile, was headed in the lane but fought back to win a tough one against classy Bonus Points. The waters get deeper here — this is his first stakes tries versus his elders — but the English Channel colt shows a bullet work  since the Caveat and retains top rider Alex Cintron in the irons. He'll need to take a big step forward here, but it's not out of the realm.
Phlash Phelps (9-5) — Rallied from well back while wide on the course to win the Mister Diz last out, his fourth stakes win at distances ranging from six furlongs to 1 1/8 miles, including a score in the '15 edition of this event. He was also third in this race last year, making what seemed a winning move between horses early in the stretch but flattening out late. Regular pilot Victor Carrasco will ride the Rodney Jenkins trainee, and there's every reason to think he can run well here.
Dothat Dance (15-1) — First stakes starter for young trainer Noah Abramson is still eligible for a first-level allowance after 19 starts, which makes this a heavy lift. Sheldon Russell will ride.
Talk Show Man (3-1) — Seven-year-old scored last out in a salty allowance, his first win since '15 Henry S. Clark (after an 18-month layout) and is in great form right now. Jevian Toledo will ride for trainer Ham Smith and figures to be making a solid late move while wide out on the course, as he's done in last two including late-closing third-place finish in the Mister Diz. Interesting to see six-furlong work on August 12.
No Bull Addiction (30-1) — Sherene Bracho trainee is working on a 12-race losing streak and last out was third in a state-bred allowance locally, finishing nearly three behind How's Your Sugar.
Daniel Le Deux (20-1) — Regular rider Victor Carrasco jumps from this Ann Merryman trainee to ride Phlash Phelps in here, not the best sign. Louis Quatorze gelding has been stuck at the second allowance level for last five tries and enters this off just eight days since last effort, a race in which he didn't show much.
Ghost Bay (15-1) — Solid sort owns a stake win ('14 Maryland Juvenile Futurity), as well as two wins on the turf, and took a second allowance two back against a somewhat mediocre group. Regular pilot Jevian Toledo jumps ship for Talk Show Man, but trainer Robbie Bailes will leg up turf ace Horacio Karamanos here. He'll need a big one, but he's been running about as well as he ever has of late.
Tizzarunner (8-1) — Interesting entrant here; this Mike Maker trainee hasn't raced since a 10th-place finish in the G3 Commonwealth Turf in November at Churchill Downs in a race in which he raced up close before tiring late. Two back he bested an allowance filed at Keeneland, a race which produced two next out winners, including Ballagh Rocks, a subsequent G3 winner. Maker is 18 percent off similar layoffs and will leg up Feargal Lynch.
THE PICKS
#4 Phlash Phelps — Should appreciate the added ground and chance to avenge defeat in this race last year
#3 Just Howard — Undefeated since blinkers added, still has room for improvement
#6 Talk Show Man — Love his current form but failure to hit the board in three trip tries gives pause
#10 Tizzarunner — Has seen some talented rivals
PICK 3 PLAY
> 50-cent wager starting with Race 6
Ticket (cost: $18.00)
RACE 6 – 3, 4, 6, 10
RACE 7 – 3, 6, 7
RACE 8 – 3, 5, 7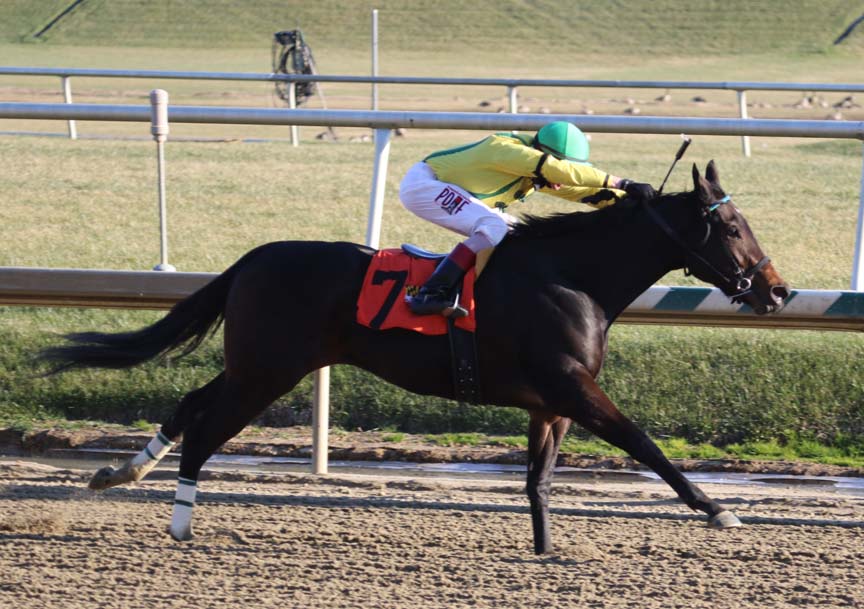 Crabcakes. Photo by Laurie Asseo.
Race 7 — MISS DISCO STAKES
RACE PARTICULARS: Race 7 (post time 4:10 p.m.), $75,000 purse, 6 furlongs, Maryland-bred/-sired three-year-old fillies
FIELD IN FULL
Troublesome (15-1) — This Into Mischief filly's been training forwardly for conditioner Brendan Walsh and enters off a decent try in which she surged to the lead while wide before tiring to fourth behind Lucky in Malibu. Top rider Alex Cintron picks up the mount. She's shown a bit of a tendency hang, which is troublesome, but she certainly has a bit of talent and the right to improve here.
Misty On Pointe (9-2) — First dirt try for a filly by Munnings — a three-time Grade 2 winner on the main track. She's obviously had some issues — evidenced by not making her season debut until July 14 — but she keeps Karamanos in the irons and ran a good speed fig last out, though in middling company. She'll need to run her career-best race here on a surface she hasn't raced on previously.
Hailey's Flip (8-1) –Gary Capuano trainee took a second allowance August 7 at Delaware decisively and has never been worse than third in three tries at the trip. Jomar Torres will ride a runner with a legit shot.
Lucky in Malibu (6-1) — The other Gary Cap runner in here will be hoping for plenty of pace early to set up her late run. Made kind of a grinding effort last out but couldn't get to winner Tickled Pink. She shows a bullet three-eighths breeze in the meantime. Victor Carrasco, who rode her last win, will do the honors.
Saint Main Event (20-1) –Parx-based Redeemed filly has been second and third in two recent tries against PA-bred company and would need a career-best effort here.
Ascertain (7-2) — Trainer Bill Mott doesn't generally ship to LRL without designs on getting the money, and this one has a win and a just-miss second in two tries in the Free State. Though beaten at 1-2 in last, she was dead game after doing all the work early, fending off multiple challenges and battling with Faze the Nation to the wire. She doesn't need the lead, though — she won two-back by running into the pace — and drawn in mid-pack Feargal Lynch in the irons might look to a stalk-and-pounce type trip here.
Crabcakes (5-2) — Sentimental favorite will be carrying Buckingham Farm colors shortly after owner Binnie Houghton's passing. Outside of quixotic eighth-place effort in G3 Miss Preakness, this one hasn't been worse than second in six other tries, including a win in last December's Maryland Juvenile Filly Championship and three subsequent stakes runner-up efforts. Last out effort perhaps better than it looks – winner Shimmering Aspen returned last week to romp in the Twixt, last-place finisher Sine Wave returned to win an allowance, then run second in the G3 Monmouth Oaks, and fourth-place finisher Yellow Agate's a G1 winner. Not too concerned about the two months off — she's run sharp off the bench before.
Le Weekend (12-1) — Versatile Tim Keefe trainee has wins on the dirt and turf and just missed in a state-bred allowance on the dirt versus Faze the Nation. She's showing a bullet work since an OK effort in the Jameela. She's got some talent, but this is a challenging spot where she'll need a top effort. Her best dirt tries came on the engine. Feargal Lynch picks Ascertain here, but Sheldon Russell is a good pickup.
Faze the Nation (6-1) –Toss the two disastrous turf tries and this Phil Schoenthal trainee hasn't done much wrong –six wins from 12 starts. Got a great setup two back to run down Ascertain and four back just missed against Hailey's Flip. Worked sharply last Saturday, and since she's successfully made the bad turf start-to good dirt start move before, it's reasonable to think she can run well here, too. Steve Hamilton will ride.
You can also click here to get a two-page PDF version of this guide.
THE PICKS
#7 Crabcakes — Nothing wrong with last, and there's no Shimmering Aspen here to contend with
#3 Hailey's Flip – Stakes-placed runner could score here
#6 Ascertain – Strong effort in defeat last out, must improve here
#9 Faze the Nation – Gets back to best game, but others are more enticing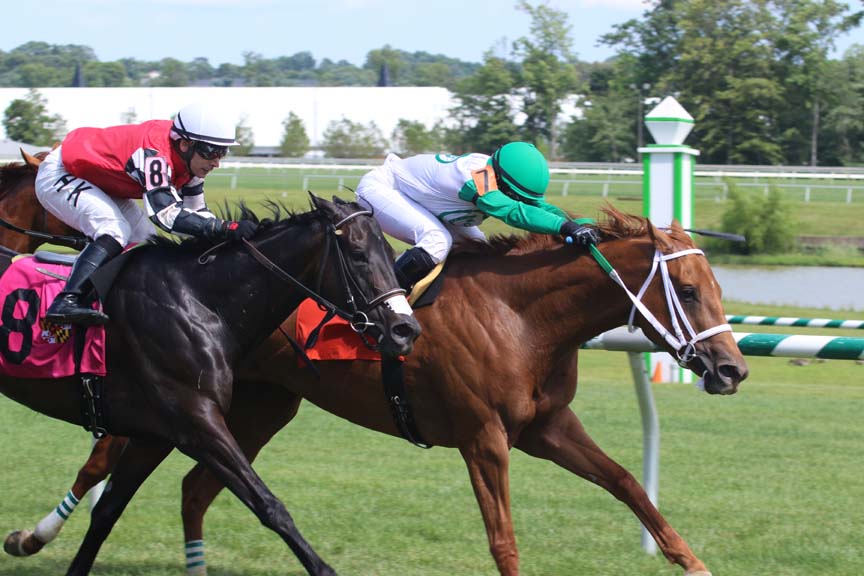 Daylight Ahead. Photo by Laurie Asseo.
Race 8 — ALL BRANDY STAKES
RACE PARTICULARS: Race 8 (post time 4:40 p.m.), $75,000 purse, 1 1/8 miles (turf), Maryland-bred/-sired fillies and mares three-years-old and up
THE FIELD IN FULL
Northern Smile (9-2) – Rubley trainee was third in this event a year ago, one of three stakes in which she's placed to date… She's been thrashed in her last two but not sure how relevant they are given both were at least a quarter-mile longer than this one and most recent was a G3… On best she competes with these but must figure out a way to defeat rivals like Devilish Love, Complete St. who have beaten her before…
Good Roll (15-1) – Ran a couple of decent races over the Laurel lawn but didn't show a lot last out after a wide journey at PEN… With just 12 starts to date, still owns the right to improve, but she's been spanked four times at the N2X level and this would require a serious step forward.
Bawlmer Hon (15-1) –Made first career turf try two back, and while it doesn't look great on paper, we're not inclined to knock it too harshly: that was a solid group, and it looked like it took her a while to find her footing.. Enters this one with a good victory on the main track, holding off the favorite while well clear of the rest.. Like to see solid turf rider Sheldon Russell aboard a horse who is stakes-placed on the main track…
Nickyrocksforpops (10-1) –Has run some decent races on the lawn but her best grass race is a win against $16k claimers… Returns on fairly short rest after a messy try on the main track August 11… Would be a surprise here…
Devilish Love (5-1) – No, it's really your imagination: this Not for Love mare hasn't been around forever, it just feels that way… Has been first and second in two tries at the trip, both in the Maryland Million Ladies, which she won last year… She's mostly been a router in her career, which makes her fourth-place finish in the 6-furlong Jameela in June a useful first '17 start…. Top rider Alex Cintron's aboard a runner who can have a major say in the outcome of this one…
De Marquee (4-1) –When last seen, this Horacio DePaz trainee was thrashing state-bred allowance horses – but that was over a year ago… The lightly raced Tiz Wonderful mare has some talent, and three wins in six starts, and DePaz can get 'em ready to run off the break, but your guess is as good as anyone else's whether she'll handle a year break and first try against stakes rivals, and short odds exacerbate the uncertainty…
Daylight Ahead (3-1) – Speedster took 'em all the way to win the Jameela, continuing a good roll that makes her the most formful runner here.. With Katie Davis in the irons again, she'll likely try to reprise that effort here… Beaten rivals that day include Devilish Love and Look Who's Talking… Her breeding says she should handle the stretchout, but she's never been beyond six furlongs, and she'll be facing several who are accomplished routers…
Shirleys Curls (15-1) – Ferris Allen-trained Curlin filly has been in good form on the lawn of late and last out came running late to just miss in a race where moderate early pace compromised her late kick… The fourth-place finisher from that race won her follow-up… Like to see Victor Carrasco remain aboard, but this one's still eligible for a first allowance…
Look Who's Talking (30-1) – Cape Blanco filly is a stakes winner – in the '15 Maryland Juvenile Filly Championship on the main track – but hasn't shown that kind of quality since and would be a major surprise here…
Complete St. (6-1) – Veteran has made a good living competing with these sorts of fields and last year just missed twice against similar, but hasn't won since '15, is working on a 12-race losing streak, and will need a form reversal here… Forest Boyce stays aboard.
You can also click here to get a two-page PDF version of this guide.
THE PICKS
#5 Devilish Love – Added ground allows this one to turn the tables on favorite
#3 Bawlmer Hon – Expecting improved effort in second grass try
#7 Daylight Ahead – Hard to take favoritism on a runner who's never been two turns
#1 Northern Smile – Has kept best company