Preakness call-by-call gallery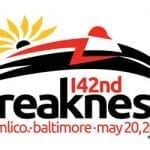 by Nick Hahn
How did Saturday's 142nd running of the Preakness Stakes develop?
Nick Hahn was on hand to capture it, with pictures taken at each point of call — from the moment the horses left the gate to the shadow of the wire, when Cloud Computing at last put his head in front to win the middle jewel of the Triple Crown.
Check out his Preakness call-by-call gallery.
<center><a data-flickr-embed="true" data-footer="true" href="https://www.flickr.com/photos/
[email protected]
/albums/72157681023778793" title="Preakness 2017 call by call"><img src="https://c1.staticflickr.com/5/4252/33944130154_9c9aa64484_z.jpg" width="640" height="427" alt="Preakness 2017 call by call"></a><script async src="//embedr.flickr.com/assets/client-code.js" charset="utf-8"></script></center>