Cloud Computing earns Preakness laurels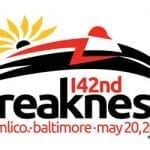 by Frank Vespe
On a weekend in which Pimlico Race Course felt decidedly like Maryland racing's past, Cloud Computing served notice that he might be the sport of racing's future.
The three-year-old Chad Brown trainee rallied from third to run down Classic Empire in the closing strides and win the Grade 1, $1.25 million Preakness Stakes. He paid $28.80 to win as the sixth-longest shot on the board.
It was a thrilling conclusion to a weekend in which the future of Pimlico, the nearly-150-year-old crown jewel of Maryland racing, played nearly as large a role as that of the 10 sophomores assembled to contest the middle jewel of racing's Triple Crown.
Cloud Computing, a son of Maclean's Music, had run second and third in his prior two starts, in the Grade 3 Gotham Stakes and the Grade 2 Wood Memorial, both at Aqueduct. But in both, he'd been decisively beaten, leaving it open to question whether he was capable of defeating these rivals at this moment in his career.
Early in the week, Peter Leiva, Cloud Computing's exercise rider, said that he thought the horse, whom he called one of his favorites, was ready to roll.
"He showed me the other day in the breeze he is ready. He breezed really, really well," Leiva said. "The last breeze, he went 48 and 3/5 but I'm not moving. I'm not doing anything. He made me happy with that work. He's ready now. He's healthy, he's happy."
When the gates opened Saturday, Derby winner Always Dreaming shot to the early lead with Classic Empire — the 2016 two-year-old champion who had gone through an up-and-down sophomore campaign — at his throatlatch from the first jumps. Those two rivals led the field through a half-mile in 46.81 seconds and three-quarters in 1:11 flat while just heads apart.
Cloud Computing was sitting third at that point, three lengths behind the top pair
"We figured this race could be won or lost in the first turn," said winning trainer Chad Brown. Hall of Fame jockey Javier Castellano, in the irons aboard Cloud Computing for the first time, put his mount in a perfect spot, covered up on the rail behind the dueling leaders.
"Classic Empire and Always Dreaming are two outstanding horses and our strategy was, if we are going to ever beat them, let's take them on two weeks' rest when we have six, and it worked," Brown noted.
The two-horse duel continued all the way up the backstretch and into the far turn. Rounding the turn, Classic Empire got the better of Always Dreaming, meaning that for the second consecutive year, the dreams of a Triple Crown drifted away into the gloaming in Baltimore. Always Dreaming labored home a well-beaten eighth.
"He just got beat," said John Velazquez, who rode Always Dreaming. "I didn't have it. That's it. Not much to say."
Classic Empire, under Julien Leparoux, cleared to the lead and in mid-stretch, looked to be home and dry, holding a commanding three-length lead.
'"We got the trip we wanted, outside Always Dreaming," said Julien Leparoux, who rode Classic Empire. "The only thing is, Always Dreaming backed out of the race early, so I got to the lead early, maybe too early."
Once Cloud Computing shook free of other runners and found a clear lane to the outside, he came rolling late to earn the victory. Longshot Senior Investment was third.
"I'm very happy because my father was a jockey for 25 years, my uncle, my brother Abel Castellano," said Javier Castellano. "We grew up in racing and it's really special for us. We've been working for a long time for this moment. It's great for the family."
It was Castellano's second Triple Crown victory, and both have come in the Preakness with horses who did not run in the Kentucky Derby. He also scored in 2006 aboard Bernardini.
It was also a meaningful victory for Seth Klarman, whose Klaravich Stables co-owns Cloud Computing along with Bill Lawrence. Klarman grew up nearby.
"It's unbelievably exciting," Klarman said. "Grew up three blocks away from here. Was a big fan of racing from a kid and came to the Preakness many, many times."
Klarman, who works in investments, said that he gradually became an owner a quarter-century ago and that "this is the culmination of 25 years of hard work and learning and trying to figure this game out."
The prodigal son of Baltimore came home and made good, but how many more of Charm City's prodigals will return to Pimlico is another open question.
The track is feeling more old than Old Hilltop this meet. Opening weekend saw rains outside and, in many portions of the facility inside, too. This weekend, complaints about long lines and lack of food were plentiful.
Midway through the day Saturday, Maryland Jockey Club president Sal Sinatra, said that the company had been on pins and needles earlier in the week about the state of Old Hilltop.
"The glue, the bubble gum, the duct tape, seems to be working," Sinatra said.
But it's clear that bubble gum and duct tape aren't a viable long-term strategy. Pimlico needs considerably more than a facelift if it is to be the long-term home of the Preakness.
What's more, Sinatra said that the company is putting its focus on Laurel Park and has little interest in investing big sums in Old Hilltop.
"Tim [Ritvo] has made it pretty obvious we don't want to put up any money or very little money" towards a Pimlico rebuild, Sinatra said.
The company has been investing in Laurel Park. Saturday morning, Sinatra said, representatives of the Breeders' Cup made another visit to Maryland with an eye towards holding a future Breeders' Cup at Laurel Park.
Meanwhile, the fate of Pimlico rests in large measure on an ongoing, and delicate, political process. Will the city or state come up with the funds required to renovate Pimlico? Will government officials try to hold the Maryland Jockey Club's feet to the fire for funding?
While that process drags on, Pimlico itself is increasingly down at the heels.
But all of those are problems for a different day. Today, the Maryland Jockey Club announced record attendance of 140,327 and record handle, topping $97 million.
And when Cloud Computing stopped the clock in 1:55.98 for 1 3/16 miles, it marked another chapter in Pimlico's storied history — perhaps one of the last ones.