Always Dreaming "ready to roll" as Preakness preparation ends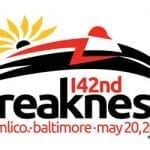 by Frank Vespe
On a steamy May morning, Always Dreaming's Preakness preparations reached their conclusion.
The three-year-old son of Bodemeister had an easy morning Friday, and trainer Todd Pletcher said that he'd do nothing more than walk the shedrow on Saturday prior to his early evening date in the Grade 1 Preakness Stakes.
"He had a good strong gallop yesterday," Pletcher said. "We just wanted to go easy today."
And with that, Always Dreaming's nearly-two-week visit to Maryland will be done.
"It's worked out really well," the trainer added. "He was well-behaved, nice and quiet, jogged around there enthusiastically and that's it. He'll just walk tomorrow morning and all the preparation's done."
Where Always Dreaming was often riled up during his time at Churchill Downs, the quiet of the Pimlico backside — where few horses are stabled on a day-to-day basis and most of his Preakness rivals didn't arrive until the last few days — seemed to agree with him.
"I'm pleased that we decided to come in early," Pletcher said. "We got what we were looking for in terms of a quiet environment at least for that first week. We might have arrived here in the same condition had we stayed at Churchill, but I just felt like at that time it was the correct move, and nothing that I've seen here would indicate that it wasn't."
Always Dreaming began his career in the care of trainer Dominick Schettino before being shifted into Pletcher's barn September 1 of last year.
He returned to Pletcher's barn in November.
"We got a very very favorable impression of him from the very beginning when we first started breezing him," said the trainer. "We started out laying out plans to hopefully get [to the major three-year-old races]. He impressed us every single time we did something with him this winter and spring."
Always Dreaming has won all four of his starts this season, winning in maiden and allowance company before seizing dominant victories in a pair of Grade 1 races, the Florida Derby and Kentucky Derby.
"I think he's pretty special," Pletcher said. "We're going to find out more, but so far when you look at what he's done [to win by the large margins he did] it's pretty exceptional. It's pretty rare that you see that."
And so now, Always Dreaming reaches the end of his Baltimore sojourn. The Preakness is next, and if he wins the Preakness, a date with history, in the Belmont Stakes, awaits.
"In some ways it seems strange that it's upon us already," said Pletcheer, "but there's been times during the week it seems like it's taking longer than you would want, especially with a horse that's ready to roll."