Overheard at Pimlico this morning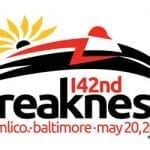 News and notes from the Pimlico backstretch
Todd Pletcher, on Always Dreaming: Everything went very smoothly — good energy, good controlled gallop… Not a whole lot to talk about, really, other than we're really, really happy.
Antonio and Alex Sano, on Gunnevera: We're content to have a chance – Always Dreaming is a really good horse… I hope it's a different trip out there.
Jorge Carreno, Conquest Mo Money's jockey, on riding on the East Coast: I never thought about it, but now that I come this way, I see there's a lot of racetracks.
Carreno, on growing up around horses: A lot of us, riders and grooms, we always lived with horses and donkeys. We used to have donkeys, goats, and horses… Instead of driving a car, we were driving a donkey or a horse.
Alex Sano, who has never had a crabcake, on whether he'd had a chance to eat one on this trip to Baltimore: No, not yet.
Pletcher, on the state of his goatee: Zoe [Cadman] criticized it a little bit. She thought I trimmed it a little bit too much. Hopefully by Saturday, it'll be just right.