Stellar Wind moves to head of Top Midlantic-bred Poll
Staff report
A busy April and early May has led to shuffling in the monthly Mid-Atlantic Thoroughbred/The Racing Biz Top Midlantic-bred Poll, released today.
The top horse in both the top three-year-old and top older horse polls is different from the early April version.

Among older horses, Virginia-bred Stellar Wind returned to action with a win in the Grade 1 Apple Blossom, and that victory was enough to move her to the head of the class, supplanting Finest City, who slips to second after running second in the Grade 1 Humana Distaff on the Kentucky Derby undercard.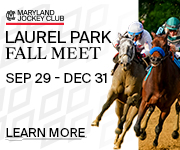 Among sophomores, Irish War Cry's impressive win in the Grade 2 Wood Memorial in early April — coupled with Unique Bella's injury-related hiatus — was enough to propel Irish War Cry, who subsequently 10th in the Kentucky Derby, to first. Unique Bella, first in last month's poll, is second in the latest edition.
With Stellar Wind's arrival on the list, New Jersey-bred Sunny Ridge, who ran sixth in the Charles Town Classic, fell into the also receiving votes category.
The lone newcomer in the three-year-old list was Maryland-bred Bonus Points. The Grade 3-placed son of Majestic Warrior won the Parx Derby on May 6 to move into fourth place on the poll. Crabcakes, second in the Austintown Filly Sprint Stakes at Mahoning Valley, fell out of the top five.
The poll is conducted monthly among a panel of industry participants and media members.
Of the 10 horses on the twin lists, four were bred in Pennsylvania, and three were bred in New Jersey. Two hailed from Maryland, and there was one from Virginia. The list includes seven males and three females.
The monthly Mid-Atlantic Thoroughbred is the only publication devoted to Thoroughbred breeding and racing in the Mid-Atlantic region. The Racing Biz is the independent voice for mid-Atlantic racing and breeding and includes an online publication, a mobile application, and the weekly Off to the Races radio show.
The poll is restricted to horses that have run in 2017 and were bred in Pennsylvania, Maryland, Virginia, West Virginia, New Jersey, Delaware, and the Carolinas.
TOP THREE-YEAR-OLDS
(last month: 3rd) Irish War Cry (NJ) — by Curlin-Irish Sovereign, by Polish Numbers; trained by Graham Motion for owner-breeder Isabelle de Tomaso; won G2 Holy Bull, G2 Wood Memorial
(1st) Unique Bella (PA) — by Tapit-Unrivaled Belle, by Unbridled's Song; bred by Brushwood Stable; trained by Jerry Hollendorfer for Don Alberto Stable; in 2017 won G2 Santa Ynez, G2 Las Virgenes
(2nd) Fast and Accurate (PA) — colt by Hansen-It's Heidi's Dance, by Green Dancer; bred by John R. Penn; trained by Mike Maker for Kendall E. Hansen; won G3 Spiral Stakes, Sage of Monticello Stakes
(also receiving votes) Bonus Points (MD) — by Majestic Warrior-Baby Love, by Not for Love; bred by Country Life Farm; trained by Todd Pletcher for Three Diamonds Farm; won $100,000 Parx Derby 
(4th) O Dionysus (MD) — by Bodemeister-Safe Journey, by Flatter; bred by Dark Hollow Farm; trained by Gary Capuano for Marathon Farms; won Miracle Wood S., second Frank Whiteley, Jr. S., Private Terms S.
Also receiving votes: Moonlit Song
TOP OLDER HORSES
(last month: Not listed) Stellar Wind (VA) — 5yo mare by Curlin-Evening Star, by Malibu Moon; bred by Keswick Stables & Stonestreet Thoroughbred Holdings LLC; trained by John Sadler for Hronis Racing LLC; won G1 Apple Blossom
(1st) Finest City (PA) — 5yo mare by City Zip-Be Envied, by Lemon Drop Kid; bred by HnR Nothhaft Horseracing, LLC; trained by Ian Kruljac for Seltzer Thoroughbreds; won G2 Santa Monica, second G1 Santa Margarita, G1 Humana Distaff
(3rd) Mor Spirit (PA) — 4yo ridgling by Eskendereya-Im a Dixie Girl, by Dixie Union; bred by Elkstone Group LLC; trained by Bob Baffert for Michael Lund Peterson; won G3 Steve Sexton Mile, second G2 San Antonio S., won Essex H.
(5th) Green Gratto (NJ) — 7yo horse by Here's Zealous-Starship Smokester, by Smokester; bred by Kaz Hill Farm; trained by Gaston Grant for himself and Anthony Grant; won G1 Carter H., G3 Toboggan S.
(3rd) Long On Value (VA) — 6yo horse by Value Plus-Long Message, by Orientate; bred by Snow Lantern Thoroughbreds; trained by Bill Mott for Wachtel Stable, et. al.; 2nd G1 Al Quoz Sprint, 3rd Gulfstream Park Turf Sprint
Also receiving votes: Sunny Ridge, Next Best Thing, Power of Snunner
TOP MIDLANTIC-BREDS IN ACTION THIS WEEKEND
Participating Voters: Ted Black (freelance writer), Michael Campbell (Thoroughbred Breeders' Association of New Jersey), Joe Clancy (Mid-Atlantic Thoroughbred), Cindy Deubler (Mid-Atlantic Thoroughbred), Linda Dougherty (freelance), Debbie Easter (Virginia Thoroughbred Association), Paul Espinosa (Charles Town Races), Anne Frederick (Maryland Horse Breeders Association), Rich Glazier (Delaware Park), Cricket Goodall (Maryland Horse Breeders Association), Jim Hague (freelance), Nick Hahn (freelance), Carol Holden (West Virginia Breeders Classics), Tom LaMarra (The Blood-Horse), Jeff Nations (freelance), Kate Painter (West Virginia Thoroughbred Breeders Association), Vinnie Perrone (freelance), Frank Petramalo (Virginia Horsemen's Benevolent and Protective Association), Gary Quill (The Racing Biz), David Richardson (Maryland Thoroughbred Horsemen's Association), Brian Sanfratello (Pennsylvania Horse Breeders Association), Sal Sinatra (Maryland Jockey Club), Chris Sobocinski (Delaware Park), Dan Tordjman (freelance), Frank Vespe (The Racing Biz), Bill Watson (freelance), Lydia Williams (freelance), Bobby Zen (freelance).
Note — Not all participating voters will vote in every poll.