Miller: "The rail was like gold"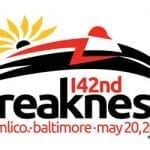 by Frank Vespe
When Don Miller got legged up on his mount in the 108th Preakness, he wasn't expecting to win.
"Quite honestly, I was very optimistic that I might be able to get him up to fourth, potentially third if everything went amazing," Miller recalled Saturday, speaking on Off to the Races on The Racing Biz Radio Network.
"But I gotta tell you, the idea of actually winning it was a little foreign to me."
But getting a brilliant, ground-saving ride from Miller on a sloppy track that he loved, Deputed Testamony powered to a 2 3/4-length victory, dashing Derby winner Sunny's Halo's Triple Crown dreams in the process.
Deputed Testamony remains the most recent Maryland-bred to win the state's biggest race. And though the official records note 1975 champ Master Derby as the longest-priced Preakness winner — he paid $48.80 to win — Deputed Testamony may be the unlikeliest winner of the race.
Trainer Bill Boniface — whose Bonita Farm also bred Deputed Testamony — sent out a pair of runners in the Preakness, with Parfaitement, runner-up in the Wood Memorial before finishing 16th in the Kentucky Derby, joining Deputed Testamony.
Bettors didn't have much use for either of the pair, making them 14-1. But Miller said of Deputed Testamony, "Had he not been paired with the horse that ran in the Derby, Parfaitement, his odds would have been close to 50-1."
In fact, at New York City off-track betting shops, where bettors bet on Deputed Testamony as a single betting interest, rather than as part of an entry, the Maryland-bred son of Traffic Cop paid $75.60 to win.
That allowed Miller, who was just 19 at the time, to take an almost carefree attitude towards the race, which was his first Preakness mount.
"If he runs bad, everyone will say he didn't belong in the race anyway," Miller recalled thinking. "But if he runs good, I'll do everything I can to take the credit for it. In the end he ended up running a tremendous race. It was almost surreal, to be honest with you."
Miller, who said he "kind of just fell into" the mount when the more-established Herb McCauley chose to ride Parfaitement and other "name" jocks weren't all that interested in Deputed, had a simple strategy going into the race.
"At that time, the late '70s and early '80s at Pimlico, the inside rail, when it rained, was like gold," he said. "The horse that hit the rail, generally in front, won the race."
A major downpour hit Baltimore that day, and parts of the inside of the track were "washed out," Miller said. That played to his benefit in a couple of ways.
"I knew going in that if I could get to the rail, it was like gold," he said. "Most of those [other jockeys] may have had an inkling that that was the case, but because it was so washed-out, they stayed outside to avoid those washed-out spots. I was able to capitalize on both — stay down on the rail where it was gold and take advantage of the fact that the other guys were staying far out, 10-15 feet out from the rail — best of both worlds."
Deputed Testamony, always within a few lengths of the lead, saved ground on both turns and then slipped through inside of Desert Wine and strolled home.
Miller rode in the Preakness three additional times, his best result a fourth-place finish aboard I Am The Game in 1985. He retired in 1996, having won 2,830 races, generating purse earnings of $37,018,336. These days, the Maryland native is involved in real estate in the Baltimore area. And each year about this time, he gets to reminisce about his role in the 1983 Preakness.
"From my standpoint, being a local Maryland kid who grew up right in Maryland just south of Baltimore, for me to be able to ride the Preakness, it probably had the same impact on me as it does on most jockeys to be able to ride the Derby," he said.