Gunnevera seeking early pace, and a "fair shot"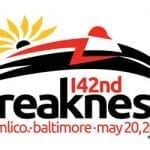 by Frank Vespe
In April, Always Dreaming finished a half-dozen lengths in front of Gunnevera en route to winning the Grade 1 Florida Derby.
In May, in the Kentucky Derby, that margin grew to 13 lengths, as Always Dreaming romped home to win the run for the roses while Gunnevera labored home seventh.
What will it take to turn the tables?
Larry Kelly, an advisor to Gunnevera's trainer Antonio Sano, has a pretty good idea.
"We'd just like an honest pace to come running and not a very crowded trip," he said following Gunnevera's light morning exercise Monday at Pimlico.
With exercise rider Vincent O'Farrell up on a postcard morning, Gunnevera jogged the wrong way twice around Pimlico's dirt strip while accompanied by a pony.
Kelly, himself a former trainer and the son of Hall of Famer Tommy Kelly, likes what he's been seeing from Gunnevera.
"He's as good, if not better than, the Derby," Kelly said. "He came out of [the Derby] good. He was a little banged up like a lot of them, but it was all superficial. Mentally he's done well. Physically, I think he's blossomed."
He said that Gunnevera, a Dialed In colt who has four wins and over $1.1 million in earnings to date, would do no more than jog and gallop between now and the Preakness May 20.
"Not much to do but keep him happy and sharp between the two races, and pray the weather works and pray there's speed and get that fair shot I was talking about," Kelly said.
In the Florida Derby, Always Dreaming ran close to a moderate pace before drawing away; Gunnevera, who finished third, was the only horse from the back half of the field after a half-mile to finish in the top half of the field. Trailing by a dozen lengths after a half-mile, Gunnevera chopped that deficit in half, the only runner in the field to make up much ground.
In the Kentucky Derby, Always Dreaming again stalked the early pace before taking command after three-quarters of a mile. Gunnevera, meanwhile, was jammed up at the break, five wide on the far turn, and wider still in the lane.
"He's got a phenomenal kick, and he just hasn't really had a chance to prove it or show it," Kelly said.
Those facts — Always Dreaming's ability to use his tactical speed to make good trips for himself and Gunnevera's late-running style, which puts him to some extent at the mercy of factors out of his control — concern Kelly.
"If anybody's going to want to beat Always Dreaming, they're going to have to go get him," he said. "You can't let him steal away. If [other horses are] going to sit back and wait for him to stop, it ain't going to happen."
Which leaves Kelly with a simple hope.
"You have the old analogy, you have the hare and the tortoise," he said. "We come from behind, and obviously, Todd's horse [Always Dreaming] is extremely talented. We need a pace — there's no doubt about it. We need some action on the front end."