"Off to the Races" radio to feature Gaudet, Espinosa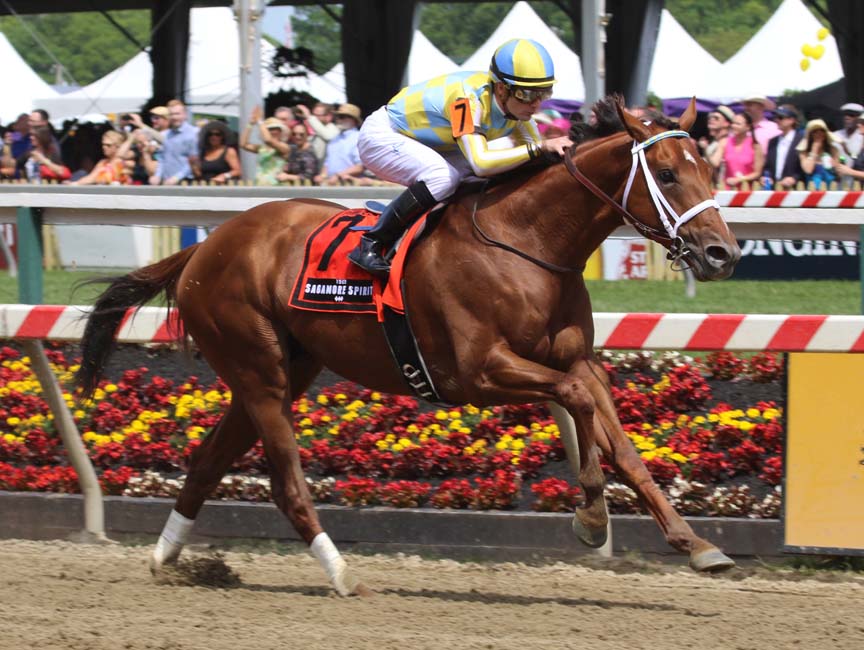 Noble Bird won the 2016 Pimlico Special. Photo by Laurie Asseo.
From a release
The April 15 edition of Off to the Races on The Racing Biz Radio Network will include chats with Maryland racing analyst Gabby Gaudet and Charles Town track announcer Paul Espinosa.
The one-hour program airs at 10:00 a.m. each Saturday on Richmond's ESPN 950 AM.  Additional stations will be announced as they come online. It also is available via streaming (see link below).
The show will focus on Thoroughbred racing and breeding around the mid-Atlantic region and across the country.
Gaudet spent the winter at Florida's Gulfstream Park, and as a result, she had a front row seat for this year's topsy-turvy three-year-old season.
Espinosa is readying to call the ninth running of the Grade 2, $1.25 million Charles Town Classic on April 22. That will mark his second year behind the microphone for the track's major event.
Virginia racing analyst Nick Hahn will join the program to visit with Virginia-based trainer Patrick Neusch of Braeburn Training Center. And of course, Derby Bill Watson will add his handicapping insights to the mix.
Guests in prior weeks have included trainers Cal Lynch (El Areeb) and Graham Motion (Irish War Cry), as well as jockey Trevor McCarthy, and others.
"I'm looking forward to a chance to visit with some of the region's most interesting racing voices this week, " said Frank Vespe, owner-publisher of The Racing Biz and host of the show.
CLICK HERE TO LISTEN LIVE AT 10:00 A.M. SATURDAY.