"Off to the Races" radio to be live at Ponies and Pints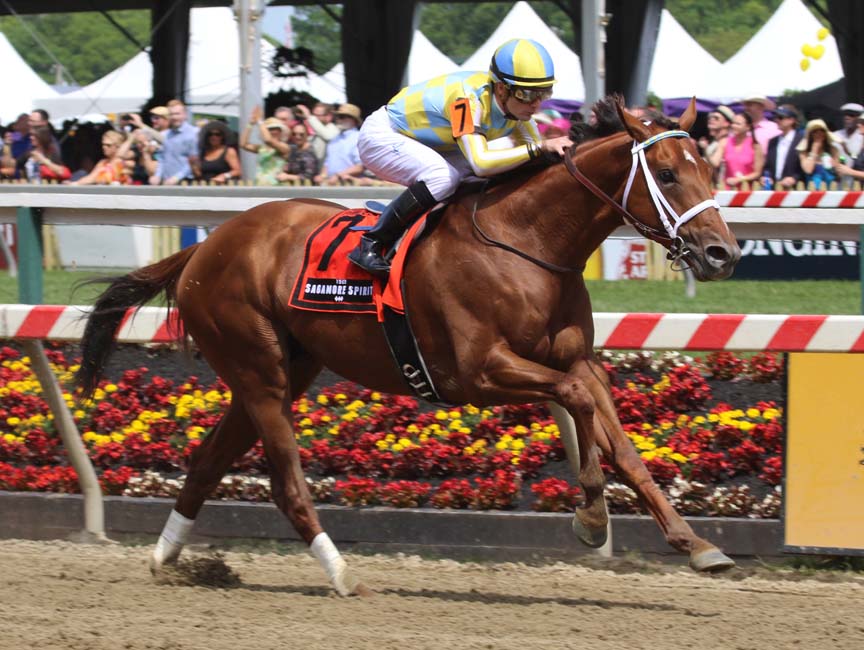 Noble Bird won the 2016 Pimlico Special. Photo by Laurie Asseo.
From a release
The April 8 edition of Off to the Races on The Racing Biz Radio Network will take place live at Ponies and Pints, the Richmond, VA off-track wagering facility that opened in January — and will be followed by a handicapping seminar hosted by Frank Vespe of The Racing Biz.
The one-hour program airs at 10:00 a.m. each Saturday on Richmond's ESPN 950 AM.  Additional stations will be announced as they come online. It also is available via streaming (see link below).
The show will focus on Thoroughbred racing and breeding around the mid-Atlantic region and across the country.
Saturday's show will include Darrell Wood of the Virginia Equine Alliance to discuss that organization's efforts to bring racing and wagering back to Virginia.
It will also include a focus on the weekend's three big Kentucky Derby prep races: the Grade 1 Santa Anita Derby, Grade 2 Wood Memorial, and Grade 2 Blue Grass. Nick Hahn and Derby Bill Watson will join the show for a lively discussion of the three big races.
Guests in prior weeks have included trainers Cal Lynch (El Areeb) and Graham Motion (Irish War Cry), as well as jockey Trevor McCarthy, and others.
"It's one of the season's biggest days to date," said Frank Vespe, owner-publisher of The Racing Biz and host of the show. "And we are excited to dig into this great day of racing on Off to the Races — and then to handicap live on-site with patrons of Ponies and Pints."
The handicapping seminar takes place immediately following the show and includes Derby Bill Watson, Nick Hahn, and Peter Kreutzer. Frank Vespe will host. Ponies and Pints is located at 110 N. 18th Street in Shockoe Bottom.
CLICK HERE TO LISTEN LIVE AT 10:00 A.M. SATURDAY.