A week after scary spill, jock Katie Davis earns first stake win
by Frank Vespe
A week ago, 25-year-old Katie Davis found herself in a nasty-looking spill at Laurel Park.

When Royal Saint broke down past the sixteenth pole, Zen Papa and Davis fell over their fallen rival. While Zen Papa rose and, riderless, completed the course, Davis lay on her back before eventually rising and getting a ride in the ambulance.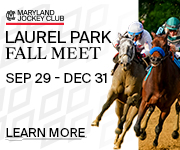 Today, just seven days later, Davis — sore and sick with the flu but otherwise none the worse for wear — was all smiles after guiding Next Best Thing to a one-length win in the $75,000 Conniver Stakes for Maryland-bred fillies and mares.
It was the first stakes win of Davis' career.
"It's amazing," she said. "I've been dying to get my first stake win, and I'm just happy to do it here with my new agent Joe Rocco. I didn't think this day would come, but it does. It's a big accomplishment."
Not without anxious moments.
Next Best Thing, trained by Claudio Gonzalez for his MCA Racing, took command entering the turn and spurted well clear of her four rivals in the seven-furlong test. The daughter of Stephen Got Even saw her advantage increase to two lengths with three furlongs to go and a yawning four lengths leaving the furlong grounds.
But, though Next Best Thing had disposed of favored Bawlmer Hon readily, second choice If I Was a Boy, with Trevor McCarthy up, mounted a significant challenge to her inside.
"She was kinda getting in a little," Davis said of Next Best Thing. "I seen Trevor coming up my inside. It was my first stake and I really wanted to do the best. Getting a little nervous, too, but a couple jumps before the wire, I knew I had it."
Running time for the seven furlongs was 1:24.40. It was Next Best Thing's third win in five starts in 2017 and her first career stakes win. If I Was a Boy was second, and Balwmer Hon held third.
And to think: just a week ago, Davis' day ended not with smiles but with her lying on her back for what felt like a long time before, slowly, rising and riding off in the ambulance.
"I was just, like, 'I'm in no hurry, I coulda broke something,'" Davis said of her reaction to last Saturday's injury. "I knew people were coming for me. I was just looking at the sky, and I was like, 'That sky's really blue right now.'"
She continued, "It was intense. Everyone says, 'When it happens, it happens,' and especially when it does happen, everything really goes slow motion. You watch it right in front of your face."
What was right in front of her face was the onrushing Laurel Park dirt course — and a potentially serious injury. Davis said she tried to tuck and roll to diffuse the impact but that she still landed hard on her collarbone.
Nevertheless, she said, "I got lucky. Didn't brake anything, no torn muscles. I'm sore, but I couldn't miss this [Next Best Thing]."
Despite the spill — scary enough that it brought the racetrack chatter to a halt — Davis said that she'd been "very eager" to get back to work.
"When you enjoy it, you just keep moving forward," she said. "You put it in the back of your head."
A good thing, too. Davis — part of a riding family that includes sister Jackie and brother Dylan, all the children of former rider Robbie Davis — has been starting to get traction in the mid-Atlantic after a slow start to her career in New York, where she said she found mounts hard to come by.
She shifted her tack to Delaware Park last spring, and she began to make progress.  She has 17 wins so far this year, with purse earnings of over $400,000. She won twice today, two weeks after her first career three-win day.
"Every day I've learned," she said. "I'm still learning. I'm making a little way, you know?"
Indeed. And so she lingered in the winner's circle after her Conniver win. It was her last mount of the day, and though she was fighting the flu and battling the soreness from her spill, she had nothing more pressing than enjoying the moment.
"I'm sick and sore," she said with a grin. "Couldn't be any better."