Slick William Delivers the Thrill of Victory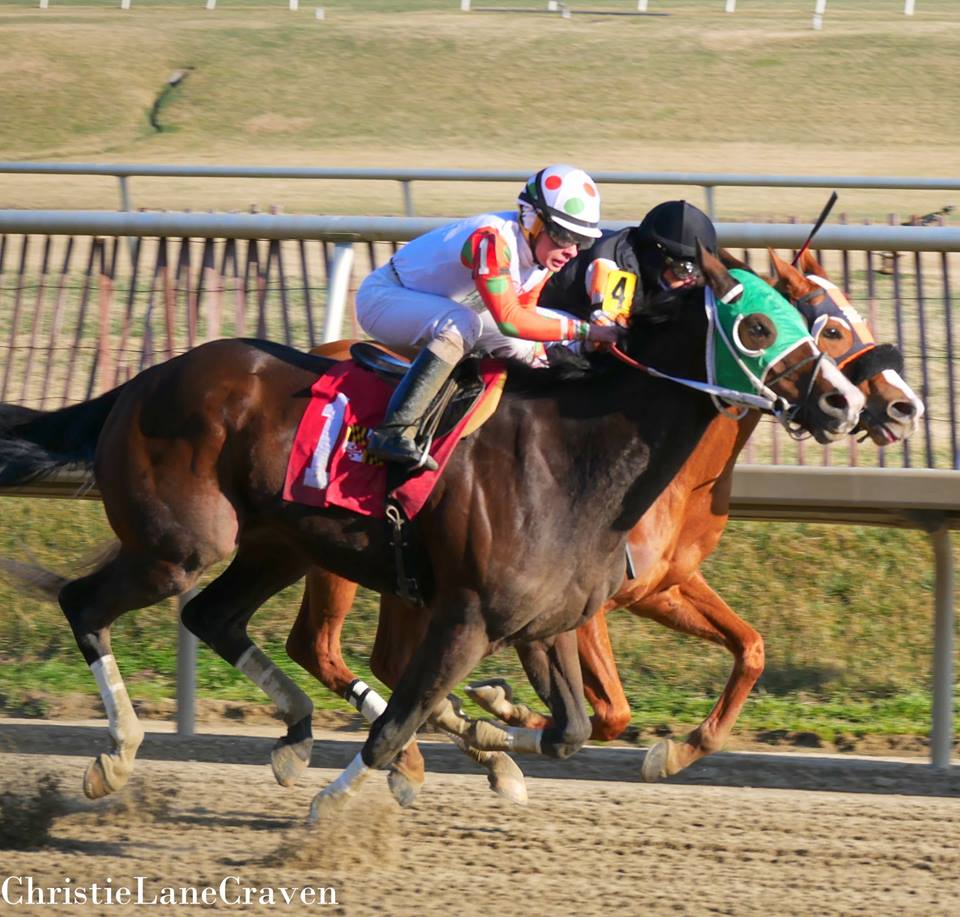 Slick William was along in time to win at Laurel Park. Photo by Christie Lane Craven.
by Gary Quill
The new horse racing ownership "club" making its Maryland racing debut sent out a 1-for-20 runner who on paper was "in over his head," whose trainer hadn't won a race since 2015 (albeit with just 15 starters since), and whose jockey was seeking to break an 0-for-60 start in 2017.
So of course, that horse, Slick William, rallies in the stretch to win by three-quarters of a length as the 8-1 fourth betting choice in a field of seven, sending club members into a state of euphoria as if they had just won the Kentucky Derby. It's not supposed to happen this way… but did.
On a sunny Sunday in late February, Slick William, a 5-year-old Maryland-bred gelding who was claimed for $9,000 from his most recent outing for non-winners of two races in their lifetimes, was entered in a $25,000 optional claiming event simply to help the racing office fill the race. That is, this was not a race for which "Willie" was being pointed, but when a more reasonable race for him did not fill, the decision was made by his trainer, Dorothy "Beth" Worton, to let him run in hopes he could possibly hit the board with jockey Lane J. Luzzi in the irons. The improbable result was a pleasant surprise for the "club."
Wasabi Venture Stables, LLC (WV Stables) is the "club" founded by start-up guru TK Kuegler. Less than a year ago the Maryland native recognized the need to introduce new fans to the Sport of Kings as minority owners of racehorses at a minimal cost with the perks of a majority owner. Kuegler's vision for his "club" was to accentuate the entertainment value in horse racing versus an investment filled with false hope of realizing a positive ROI along with the monthly bills associated with most horse racing partnerships.
With Kuegler's model, he takes on much of the risk (i.e. pays the ongoing expenses) as club members never pay a penny beyond their initial cost, which is based on whatever percentage (1%-4.99%) of a racehorse claimed or purchased by WV Stables plus a $99/horse management fee (aka upcharge) that a member wishes to own. That's it.
Kuegler says he loves racing — and, he adds, "I love making dreams come true."
As a 50+ year fan and a promoter of horse racing, specifically in Maryland, ol' GQ often dreamed of owning a racehorse but it was never in the cards for this baby-boomer while being a head of the household "working stiff" with limited funds for fun. That changed after a chance encounter with Kuegler last fall at the Timonium yearling sale. Now just a few months later, I'm a proud member of Wasabi Venture Stables, owning a small piece of four of their five horses,as of this writing, three of which are stabled at Pimlico, where I can visit quite often — a nice member perk.
Another perk is that thrill of victory and gathering in the winners' circle with other club members, like college student/managing editor at Danonymous Racing, John Piassek, as well as real estate agents Tanya Trapani and Christie Lane Craven. The latter, who has been in other partnerships and dabbles in photography, was still shaking 30 minutes after Slick William's victory with tears in her eyes saying, "That was my first time in the winners' circle."
That moment is what every racehorse owner dreams of but is often so elusive. That feeling is like no other. As a sports fan I've experienced the joy of witnessing a World Series Game 7 win and a couple Super Bowl victories… each at a cost that is comparable to my 4.99% ownership in Slick William. The difference? Seeing Slick William win was PRICELESS beyond the first place purse earned to help offset expenses.
The best part is that "Willie" will run again and again and again, God willing. That gives members hope of another thrill of victory, though the odds may be better for defeat. Regardless of the future outcomes, Slick William's win was one moment we won't soon forget.