With big weekend looming, McCraken retains top spot in NTRA top 3yo poll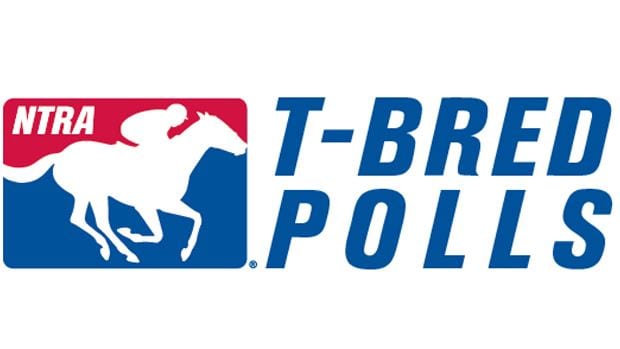 Check out our new feature! Now you can comment on an article anywhere the spirit moves you. Next to each paragraph or heading, you can click the little speech bubble which will have either a plus sign or a number in it. That will open up a comment box allowing you have your say. When you make a comment, it will appear both down at the bottom of the page, with all the other comments, and next to the sport where you left it, so that other readers can see what you had to say at the spot it occurred to you!
From a National Thoroughbred Racing Association release
Girvin swept to victory in Saturday's Grade 2 Risen Star Stakes and as a result makes his first appearance in the NTRA Top Three-Year-Old Poll. Owned by Brad Grady and trained by Joe Sharp, Girvin, with 84 points, is ranked ninth in week five of poll, which was released today.
The Tale of Ekati also colt earned 50 qualifying points, ranking him number one in the newly released Kentucky Derby Leaderboard. His next start could come in the G1 Louisiana Derby on April 1.  Fifty points likely will be enough to earn him a spot in the Kentucky Derby starting gate.
Owned by Whitham Thoroughbreds LLC's and trained by Ian Wilkes, McCraken remains in first place (17 first-place votes, 344 points) in the poll. McCraken also led all individuals in this weekend's third Kentucky Derby Future Wagering Pool, finishing up at 5-1. The final Derby Future Wagering Pool takes place on March 31- April 2. Currently with 20 qualifying points the G3 Sam F. Davis S. winner is ranked fifth on the Kentucky Derby Leaderboard for a starting berth in the Kentucky Derby at Churchill Downs on May 6. The Grade 2 Tampa Bay Derby on March 11 is under consideration for his next start.
The undefeated Holy Bull (G2) winner Irish War Cry (10 first-place votes, 309 points) holds the second spot in the poll. He is trained by Graham Motion and is currently ranked 13th on the Kentucky Derby Leaderboard with 10 qualifying points. He is expected to start next in Saturday's Fountain of Youth.
Moving into third is Mastery (3 first-place votes; 214 points) with Classic Empire (2 first place votes, 206 points), dropping down a notch to fourth. Mastery is ranked 14th with 10 qualifying points while Classic Empire is ranked second with 32 points on the Kentucky Derby Leaderboard respectively.
Rounding out the field is: El Areeb (1 first-place vote, 203 points); Unique Bella (5 first-place votes, 181 points); Gormley (140); One Liner (91); Girvin (84) and Gunnevera (69).
The NTRA Top 3-Year-Old Poll is the sport's most comprehensive survey of experts ranking the generation of Thoroughbreds that includes all Triple Crown contenders. Every week eligible journalists and broadcasters cast votes for their top 10 horses, with points awarded on a 10-9-8-7-6-5-4-3-2-1 basis. The Top 3-Year-Old Poll concludes June 12 after the Belmont Stakes.
The NTRA Top Thoroughbred Poll for horses four and up remains status quo with no changes in this week's top-ten.
Eclipse Award Champion Arrogate (38 first-place votes and 380 points) received all first place votes after his spectacular win in the inaugural running of the $12 million Pegasus World Cup Invitational (G1) at Gulfstream Park on January 28.
Ranked second is 2016 Eclipse Champion Female Songbird (285) followed by Gun Runner (263) and Eclipse Award Turf Champion Tepin (228) in fourth.
Rounding out the top-ten are: Shaman Ghost (200); Hoppertunity (139); Drefong (73); Neolithic (67); Lady Eli (61) and Midnight Storm (56).
The NTRA Top Thoroughbred Poll concludes November 6 after the running of the Breeders' Cup.
NTRA TOP THOROUGHBRED POLL
| | | |
| --- | --- | --- |
| 1 | Arrogate | 380 |
| 2 | Songbird | 285 |
| 3 | Gun Runner | 263 |
| 4 | Tepin | 228 |
| 5 | Shaman Ghost | 200 |
| 6 | Hopperturnity | 139 |
| 7 | Drefong | 73 |
| 8 | Neolithic | 67 |
| 9 | Lady Eli | 61 |
| 10 | Midnight Storm | 56 |
NTRA TOP 3-YEAR-OLD POLL
| | | |
| --- | --- | --- |
| 1 | McCracken | 344 |
| 2 | Irish War Cry | 309 |
| 3 | Mastery | 214 |
| 4 | Classic Empire | 206 |
| 5 | El Areeb | 203 |
| 6 | Unique Bella | 181 |
| 7 | Gormley | 140 |
| 8 | One Liner | 91 |
| 9 | Girvin | 84 |
| 10 | Gunnevara | 69 |