Motion hoping for good dilemma with Irish War Cry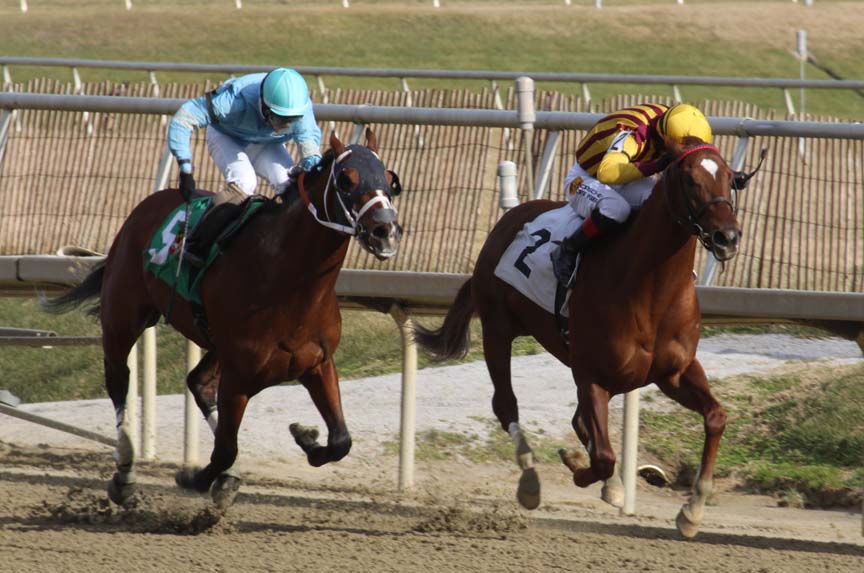 Irish War Cry (inside) held off O Dionysus to win the Marylander Stakes  on New Year's Eve. Photo by Laurie Asseo.
by Frank Vespe
Irish War Cry breezed five furlongs in 1:01 3/5 Saturday morning, and shortly after, trainer Graham Motion pronounced him ready to roll.
"I was very happy with how things went this morning," he said in an interview. "Knock on wood, if everything continues to go well, we'll be in the Fountain of Youth next Saturday."
The interview took place on Off to the Races on The Racing Biz Radio Network, which airs each Saturday morning at 10:00 a.m. on ESPN 950 in Richmond, VA, and online via streaming. The show is archived here.
Three-year-old Irish War Cry is bidding to become the first New Jersey-bred since Cavalcade, in 1934, to win the Kentucky Derby. The Curlin colt made his first two starts at Laurel Park, winning a maiden race easily before winning a head-bobber over O Dionysus in the Marylander Stakes.
"I think when he broke his maiden that day at Laurel, I was extremely impressed," Motion said. "I'm not sure I've ever had a maiden win as impressively as he did that day. Even though he was such a short favorite in the Marylander, and some people want to knock him off that race, I thought he was very game… I thought it was a very courageous effort that day."
In his third start, Irish War Cry scored an impressive, albeit loose-on-the-lead, victory in the Grade 2 Holy Bull Stakes over a field that included last year's Eclipse winner for top two-year-old, Classic Empire. Though things certainly went Irish War Cry's way that day — the scratch of Todd Pletcher trainee left him the controlling speed — Motion said he's not concerned with his charge's ability to adapt going forward.
"Certainly I kind of anticipated him being on the lead in the Holy Bull because there really wasn't much speed in there once Todd scratched his horse," Motion explained. "But I never told Joel [Rosario] how to ride him, I pretty much left it to him. But I really believe if there's enough speed in the race, this horse will settle off it, no problem."
Irish War Cry is tied for 12th on the Kentucky Derby points leaderboard with the 10 points he earned for his win in the Holy Bull. The Fountain of Youth offers 50 points to the winner and 20 to the runner-up; 30 points is typically enough, or nearly enough, to gain entry to the Derby.
Motion said that the need for points is something that trainers have to consider these days as they map out their plans for their leading three-year-olds.
"It certainly influenced me my last start. It made more sense to run in a race that offers point than didn't, so it certainly had an effect where I chose to run him in the Holy Bull," he said. "From here on out, all the races carry points, and it's just a matter of hoping that you're good enough to get some of them. I could have chosen probably coming back in a seven-furlong race the same day [as the Holy Bull] at Gulfstream, but the allure of trying to get some points made it a difficult choice to pass up on the Holy Bull."
Traditionally, horses heading towards Louisville via Gulfstream Park make their final pre-Derby start in the Grade 1 Florida Derby. Motion suggested that, if Irish War Cry continues to thrive, that race will be a tempting target — but he doesn't want to get too far ahead of himself.
"I think I'll take it one step at a time. It's going to be very tempting," the trainer said. "Hopefully, he runs well enough in the Fountain of Youth that we have that dilemma afterwards of where to go. It will be very tempting to stay here. The Florida Derby is a Grade 1, [and] there are less grade ones on the Triple Crown trail than there have been in years previous, and he's right here, and it would be a great opportunity to step him up to a mile and an eighth. So there's going to be some pros and cons, but let's hope it's an issue after next weekend."