After breeze, all systems go for El Areeb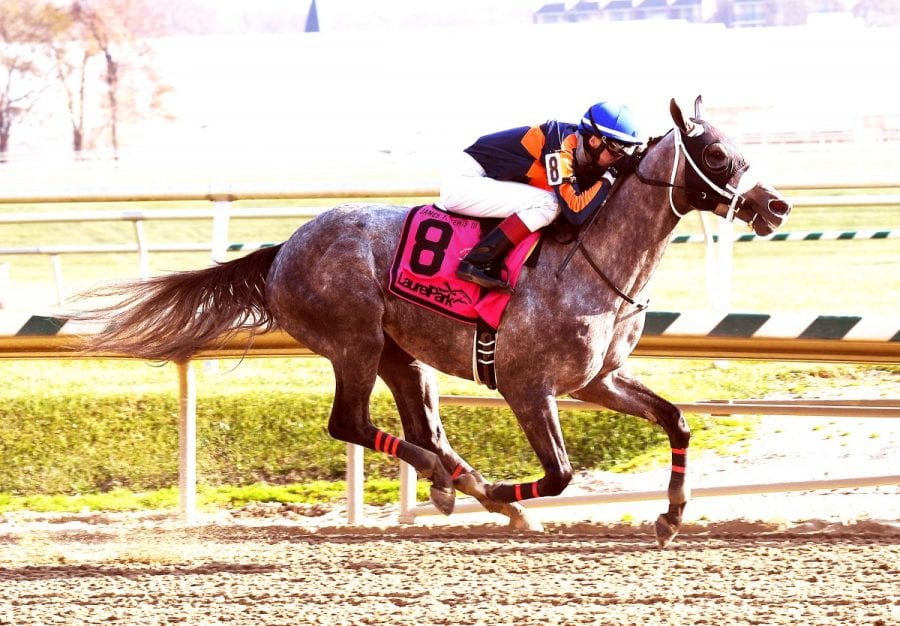 El Areeb won the James F. Lewis, III Stakes at Laurel. Photo by Jim McCue, Maryland Jockey Club.
From a Maryland Jockey Club release
M M G Stables' multiple Grade 3 winner El Areeb signaled his readiness for the $350,000 Gotham (G3) March 4 at Aqueduct with a sharp five-furlong breeze over Laurel Park's main track Sunday morning.
Partnered with regular rider and current winter meet-leading jockey Trevor McCarthy, El Areeb registered the fastest time of eight horses at the distance in 1:00.80. The next-fastest time of 1:02 was posted by Cal Lynch-trained stablemate Conquest See Ya.
"We're delighted. It was a very good work this morning," Lynch said. "He came back good and scoped good and went right in his feed tub. So far, all systems are a go."
Sunday's work was the second at Laurel for El Areeb since his 4 ¼-length triumph in the 1 1/16-mile Withers (G3) Feb. 4 at Aqueduct. One of the leading contenders on the Triple Crown trail, he went a half-mile in 47.80 seconds Feb. 18.
"The track wasn't as fast as it was last week and he still went in a minute and change. That's the way he is. He's going to work quick whenever he thinks he's going to do something with Trevor, but he did it all in hand," Lynch said. "He galloped out in 1:13 all the way back around to the three-eighths pole. He's in good form and the horse is doing well, that's why we're going ahead and decided we'd take a shot at the Gotham rather than wait any longer. You have to go ahead and run them when they're good."
El Areeb has reeled off four consecutive victories dating back to his maiden victory last fall at Laurel, where he also captured his stakes debut in the James F. Lewis III in November. He is 2-for-2 this year over Aqueduct's inner track, also winning the one-mile, 70-yard Jerome by 11 ¼ in the mud Jan. 2.
Lynch said El Areeb is scheduled to leave Laurel for New York after training Friday morning.