At Monmouth, holding on in troubled times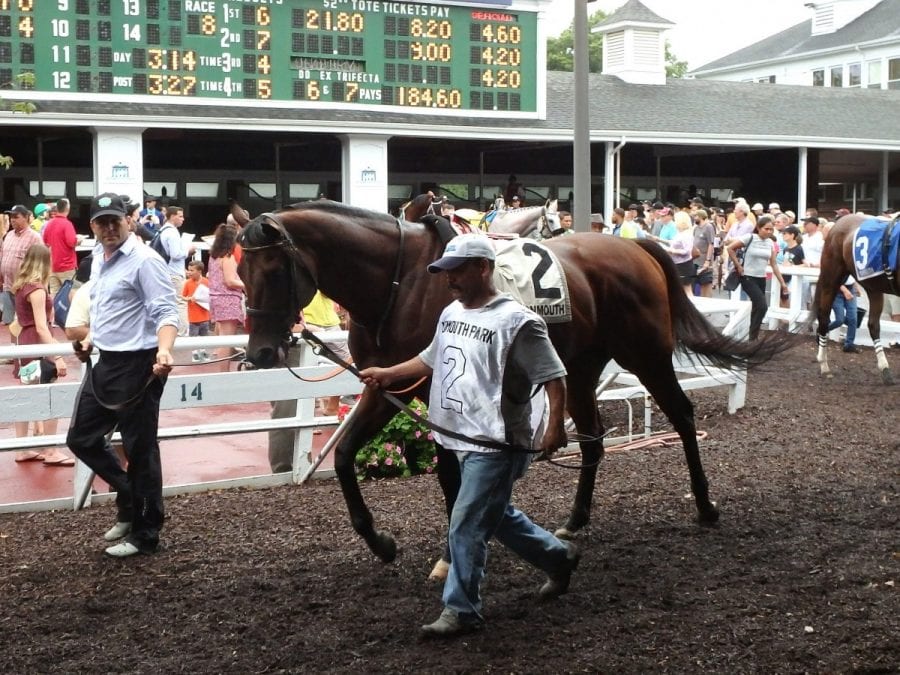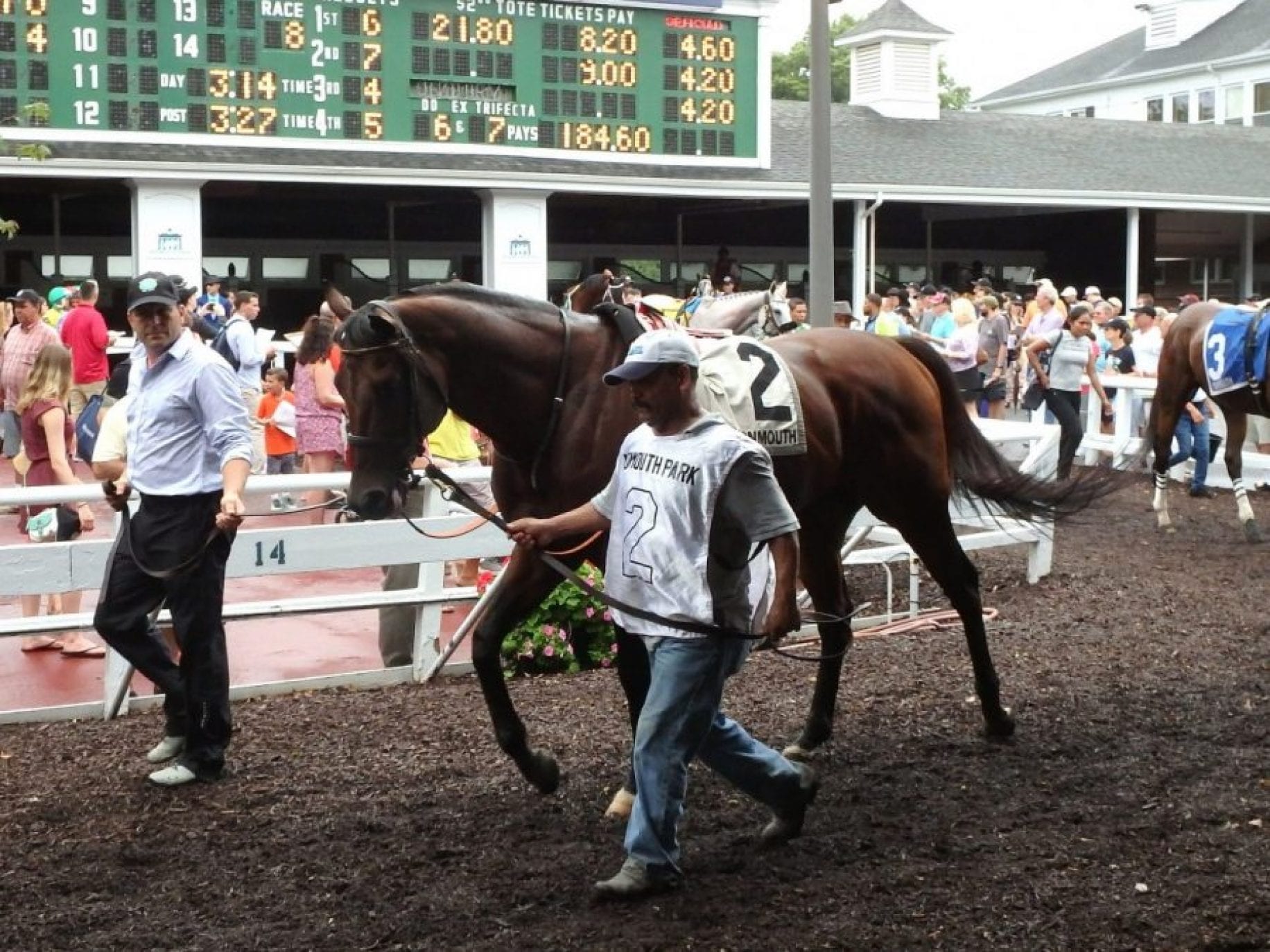 Bradester before the 2016 Monmouth Cup. Photo by The Racing Biz.
by Linda Dougherty
The sounds of Frank Sinatra's "Summer Wind" may still be heard through the Monmouth Park loudspeakers at the conclusion of each racing day, but there are ominous winds of change blowing for the Oceanport oval's 2017 season.
After coming off a disappointing year, in which on-track and total handle had double-digit declines, and again facing fierce competition for horses in the crowded mid-Atlantic region, Monmouth Park is expected to cut its racing dates for the upcoming season, pending legislative approval.

The venerable Oceanport oval, which opened in 1946, is seeking to run only 50 dates in 2017, down from 57 in 2016. Meadowlands Racetrack in East Rutherford is seeking only six dates this fall, as compared to the 14 dates scheduled last year. The dates reduction plan, Assembly Bill A4246, passed the state Assembly unanimously and is waiting to be heard by the Senate Economic Growth Committee.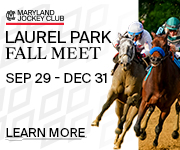 Monmouth Park was originally set to open May 13 and run through September 24, but is now expected to close Sept. 10. Daily purse levels are expected to remain level as compared to last year, but a number of overnight stakes were eliminated and the purses were reduced for some lower-level stakes by $15,000.
The track released its stakes schedule Feb. 22, which shows 33 stakes races worth $3.72 million, as compared to 41 stakes worth $4.65 million last year.
The highlight of the summer will once again be the $1 million Haskell Invitational Stakes (Gr. 1), which is set for Sunday, July 30. This will be the 50th anniversary of the Haskell, which annually attracts the best 3-year-olds in training.
At the conclusion of last year's meet, the numbers were sobering: on-track handle was down 26.6 percent over last year; total handle dipped 26.4 percent, and attendance was down 9.2 percent, with average daily attendance at 8,833.
Monmouth Park and Meadowlands are the only two mid-Atlantic tracks that operate without the benefit of expanded gaming revenue. It seems unlikely that there will be slot machines outside of Atlantic City in the near future, while revenue from sports betting still has significant legal hurdles to clear before thoroughbred and standardbred racing receives any financial benefit.
"Every state surrounding us, and most of those surrounding them, has alternative gaming revenues fueling purses," said Dennis Drazin, adviser to Darby Development, which operates Monmouth for the N. J. Thoroughbred Horsemen's Association. "These casino-fueled purses led to a decrease in our field size and carded races (in 2016). Obviously this has had a direct impact on our handle, both on-track and in the simulcast network."
In the face of such grave news, track president Robert J. Kulina put a positive spin on the upcoming Monmouth meet.
"Overall, our meet will be very similar to last year," said Kulina. "We'll be running Fridays through Sundays, with no four-day weeks, and our maiden special weight purse will be $36,000. Our intention is to run 36 races per week, hopefully 11 to 12 races on Saturdays and Sundays. But June and July are very crowded with other tracks running in the mid-Atlantic region, and we're all struggling with the available horse population."
The news of the proposed dates reduction is hitting the already beleaguered state breeding program hard. While not official, it appears that the 40 percent New Jersey-bred enhancement program, which bolstered the earnings of NJ-breds finishing first-through-third in open company, will be eliminated, though owners of NJ-breds will still receive a 10 percent bonus from the Thoroughbred Breeders' Association of New Jersey in that situation. Two NJ-bred stakes, the Open Mind and Dan Horn handicaps, have been scrapped.
"Although the reduction in days is not official (as of Feb. 23), the fact it is being considered has the remaining New Jersey breeders on edge, and they are reconsidering foaling their mares in New Jersey this year," said Mike Campbell, executive director of the TBANJ. "Many of the breeders I have spoken with fear that once the racing days are reduced, they will never see an increase in future racing days."
Two longtime trainers on the Monmouth Park backstretch expressed sadness at the track's decline from its prior "glory days," when it presented one of the top summer meets in the country.
"We go year to year hoping for positive news on a place we love so much," said Tim Shaw. "Monmouth Park is one of the reasons I decided to become a trainer. I love it – it would break my heart if something happened."
Shaw said that many horsemen he's talked to had some optimism prior to last year's meet, but that optimism has vanished.
"I understand what they're doing by reducing dates – keep purses the same and try and keep the meet special," said Ben Perkins, Jr. "Most of my clients are Jersey people, and they want to support racing there. But as a New Jersey resident who has raced at Monmouth for a long time, it's been really tough."