McCraken grabs NTRA poll lead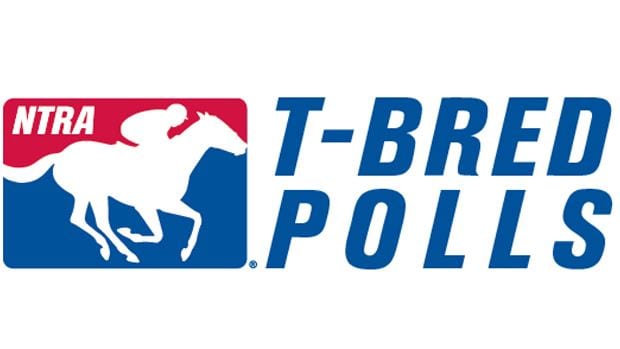 From a National Thoroughbred Racing Association release
This past weekend the "Road to the Kentucky Derby" biggest race ran through Tampa Bay Downs in Florida resulting in some minor changes in week three of the National Thoroughbred Racing Association (NTRA) Top 3-Year-Old Poll, released Monday.
Moving up a notch from second to first-place is McCraken (18 first-place votes; 335 points), winner of this past Saturday's G3 Sam F. Davis S. at Tampa Bay Downs. The Ghostzapper has 20 points towards entry in the Kentucky Derby, third most of any horse.  Trained by Ian Wilkes for Whitham Thoroughbreds, McCraken may make his next start in the Grade 2 Tampa Bay Derby on March 11.
Dropping from first to second is the undefeated Irish War Cry (6 first-place votes, 278 points) who posted a mild upset two weeks ago in the Lambholm South Holy Bull (G2), at Gulfstream Park for trainer Graham Motion. For his win in the Holy Bull, Irish War Cry earned 10 points towards a starting berth in the Kentucky Derby and currently is ranked 9th on the Kentucky Derby Leaderboard.
Classic Empire (3 first place votes, 219 points), remains in third on the Poll and ranked number one with 32 points on the Kentucky Derby Leaderboard.
Rounding out the field are: Mastery ( 4 first-place votes, 215 points); El Areeb (1 first-place vote, 187 points); Unique Bella ( 5 first-place votes, 161 points); Gormley (2 place votes, 139 points); Mo Town ( 1 first-place vote, 97 points); Practical Joke (72 ); and Royal Mo (65).
The NTRA Top 3-Year-Old Poll is the sport's most comprehensive survey of experts ranking the generation of Thoroughbreds that includes all Triple Crown contenders. Every week eligible journalists and broadcasters cast votes for their top 10 horses, with points awarded on a 10-9-8-7-6-5-4-3-2-1 basis. The Top 3-Year-Old Poll concludes June 12 after the Belmont Stakes.
The NTRA Top Thoroughbred Poll for horses four and up showed virtually no movement in this week's top-ten rankings.  In fact, the only change came in the 10th spot.
Eclipse Award Champion Arrogate (37 first-place votes and 370 points) received all first place votes after his spectacular win in the inaugural running of the $12 million Pegasus World Cup Invitational (G1) at Gulfstream Park on January 28.
Ranked second and third respectively are two 2016 champion females: Songbird and Tepin. The 3-year-old Eclipse Award filly of 2016, Songbird (288) and 2016 Eclipse Award Turf winner Tepin (242). Both females are currently in training as they ready for their 2017 debut.
Rounding out the top-ten are: Shaman Ghost (203); Gun Runner (155); Hoppertunity (153); Drefong (80); Neolithic (62); Lady Eli (62) and Midnight Storm (49).
The NTRA Top Thoroughbred Poll concludes November 6 after the running of the Breeders' Cup.
NTRA TOP THOROUGHBRED POLL
| | | |
| --- | --- | --- |
| 1 | Arrogate | 370 |
| 2 | Songbird | 288 |
| 3 | Tepin | 242 |
| 4 | Shaman Ghost | 203 |
| 5 | Gun Runner | 155 |
| 6 | Hopperturnity | 153 |
| 7 | Drefong | 80 |
| 8 | Neolithic | 62 |
| 9 | Lady Eli | 62 |
| 10 | Midnight Storm | 49 |
NTRA TOP 3-YEAR-OLD POLL
| | | |
| --- | --- | --- |
| 1 | McCraken | 335 |
| 2 | Irish War Cry | 278 |
| 3 | Classic Empire | 219 |
| 4 | Mastery | 215 |
| 5 | El Areeb | 187 |
| 6 | Unique Bella | 161 |
| 7 | Gormley | 139 |
| 8 | Mo Town | 97 |
| 9 | Practical Joke | 72 |
| 10 | Royal Mo | 65 |