Eppler has decision to make with Page McKenney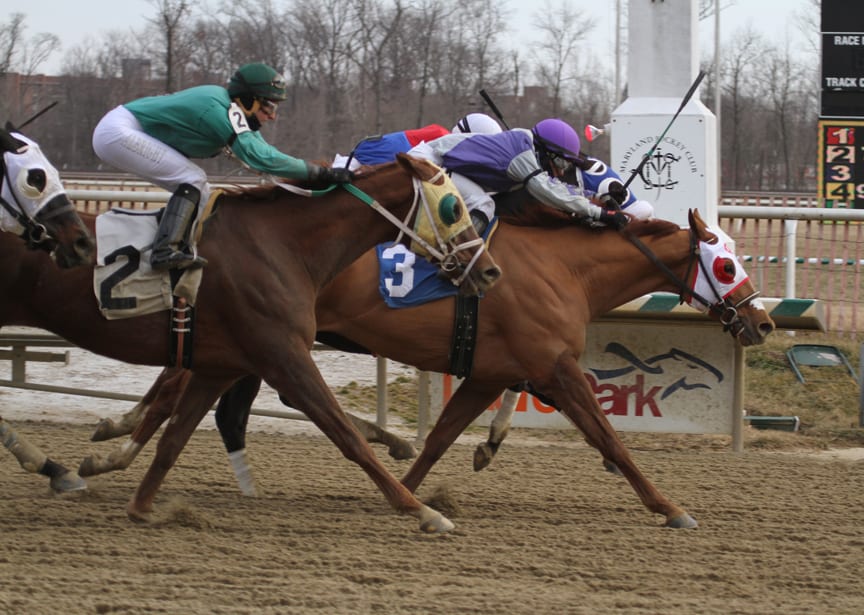 Page McKenney (#3) edged out three rivals to win the 2015 John B. Campbell Handicap. Photo by Laurie Asseo.
From a Maryland Jockey Club release
To run or not to run is not the question facing trainer Mary Eppler as she ponders Adam Staple and Jalin Stable's claimer-turned-millionaire Page McKenney's next start.
It's where to run.  Page McKenney has won both the John B. Campbell and Grade 3 General George Stakes in prior years; both are on Saturday's Winter Carnival program at Laurel Park.
Eppler said she'll likely enter the 7-year-old gelding in both the $250,000 General George and the $75,000 John B. Campbell, two of six stakes worth $850,000 in purses on the schedule, highlighted by the $300,000 Barbara Fritchie (G2).
Both for 4-year-olds and up, the General George is contested at seven furlongs while the Campbell is run at 1 1/8 miles. Page McKenney is the defending champion in the General George; he won the Campbell in 2015.
Entries will be taken and post positions drawn for all of Saturday's races on Wednesday, Feb. 15.
"He's going to run in one of them. I'll probably enter in both and see which one sets up best for him," Eppler said. "He doesn't have to prove anything. We just want to look at what the best spots are for him going forward."
Last year's General George, where he raced in mid-pack before getting up to win by a head over Majestic Affair, was the first time Page McKenney had gone shorter than one mile since he joined Eppler after being claimed for $16,000 in July 2013. He is 4-1-1-0 lifetime at seven furlongs, and hadn't sprinted previously since March 2013.
Page McKenney has never finished worse than third in nine career tries at 1 1/8 miles with four wins including the Campbell, Howard Johnson Memorial and Richard W. Small in 2015, three seconds topped by the 2016 Charles Town Classic (G2), and thirds in the 2015 Cornhusker (G3) and Charles Town Classic.
"He can do both. Either one is good for him," Eppler said. "Post position, I don't really worry about. He's won out of all of them."
As he has been for 14 straight starts and 15 of the last 16, jockey Horacio Karamanos will be aboard Page McKenney on Saturday. All told, Karamanos has 13 wins, nine of them in stakes, six seconds and two thirds from 22 rides.
"Most of the time the horse runs a mile, mile and a sixteenth, mile and an eighth. That's the best distance for him, but he showed last year he can run seven-eighths," Karamanos said. "This horse is always improving. He had a little issue last year and he was off for nine months but he came back and won easy, nice…
"He's one of my favorite horses. Everybody loves him," he added. "He's very professional. You see him in the morning and he looks like a pony, but when he comes in the afternoon he's a different horse. He's got a lot of class."
A minor hip issue that caused him to develop swelling in a tendon discovered the morning of the Pimlico Special (G3) last May kept Page McKenney away from the races from late April until his return in the Native Dancer at about 1 1/16 miles Jan. 21 at Laurel.
In that race, he broke sharp and forced the pace until taking over the lead at the top of the stretch and pulling clear to a popular and decisive 1 ¾ length victory over late-running Bodhisattva.
"We were concerned whether he was going to come back and run the way he had been. He had been training good so I didn't see any reason why he couldn't come back and run the way he had, but there's always a concern," Eppler said. "I'm never confident until they come across the finish line. He was running like his old self and actually a little bit more forward but that's because he had the long layoff. He was a little bit sharper and Horacio said he was a little bit rank going down the backside.
"He was a little bit anxious before the race in the receiving barn because he knew where he was going," she added. "That was a little bit unnerving for me because he's never been like that. Then when I was saddling him, I put the undergirth on him and pulled the stirrup down and the stirrup leather came undone. That's never happened. I had to thread it through the bar and he was really ready. He didn't want to stand there that long."
Page McKenney has had two timed five-furlong works at historic Pimlico Race Course since the Native Dancer, going in 1:04.40 Feb. 5 and 1:03.20 Feb. 11. Eppler is expecting another strong effort, no matter which spot he runs.
"I feel more confident because he came back great. He was back to his old self the next day, just walking around looking for his mints. He's very laid back," she said. "I think he's going to be even better this time. He's been training great, he's stronger and fitter and looks great."