After lean years, Houghton fills up on Crabcakes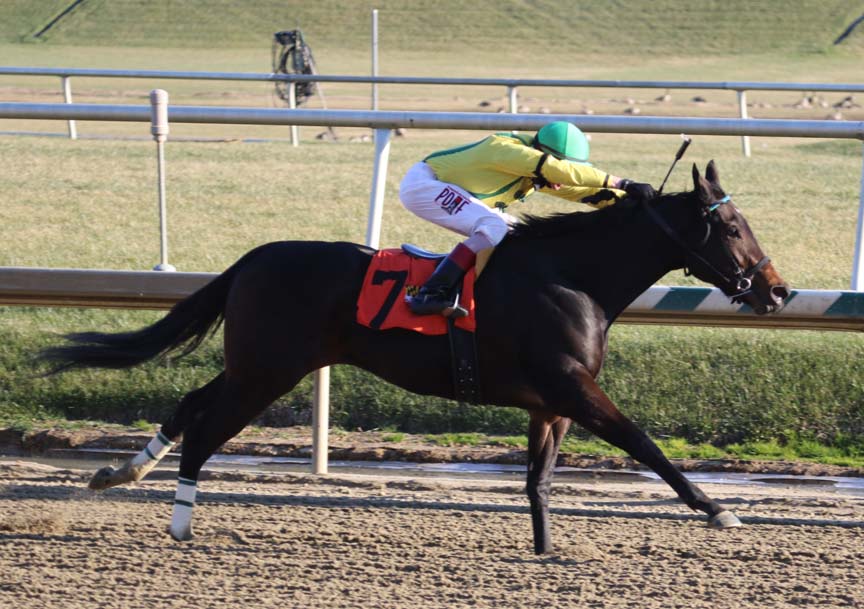 Crabcakes won the Maryland Juvenile Filly Championship. Photo by Laurie Asseo.
From a Maryland Jockey Club release
Long before she and her husband moved to picturesque Buckingham Farm on the shores of the Chester River in eastern Maryland more than five decades ago, Elizabeth 'Binnie' Houghton has loved her adopted state's most enduring delicacy almost as much as her horses.
The 78-year-old mother of two and grandmother of four had often thought of putting the two together, but – despite breeding, raising or campaigning more than 40 stakes winners including five Maryland-bred champions and the winners of four Maryland Million Classics – she couldn't find a recipe that worked.
That all changed in March 2014 when Aunt Elaine, a mare Buckingham bred and raced to three wins and more than $91,000 in purse earnings in 2005-06, dropped a dark brown or bay foal by Great Notion. The foal's granddam, Annie Cake, was a Grade 3 winner of nearly $165,000 bred by Houghton's father, Anderson Fowler, and raced in her mother Elaine's name.
As the filly developed and began to show promise with her nephew, Penn National-based trainer Bernie Houghton, Binnie Houghton knew it was time for Crabcakes to be served.
"I wanted to do it a couple times but I never had the horse for it. I guess this was the right time," she said. "I gather the people in Baltimore are going crazy over the horse because everyone loves crabcakes."
Crabcakes, the horse, has done everything right in her young career, winning all three of her starts. She broke her maiden at Penn National Dec. 3, came back a week later to win the Maryland Juvenile Filly Championship, and kicked off her 3-year-old campaign with an optional claiming allowance victory Jan. 7.
Her last two races have come at Laurel Park where she is set to come back in the $75,000 Wide Country, one of six stakes on a Feb. 18 program that includes the $300,000 Barbara Fritchie (G2) and $250,000 General George (G3).
"She is very exciting to have, very gratifying," Houghton said. "As you know it takes forever to watch this sport come around and, personally, this is very gratifying. It's been in my family for so long, that makes it all the better."
Fitting as the name may be, Crabcakes has also been a just reward following some lean and difficult years for Houghton. Her husband, Eddie, passed away at age 67 in August 2008, giving her pause whether to even continue in the business.
"It sure makes me feel good that I didn't get rid of all my horses," she said. "I was going to disperse them all when my husband died but they all turned out to be so much part of the family that I couldn't do it."
Less than a year later, a fire destroyed the main barn at Buckingham full of mementos from the Houghtons' years together as husband and wife as well as owners and breeders. In April 2014, she lost her beloved trainer, Richard 'Dickie' Small, to cancer at the age of 68.
"This is a good pick-me-up for her because it's been down a little bit the last couple years. She hasn't had anything really good and with Dickie Small dying and all that stuff, this is great for her," Bernie Houghton said. "She's just thrilled."
Thoroughbreds have been part of Binnie Houghton's life since birth. Her father lived in New Jersey and was an official at Monmouth Park but raised and raced homebreds from Buckingham until his death in 1997. She married her husband in 1960 when he was manager at Happy Hill Farm in Pennsylvania before they relocated to Buckingham in 1964.
"It has been a way of life, for both of us. It kind of has to be a labor of love, doesn't it?" Houghton said. "Our families have been around. I know you can get too involved with putting all your eggs in one basket, but that's what we've done. It's worked out pretty well, I think. It's been a lot of fun.
"When daddy was alive and Buddy [Raines] was training, that was incredible," she added. "Every dinner and every lunch at the racetrack was a learning lesson. You sat and listened and it was wonderful. Many fun times were had with the old boys. Now, we're the old boys."
Buckingham's roster of top horses include the gelding Castelets, a multiple Grade 3 winner of $614,486 from 1982-89; 1997 Gallorette (G3) winner Palliser Bay and 2004 Iowa Oaks (G3) winner He Loves Me; multiple stakes winner For Kisses; Laplander, a gelding who went 20-20-21 with $334,352 in earnings from 121 starts between 1970-77; back-to-back Maryland Million Classic winner Timely Warning (1990-91) and Maryland Million winners Master Speaker, Forry Cow How, Top of the News, Kalli and Roaring Lion. Among their trainers have been Small, Raines and Ron Cartwright.
"We've had some awful nice trainers over the years. They've all been personal friends," Houghton said. "It's been a special bonus for me having Bernie this time around."
The farm has also provided sanctuary to retired thoroughbreds as well as a wide assortment of animals over the years. Pigs, zebras, llamas, peacocks, buffaloes, ponies and racing and show mules have all called Buckingham home at one time.
"We've had all sorts of baby things. Whatever's left has endured the time," Houghton said. "We've got some miniature ponies and llamas and some donkeys, but they all eat. Copiously."
While Crabcakes has been the current star, Buckingham had homebred colt Wolfinbarger win first time out Feb. 3 for Bernie Houghton, who sent out another homebred, Love of the Bay, for his debut Feb. 11. Both races came at Laurel.
"She's still pretty active," Bernie Houghton said. "Her and my uncle lived in Maryland pretty much their whole life and they've always owned horses. They just loved it."
And, despite some recent hard times, Binnie Houghton remains in love with the game.
"The lows are really pretty low, but you have to forget about them because the highs are so neat," she said. "There's been so many good, fun times with the people that we loved over the years, and that's really the most important part, I think. I really can't pick any one thing out. It's all been pretty good."