Claiming game changes present challenges for tracks, horsemen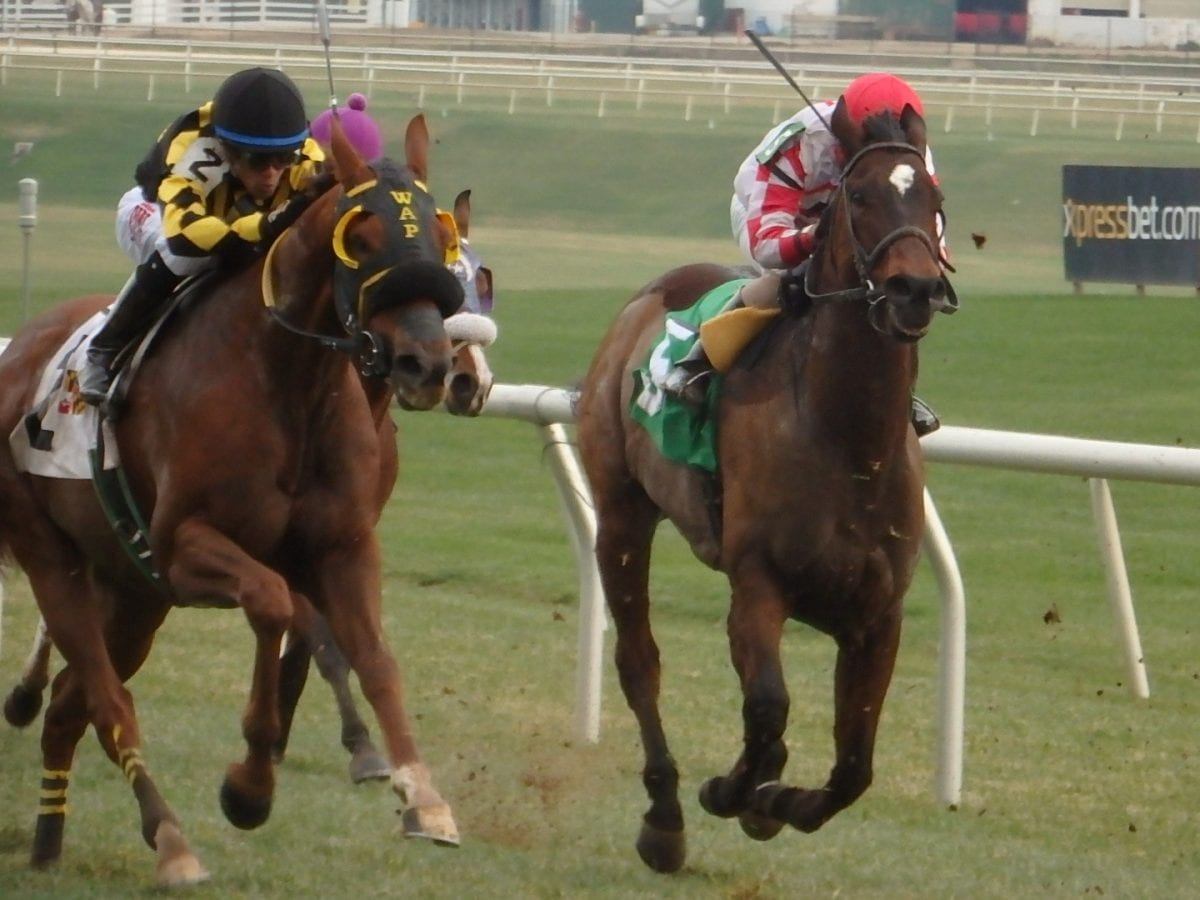 Skeleton Crew, inside, made 77 career starts, most in claiming company. Photo by The Racing Biz.
by Linda Dougherty

More than just offering handicappers a way to assess the talent of a particular field based on their price tag, claiming races represent the backbone of virtually every racetrack in the country, and claiming horses are the bread-and-butter of the majority of stables.
Prior to the advent of expanded gaming, claiming races, especially at smaller tracks, once offered low purses and were viewed as a last stop before the end of thoroughbred's career. But thanks to slots-fueled purses in the mid-Atlantic region, claims can earn their purchase price back quickly, and provide a steady income for owners and trainers.
Claiming activity, however, was down significantly in 2016 versus 2015. According to statistics compiled by The Racing Biz, there were 2,169 horses claimed in the region in 2016, with total sales volume of those claims nearly $22.5 million. That compares to 2,561 claims in 2015, a decrease of 15.3 percent, with the total value of those claims down by more than 17 percent, from more than $27 million in 2015. Average claim price remained steady, down only two percent from 2015 ($10,573 in 2015 vs. $10,358 in 2016).
While claiming activity decreased just slightly at all three Maryland tracks in 2016, it fell significantly everywhere else – at both Pennsylvania tracks, Delaware Park, Charles Town, Monmouth Park and Meadowlands.
Track operators all agree that claiming races are important for the health of their business, and that increased purses have changed the game.
"The claiming aspect of the sport has matured over time and has been tweaked, criticized and exploited with the increase in purses," said Sal Sinatra, president and general manager for the Maryland Jockey Club. "As purses have been increased to compensate for the costs associated with training a horse and keep up with inflation, most (if not all) racetracks that have had the luxury to increase purses have not increased claiming prices. This imbalance has created new owners that can jump into the sport by claiming a 'bottom' horse relatively inexpensively and chase purses that are several times the value of the horse that they claim. As an operator, we have to be conscious that the horses being claimed most frequently are vet-checked to be healthy and sound."
Sinatra noted that while claiming is a major component of the sport, he is also aware that the Maryland tracks need stables that either breed to race or buy young horses to develop.
"Today's claiming model, along with the purse levels, has caused aggressive stables to dominate the ranks," said Sinatra.  "Without having a balanced backside, these claiming stables will be recycling horses with no fresh stock to replenish in time. To me, the healthiest backsides are the ones that have the most new, fresh horses coming in, thus replenishing those horses that are no longer competitive nor claim-worthy."
Recently, Penn National took steps to prevent their horse population from being depleted by claims and dropping below a level that would make it difficult to card programs with full fields.
"In my opinion, if a track has vibrant claiming activity, it's an indication that the races and horses are competitive and healthy," said Eric Johnston, director of racing operations at Penn National, where claiming activity was down nine percent from 2015 (457 vs. 421 in 2016). "Where this gets out of balance is when you have several racetracks in close proximity to each other, such as we have in the mid-Atlantic region, and the ebb and flow of horses becomes one-sided, with more horses leaving one track than are being claimed to replace them. For this reason, we've changed our claiming rule that now requires a trainer to have stalls on the grounds at Penn National in order to be eligible to claim. The rule is very similar to the rule that has been in place in Maryland for the last several years and is designed to protect the horse population on the grounds as well as bring new owners to Penn National."
In 2016, the number of horses claimed fell by nearly 20 percent at Charles Town Races, from 171 to 137. Erich Zimny, the track's vice president of racing operations, cautioned that he wouldn't look at claiming activity by itself for measuring the West Virginia track's overall financial health since there are many factors in play, but it could be a data point.
"Whether claiming activity is up or down could mean several things, but it certainly could be a measuring stick of people's willingness to spend money to purchase horses," said Zimny. "But I'd really consider claiming volume to be more dependent on other factors versus being independent."
Zimny pointed to the number of claims per 100 starters at Charles Town in 2016 vs. 2015, which was merely two one-hundredths of a horse less per 100 starters. In 2016, there were 147 claims from 7425 starters (1.98 per 100 starters) vs. 171 claims from 8551 starters in 2015, or 2.00 per 100 starters.
"The rate of claims per 100 starters in these races really isn't very different year over year," he said. "It makes sense if you have less horses entered over the course of the year that could be in for a tag that the aggregate number of claims is likely going to go down with all else being equal."
From a trainer's perspective, claiming horses keep the economic engine of their stables humming.
Mark Reid, a mid-Atlantic trainer with nearly 1,700 wins to his credit, said that over the years claimers made up the bulk of his stable. In addition to being a great way to introduce new owners to the game, he's able to add and subtract horses quickly, and easily value a horse.
"Claiming horses are handy to have, and you can turn them into money any time," he said. "Four or five claiming horses in your barn can help support a young horse."
Reid is now stabled in Maryland, and likes the fact that its training colony has many old-school conditioners whose stock offers good opportunities for claiming.