For claiming trainers, different approaches in search of similar results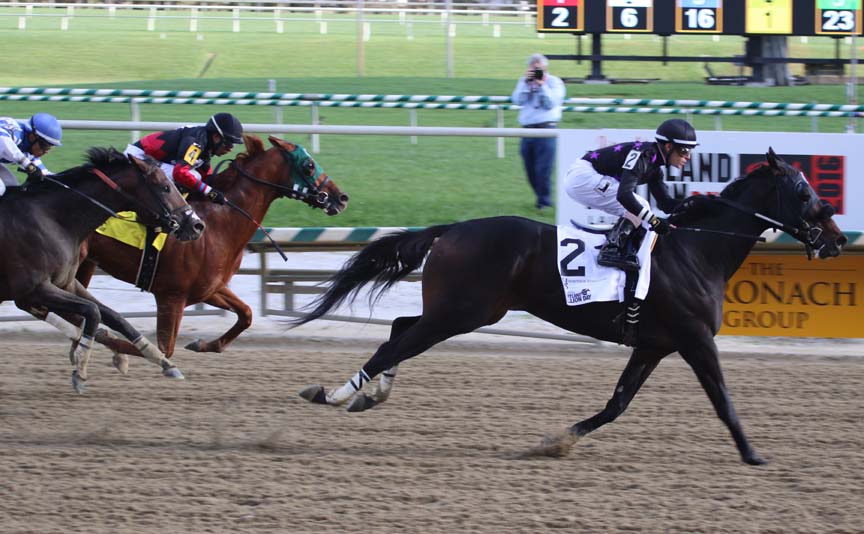 Claiming horse made good Nicaradalic Rocks won the Maryland Million Sprint for trainer Kieron Magee. Photo by Laurie Asseo.
by Linda Dougherty
Playing the claiming game in the mid-Atlantic region is not as easy as it might seem. Before a claim slip is even dropped, a trainer must know the rules of many different racetracks, examine the horse's form, numbers, pedigree and physical appearance, and then hope the gamble pays off.
The dawning of the slots era in the mid-Atlantic region has made the claiming game more lucrative than ever before, but it has also prompted states and tracks to implement new rules to safeguard the welfare of horses, protect the interests of owners who claim, and ensure the local horse population remains sufficient to fill future cards.
While the total sales volume of horses claimed in 2016 was down 17 percent from 2015, from $27 million to $22.5 million, and the number of horses claimed was down 15.3 percent, from 2,561 in 2015 to 2,169 last year (numbers from Laurel Park, Pimlico, Timonium, Charles Town, Delaware Park, Parx Racing, Penn National, Monmouth Park, and the Meadowlands, based on analysis of Equibase data) claiming is still the backbone of the sport.
As might be expected, each trainer has his or her own rhyme and reason for selecting which horses to claim.
One of the most active and successful claiming trainers in the region is Kieron Magee, Maryland's leading conditioner the last two years. A native of County Wicklow, Ireland, Magee built up his claiming stable from virtually nothing about a decade ago, stating he had to "max out three credit cards and borrow $1,000 off my mother-in-law" to claim his first horse. It quickly snowballed from there, with Magee winning 118 races in 2015 and 105 races last year.  He also claimed 80 horses in the region in 2016, more than any other trainer.
"I like to look for old class horses, especially mares," said Magee. "If you get them happy, they'll often give you flashes of their former brilliance. I'm against claiming maidens unless a client really wants to do it. I like to see numbers, some hard facts that show the ability of a horse, which sometimes you can't get with maidens. Another thing I consider is if a winning trainer is going through a dry spell – they'll often drop a horse down just to win a race."
Magee said that he often gives horses shipping in from New York a second look, since the pre-race checks they've been subjected to there make them better risks. He'll also scan the entries from tracks across the region when searching for a horse to claim, but said rules in effect in most states are very restrictive. Pennsylvania, Maryland, and West Virginia, for instance, prohibit trainers from starting a claimed horse anywhere else until the end of the race meet in progress or a period of 60 days (with some exceptions). There are no exceptions in New Jersey, except for stakes races.
Pennsylvania and Maryland have also implemented rules designed to protect owners — and the horses themselves — from catastrophe. In the event a horse dies during a claiming race or is euthanized on the racetrack during the race, any claim made on that horse will be declared void.
Also, in the event that a horse is vanned off the racetrack at the direction of the track veterinarian after a race, a claimant can void a claim within one hour after the race is declared official. In Pennsylvania, exceptions can be made if the horse is vanned off the track due solely to heat stroke or bleeding from the nostrils, as determined by the track veterinarian.
Trainer Kate DeMasi, who is based at Parx, thinks the sport has benefitted greatly from these rules.
"The rules protect the horse in the long run, and it's really stopped the practice of trainers who know a horse is going bad, but want to try and get one more race out of them," said DeMasi, who claimed 23 horses in the region in 2016. "Now owners have a little protection, much like 'lemon laws' for cars. It's helped put sounder horses into our retirement program, too."
DeMasi, who has won more than 1,200 races in her career, said the pedigree of a horse is a factor when she considers a horse to claim, as well as its consistency.
"Some people claim off the sheets, but for us it's more about the horse's pedigree and form," she said. "I also consider what the options are for the horse. Sometimes it's harder to claim an upper-level horse that may be out of conditions, because races may not 'go' that it can run in. You need to claim according to what's in the condition book."
Pedigree comes into play especially with a horse that has a turf pedigree, but has never run on the turf, she said. Pennsylvania-breds also are a hot commodity because of their extra earning power.
Hugh McMahon, a Maryland-based trainer who ranked 11th in the nation by number of wins (166) in 2013 and has been a consistent force in the region, said he likes to have a plan in mind when he claims a horse.
"Is the next condition available?" said McMahon. "The more conditions the horse has, the better. I like horses at the beginning of their 4-year-old year, because that's the best time to claim them. They've developed mentally and physically. I also like to see some form and I don't really care about the horse's sex. Every now and then an owner may want to go in for a maiden, but those are few and far between."
McMahon, who claimed 41 horses last year, said he doesn't especially like claiming horses.
"It affects people," he said. "I've seen people go out of business. I do it by virtue of necessity. I don't train for any breeders or farms, and can only acquire horses by claiming."
A long-time trainer at Parx, who spoke on condition of anonymity for fear of losing stalls, does not consider form to be paramount but tends to take a chance with fillies that have good pedigrees, because of their residual value as broodmares.
"The problem here (at Parx) is that there are so many bad horses, as well as a lot of badly-bred backyard stuff," the trainer said. "Nobody gives horses a break, because the racing office pressures you to run."
However, the higher purses have made claiming a much more profitable proposition for owners.
"Because of the money here, you can claim a horse for $12,500, drop it in for a nickel, and get out almost immediately if it wins," the trainer said. "The money has made the claiming game much different than before slots were legalized. Years ago, if you claimed a horse for $12,500, you'd have to win six races to get your money back."