Trevor McCarthy in a hurry, but no rush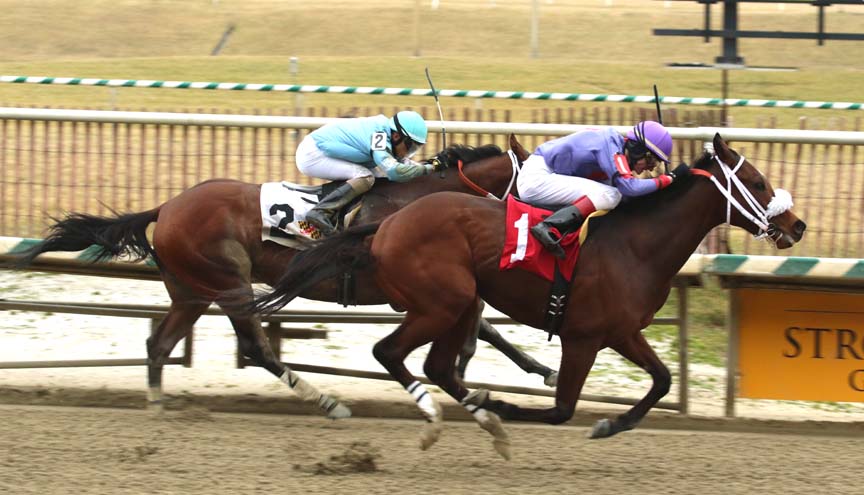 High Roller took the Frank Whiteley, Jr. Stakes over favored O Dionysus. Photo by Laurie Asseo.
by Frank Vespe
It's shaping up to be a good year for jockey Trevor McCarthy.
The Maryland-based McCarthy has the call on a Kentucky Derby contender, El Areeb, who laid waste to the field in the Grade 3 Jerome at Aqueduct on January 2.
And January 21, for the first time in his career, McCarthy won three stakes in a single day.  With two of those winners — High Roller and Star Super — newly minted sophomores, the 22-year-old may have a chance to surpass his 2016 efforts, which comprised his best season to date.  His mounts won 274 races last year with earnings of over $8.7 million.
"Things are going really well," McCarthy said after winning Saturday's $75,000 Nellie Morse Stakes aboard Winter.  "I'm riding for some really good outfits."
McCarthy took the $75,000 Frank Whiteley, Jr. Stakes aboard High Roller for trainer Dale Capuano to kick off his big day.  Then he teamed up with Star Super, a three-year-old filly, to win the $75,000 Marshua Stakes.  Both Star Super and Winter are trained by Cal Lynch.
"Cal's been really good to me, and we've been really lucky together," McCarthy said.  "To ride for guys like Cal and Graham [Motion] and [New York-based Christophe] Clement when he comes down, it's really a privilege and a huge honor to ride for them.  They want to win just as bad as you do, you know?"
McCarthy's wins aboard High Roller and Star Super were by a combined margin of three-quarters of a length.  The former, a High Cotton colt, grabbed the lead inside entering the lane and held off favored O Dionysus, who endured a difficult trip, by a half-length.
"Thank God for Trevor," Lynch murmured after watching Star Super, a Super Saver filly, hold off Lucky in Malibu by a neck in the six-furlong Marshua.
"He's a very good rider and he's very aggressive," Lynch explained. "He can get them to the finish. He's a difference maker for me."
While in his first two stakes wins, McCarthy and his mounts had to withstand the late runners, in the 1 1/16 mile Nellie Morse, McCarthy and Winter parlayed a perfect trip to a nearly-three length victory.
"Jockeys don't make 10 lengths difference, but they'll make a length or two," Lynch pointed out.  "He just rides a very smart race. He knows what he's doing."
McCarthy's career, likewise, is showing signs of steady development.  He won two graded stakes in 2014, two more in '15, and then three last year.  El Areeb's Jerome win was his McCarthy's first graded victory of this year.  His 2016 wins and earnings both were career-best numbers, and he keeps on hustling, and learning.
"You're always learning, you know," he said.  "That's why I like riding six, seven days a week, all different tracks. It's cool. You adapt to different racetracks and you learn different techniques. You learn different things from different jockeys all over the country."
McCarthy rode six today at Laurel Park and is named on three more this evening at Penn National.  He has four mounts at Laurel on Sunday and then a pair at Parx Racing on Monday.
Still, although he may appear to be a young man in a hurry, McCarthy, like a jockey biding his time with poised-to-pounce horse, is showing patience career-wise.
"I'm not in a rush at all to move or do anything," the rider said. "People always say when are you going to go to New York, when are you going to go to California — I really am not in a rush to go anywhere.
"The time will come when it's right. The right opportunity will come."
In the meantime, he's content to stay home, where, after all, there are plenty of skilled trainers, talented runners — and chances for a jock to hone his craft.