Arnaldo Bocachica looking to overcome loss, build on past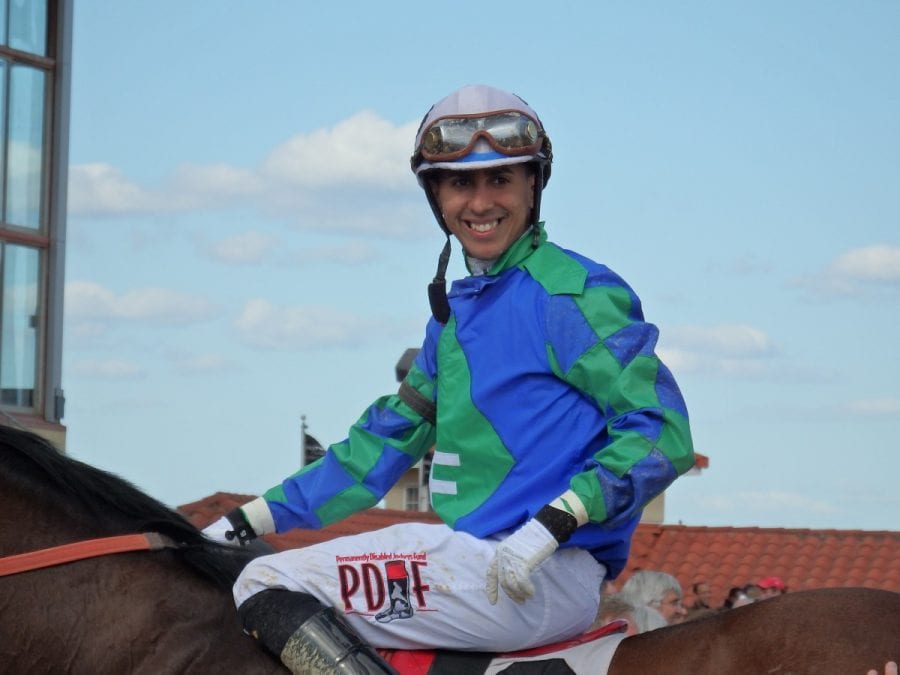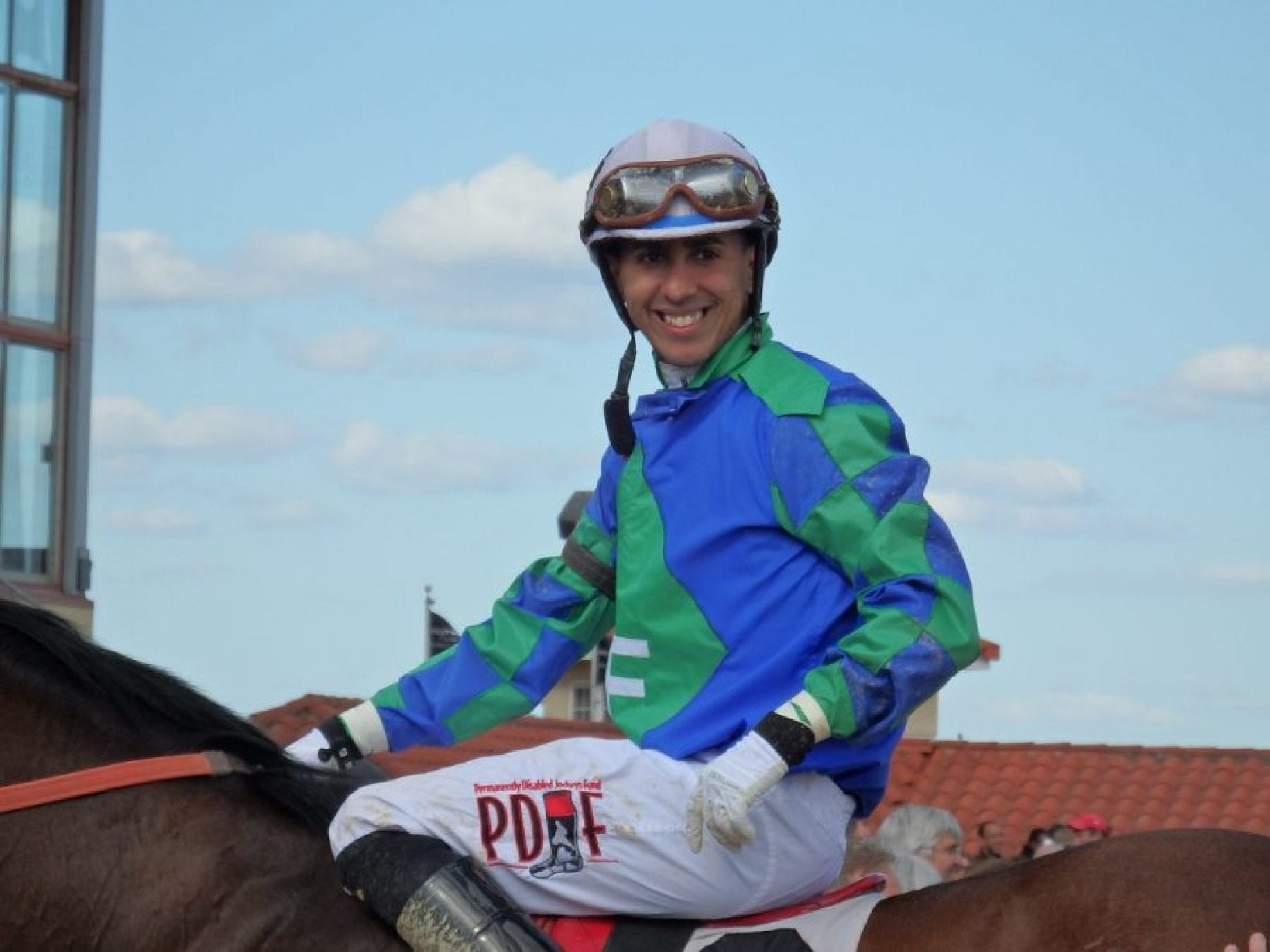 Arnaldo Bocachica. Photo by The Racing Biz.
by Ted Black
It was a great year professionally for jockey Arnaldo Bocachica.
But on the personal side, 2016 took an abrupt turn for the worse late in the year. On December 15, Bocachica's father-in-law – and agent – Joe Mascolo suffered a massive heart attack and passed away at age 57.
That left Bocachica, 28, pondering a 2017 with emotional and racing challenges. While only the process of grieving and the passage of time can help with the former, for the latter Bocachica has turned to a new agent, longtime Charles Town racetracker Jeff Gilleas.
Bocachica enjoyed his best year in the irons last season, recording 154 of his 163 wins at Charles Town, second only to Jose Montano, a former Eclipse Award-winning apprentice rider. But Bocachica actually won the local money title with $2.7 million banked locally from a seasonal sum that reached nearly $3 million. He has recorded 1,277 winners from just over 7,000 mounts in his career, with earnings of $21.6 million heading into Wednesday's card.
"Jose won more races, but I would rather have the money," Bocachica joked recently. "Last year was a very good year for me. I won the Charles Town Oaks [aboard Covey Trace] for my first graded stakes, and I won the [West Virginia Breeders] Classic with Slip the Cable for Mr. Runco and a lot of other stakes for him. But I was looking for an agent and I was glad to get Jeff
Gilleas. He's always at the track in the morning and he knows the trainers. He was definitely my top choice for an agent for me at Charles Town."
Bocachica officially came under Gilleas' wing last Friday when entries were drawn for the January 11 card at Charles Town, the track's first night of racing in 2017.
Gilleas is also the agent for jockey Yamil Rosario, who won at least 100 races in both 2010 and 2011, but has booted home just 83 winners over the last five years. Rosario, who is looking to "reinvent" his career according to Gilleas, has 16 mounts in the first three days of the Charles Town meet.
"I know when 2016 ended, Arnaldo was looking for an agent to represent him this year, and there were a number of agents up here hoping to land his book," Gilleas said. "I was fortunate to get him. I have always had a great deal of respect for Arnaldo. He's a true professional and he's a very hard worker. He's a tremendously talented rider and he always gives 100 percent every time he's on a horse."
Bocachica and Gilleas will begin the New Year together with six mounts on Wednesday, one on Thursday, and four more on Friday. Trainer Jeff Runco, who was in Keeneland for the horse sale Monday and Tuesday, had given Bocachica a leg up on many of his biggest mounts last year, including Slip the Cable, In the Fairway and the undefeated Bullets Fever.
"Arnaldo is really great at assessing how a horse is doing after each workout and to someone like Jeff Runco, who has a lot of good horses up here, that's very important," Gilleas said. "He's able to give Jeff immediate insight as to how each horse is doing and any changes that might need to be made. Arnaldo is not the only rider that Jeff uses, but Arnaldo does have first call on many of his top ones, and the work he does in the mornings is a big reason for that."
In fact, leading up to last year's edition of the West Virginia Breeders Classics, Bocachica and Runco had already recorded stakes tallies with Bullets Fever, In the Fairway and Slip the Cable, and it was evident all three could not go in the Classic. Bullets Fever would find the WVBC event for three-year-olds ideal, while Bocachica initially thought In the Fairway would be pointed for the Classic.
"Last year I won stakes on In the Fairway at Charles Town and Mountaineer and I thought he would be in the Classic," Bocachica said. "But after I talked it over with Mr. Runco, he convinced me that In the Fairway belonged in sprints and Slip the Cable was better for the Classic because of his breeding. He also had enough speed to make the front and have things his own way, and he never got caught."
Both In the Fairway and Slip the Cable had performed superbly in seven-furlong races heading into the WVBC card, but Runco convinced Bocachica that Slip The Cable, a homebred son of Midshipman out of the Not For Love mare, Hard To Get, would be more adapt at the three-turn distance of one-mile and one-eighth at Charles Town. Much like Charitable Annuity one year earlier, Slip the Cable would capture the Classic in his first attempt at a route distance by splashing home over the off going to a seven-length score.
"It was just the perfect scenario," Gilleas recalled. "Slip the Cable likes to get to the front and have everything his way. The track came up a little sloppy and he made the front and never got tested. Arnaldo rode him perfectly. He sent him to the front early and just allowed him to settle into stride and really never had an anxious moment."
A month earlier, Bocachica had guided Covey Trace to victory in the Grade 3, $350,000 Charles Town Oaks for his first graded score, upsetting 3-10 Sophia' Song in the process.
"It's amazing to win my first graded race. I'm really happy to get the win," Bocachica said that evening. "To get it here at Charles Town, where I ride, I'm really happy to win it for us here."
Bocachica officially began his current campaign by finishing second aboard Antoaneta in a maiden claiming event at Gulfstream Park last Wednesday for trainer Reid Nagle.
"I went to Florida to spend some time with my family down there and I was able to hang out a little with my brother [Orlando], who is riding at Tampa Bay Downs this winter," Bocachica said. "I picked up one mount for Mr. Nagle down there and finished second. It was a good way to spend my vacation, but now I'm ready to get back to work."
NOTES  Charles Town kicks off its 2017 season this evening with a nine-race card.  First post is 7:00 p.m.  The featured eighth race, a $24,000, West Virginia-bred allowance, is scheduled for 10:15.  Bocachica will Runco trainee Mexicali Sun, the 3-1 second choice in the eight-horse field.