Claimbox: Midlantic claiming finishes down year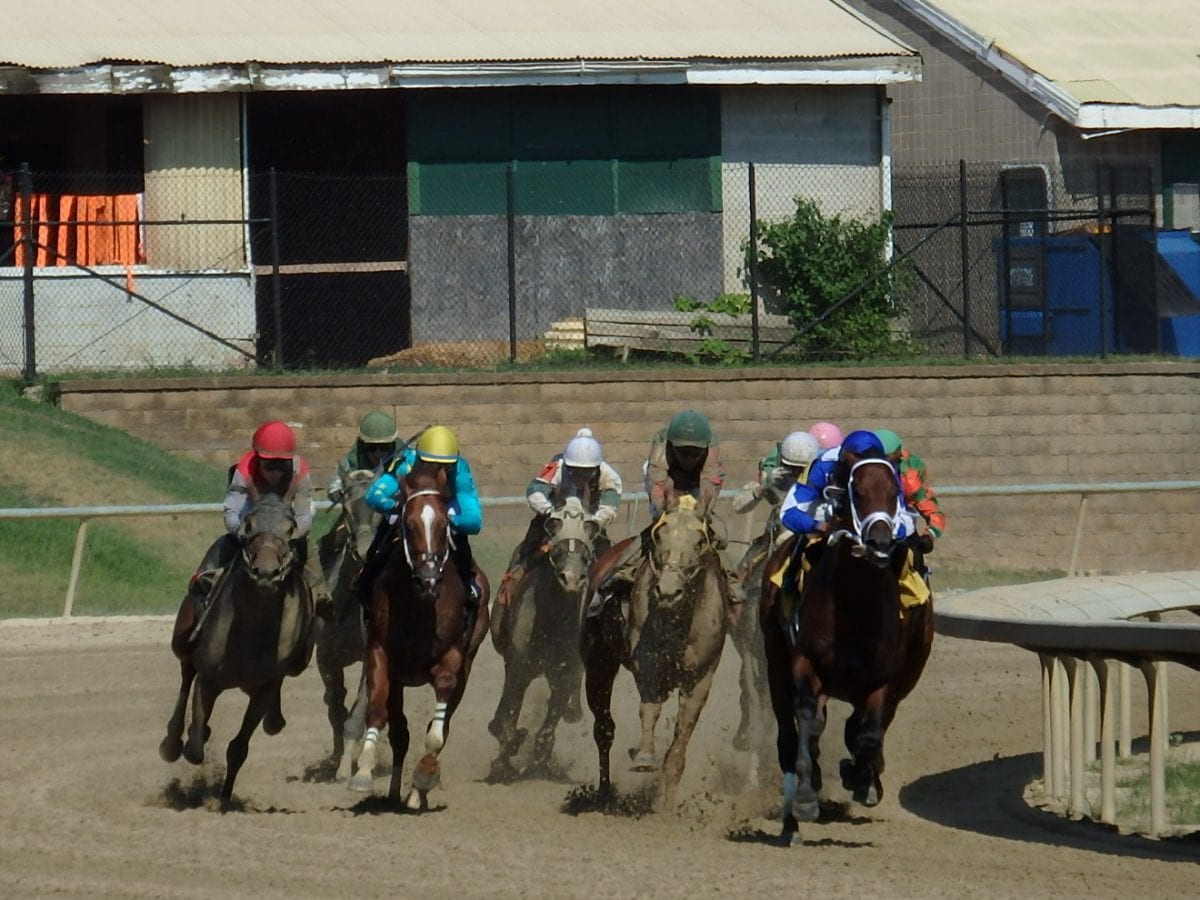 Photo by The Racing Biz.
by Frank Vespe
The volume of claiming activity in the mid-Atlantic region was essentially flat in December 2016 versus the same month the prior year, concluding a year in which the number of horses claimed fell by more than 15 percent from 2015.
For the entire year, the region saw 2,169 horses claimed.  The sales volume of those claims was nearly $22.5 million, for an average claim price of $10,358.

With the exception of the average price, which was down just two percent from last year's $10,573, those numbers were off significantly versus 2015.  The number of claims fell 15.3 percent from 2,561 last year, and the total value of those claims was down by just over 17 percent from more than $27 million.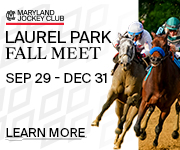 The declines were widespread across the region.  They ranged from insignificant — taken as a group, Laurel Park, Pimlico, and Timonium, the three Maryland tracks, saw the number of horses claimed fall less than one percent, to 529 — up to enormous.  Taken together, Monmouth Park and the Meadowlands saw claiming activity fall by more than 38 percent, from 314 claims in '15 to just 194 this year.
Elsewhere, the number of horses claimed fell by nearly 20 percent at Charles Town (to 137), 19 percent at Parx (to 772), and 13.4 percent at Delaware Park (to 116).  Penn National saw its claiming activity fall by 7.9 percent, to 421 horses claimed.
In dollar terms, the Maryland tracks were the only ones in the region to experience gains.  Despite the slight decrease in horses claimed, the average value of horses claimed in the Free State jumped by nearly 15 percent; as a result, the gross value of horses claimed rose by more than 14 percent, to almost $6.5 million.
In December, regional claiming activity was down just slightly from the prior year.  Overall, 177 horses were claimed in the Midlantic, down from 181 during the same month in '15.  The dollar value of those claims was down by 3.8 percent, to just shy of $1.75 million.
Parx Racing led the region with 78 horses claimed with a gross value of $878,500.  Its average claim value of $11,262 was also the region's highest.  Laurel Park saw 41 horses claimed, versus 39 at Penn National and 19 at Charles Town.
The Claimbox report is based on Equibase statistics and covers Laurel Park, Pimlico, Timonium, Charles Town, Delaware Park, Parx Racing, Penn National, Monmouth Park, and the Meadowlands.
CLAIMING TRAINERS FOR THE MONTH
Who's claiming horses
Jamie Ness — 7 claims for $83,500.00
Marcos Zulueta — 6 for $101,000.00
Tim Kreiser — 6 for $70,000.00
Mario Serey, Jr. — 5 for $78,000.00
Ronney Brown — 4 for $40,000.00
Kathleen Demasi — 4 for $51,500.00
Kieron Magee — 4 claims for $33,500.00
Wayne Potts — 4 claims for $25,250.00
Scott Lake — 4 for $50,000.00
Jonathan Wong — 4 for $35,000.00
Overall, 104 trainers claimed at least one horse.
Who's losing horses
Patricia Farro — 9 lost for $99,750.00
Michael Pino — 6 lost for $76,000.00
Ramon Preciado — 6 lost for $65,000.00
Jeff Runco — 6 lost for $55,000.00
Mario Serey, Jr. — 6 lost for $71,500.00
Timothy Kreiser — 5 lost for $60,000.00
Hugh McMahon — 5 lost for $55,000.00
Kathleen Demasi — 4 lost for $21,500.00
7 tied with three horses lost
Overall, 105 trainers had at least one horse claimed away from them.
CLAIMING TRAINERS YEAR-TO-DATE
| Rank | Trainer | Claims | Value of Claims | Avg Claim |
| --- | --- | --- | --- | --- |
| 1 | Magee, Kieron | 80 | $940,750.00 | $11,759.38 |
| 2 | Ness, Jamie | 69 | $850,750.00 | $12,329.71 |
| 3 | Lake, Scott A. | 60 | $681,000.00 | $11,350.00 |
| 4 | Serey, Jr., Mario | 55 | $754,500.00 | $13,718.18 |
| 5 | Farro, Patricia | 55 | $584,250.00 | $10,622.73 |
| 6 | Potts, Wayne | 44 | $311,750.00 | $7,085.23 |
| 7 | Zulueta, Marcos | 43 | $618,000.00 | $14,372.09 |
| 8 | Pino, Michael V. | 43 | $481,000.00 | $11,186.05 |
| 9 | Kreiser, Timothy C. | 42 | $487,000.00 | $11,595.24 |
| 10 | McMahon, Hugh I. | 41 | $523,000.00 | $12,756.10 |
| 11 | Graci, Kimberly A | 33 | $191,750.00 | $5,810.61 |
| 12 | Kulp, Brandon L. | 28 | $276,250.00 | $9,866.07 |
| 13 | Demasi, Kathleen A. | 23 | $265,500.00 | $11,543.48 |
| 14 | Brown, Ronney W. | 23 | $176,750.00 | $7,684.78 |
| 15 | Stickler, Jr., Lester J. | 22 | $184,500.00 | $8,386.36 |
| 16 | Penaloza, Miguel | 21 | $234,500.00 | $11,166.67 |
| 17 | Vazquez, Juan C. | 21 | $197,000.00 | $9,380.95 |
| 18 | Gonzalez, Claudio A. | 20 | $275,000.00 | $13,750.00 |
| 19 | Brooks, Gerald E. | 20 | $266,000.00 | $13,300.00 |
| 20 | McClellan, Erin C. | 20 | $140,500.00 | $7,025.00 |
| 21 | Velazquez, Daniel | 19 | $212,500.00 | $11,184.21 |
| 22 | Stites, Flint W. | 17 | $153,250.00 | $9,014.71 |
| 23 | Wilhelm-Saldana, Jennie | 17 | $151,000.00 | $8,882.35 |
| 24 | Mosco, Robert | 16 | $143,250.00 | $8,953.13 |
| 25 | Perri, Gina | 16 | $88,500.00 | $5,531.25 |
| 26 | Guerrero, J. Guadalupe | 16 | $155,500.00 | $9,718.75 |
| 27 | Brown, Jr., Howard R. | 16 | $156,500.00 | $9,781.25 |
| 28 | Joy, Kevin J. | 14 | $99,000.00 | $7,071.43 |
| 29 | Moore, Michael M. | 14 | $201,000.00 | $14,357.14 |
| 30 | Sillaman, Richard P. | 14 | $136,500.00 | $9,750.00 |
| 31 | Navarro, Jorge | 14 | $189,500.00 | $13,535.71 |
| 32 | Kantarmaci, Mertkan | 14 | $90,000.00 | $6,428.57 |
| 33 | Trombetta, Michael J. | 13 | $166,500.00 | $12,807.69 |
| 34 | Sinnefia, Paulina | 13 | $112,000.00 | $8,615.38 |
| 35 | Rojas, Eduardo E. | 13 | $98,000.00 | $7,538.46 |
| 36 | Eppler, Mary E. | 12 | $187,000.00 | $15,583.33 |
| 37 | Wyner, Harold | 12 | $85,000.00 | $7,083.33 |
| 38 | Capuano, Dale | 12 | $213,250.00 | $17,770.83 |
| 39 | Aristone, Philip T. | 12 | $95,000.00 | $7,916.67 |
| 40 | Salvaggio, Mark V. | 12 | $136,000.00 | $11,333.33 |
| 41 | Sacco, Gregory D. | 12 | $132,250.00 | $11,020.83 |
| 42 | Allen, III, A. Ferris | 11 | $169,500.00 | $15,409.09 |
| 43 | Hassig, Alison | 11 | $70,500.00 | $6,409.09 |
| 44 | Figgins, III, Ollie L. | 11 | $107,500.00 | $9,772.73 |
| 45 | Patterson, Kevin S. | 11 | $121,750.00 | $11,068.18 |
| 46 | Nations, Keith | 11 | $223,750.00 | $20,340.91 |
| 47 | Preciado, Ramon | 11 | $147,500.00 | $13,409.09 |
| 48 | Vera, Miguel | 11 | $121,000.00 | $11,000.00 |
| 49 | Estrada, Eberd | 11 | $109,500.00 | $9,954.55 |
| 50 | Iannotti, IV, Thomas | 11 | $65,500.00 | $5,954.55 |
| 51 | Mick, Stephen R. | 10 | $74,250.00 | $7,425.00 |
| 52 | Vega, Richard | 10 | $147,000.00 | $14,700.00 |
| 53 | Gorham, Michael E. | 10 | $115,500.00 | $11,550.00 |
| 54 | Albright, Amy | 10 | $59,500.00 | $5,950.00 |
| 55 | Cartagena, Keisy | 10 | $80,250.00 | $8,025.00 |
| 56 | Gonzalez, Aldana | 9 | $64,500.00 | $7,166.67 |
| 57 | Velazquez, Alfredo | 9 | $70,000.00 | $7,777.78 |
| 58 | Dandy, Ronald J. | 9 | $62,500.00 | $6,944.44 |
| 59 | Montoya, Marya K. | 9 | $86,000.00 | $9,555.56 |
| 60 | Houghton, Dove P. | 9 | $128,000.00 | $14,222.22 |
| 61 | Whylie, Herold O. | 9 | $62,500.00 | $6,944.44 |
| 62 | Schoenthal, Phil | 9 | $91,500.00 | $10,166.67 |
| 63 | Maldonado, Jonathan | 9 | $83,750.00 | $9,305.56 |
| 64 | Hartsell, Jr., John J. | 9 | $115,500.00 | $12,833.33 |
| 65 | Pattershall, Mary A. | 8 | $50,000.00 | $6,250.00 |
| 66 | Rodriguez, John M. | 8 | $83,500.00 | $10,437.50 |
| 67 | Cibelli, Jane | 8 | $162,500.00 | $20,312.50 |
| 68 | Lynch, Cathal A. | 8 | $77,500.00 | $9,687.50 |
| 69 | Bernardini, Jay P. | 8 | $128,000.00 | $16,000.00 |
| 70 | Russo, Victor | 8 | $51,500.00 | $6,437.50 |
| 71 | Walters, Henry | 8 | $58,000.00 | $7,250.00 |
| 72 | Magill, Patrick J. | 7 | $77,500.00 | $11,071.43 |
| 73 | Hollahan, Heather | 7 | $42,500.00 | $6,071.43 |
| 74 | Tracy, Jr., Ray E. | 7 | $73,500.00 | $10,500.00 |
| 75 | Reid, Jr., Robert E. | 7 | $157,500.00 | $22,500.00 |
| 76 | Pearce, Penny | 7 | $59,000.00 | $8,428.57 |
| 77 | Milian, Carlos J. | 7 | $42,500.00 | $6,071.43 |
| 78 | Guerrero, Juan Carlos | 7 | $90,000.00 | $12,857.14 |
| 79 | Dilodovico, Damon R. | 7 | $117,000.00 | $16,714.29 |
| 80 | Carlisle, John C. | 7 | $41,000.00 | $5,857.14 |
| 81 | Englehart, Jeffrey S. | 7 | $64,000.00 | $9,142.86 |
| 82 | Abrams, Ronald B. | 6 | $74,500.00 | $12,416.67 |
| 83 | Nunn, Douglas | 6 | $46,250.00 | $7,708.33 |
| 84 | Robb, John J. | 6 | $69,500.00 | $11,583.33 |
| 85 | Leaf, Jr., Robert | 6 | $103,500.00 | $17,250.00 |
| 86 | Albert, Linda L. | 6 | $101,000.00 | $16,833.33 |
| 87 | Rigattieri, John | 6 | $38,750.00 | $6,458.33 |
| 88 | Rozell, Ron | 6 | $44,250.00 | $7,375.00 |
| 89 | Thompson, J. Willard | 6 | $117,500.00 | $19,583.33 |
| 90 | Serey, Juan | 6 | $66,000.00 | $11,000.00 |
| 91 | Pradenas, Sergio H. | 6 | $39,000.00 | $6,500.00 |
| 92 | Follett, Norman C. | 6 | $62,500.00 | $10,416.67 |
| 93 | Haynes, Ernest M. | 6 | $66,750.00 | $11,125.00 |
| 94 | Gargan, Danny | 6 | $67,000.00 | $11,166.67 |
| 95 | Gaudet, Lacey | 6 | $82,000.00 | $13,666.67 |
| 96 | Maragh, Collin | 6 | $47,500.00 | $7,916.67 |
| 97 | Nunn, David | 6 | $39,500.00 | $6,583.33 |
| 98 | Castillo, Michelle | 6 | $36,750.00 | $6,125.00 |
| 99 | Pointer, Norman R. | 5 | $29,500.00 | $5,900.00 |
| 100 | Pinkney, Dave | 5 | $34,250.00 | $6,850.00 |
| 101 | Orseno, Joseph F. | 5 | $49,000.00 | $9,800.00 |
| 102 | Oliva, Robert | 5 | $26,500.00 | $5,300.00 |
| 103 | Bedard, Alan | 5 | $35,000.00 | $7,000.00 |
| 104 | Tammaro, III, John J. | 5 | $62,500.00 | $12,500.00 |
| 105 | Campbell, William A. | 5 | $80,000.00 | $16,000.00 |
| 106 | Brown, Steven R. | 5 | $45,500.00 | $9,100.00 |
| 107 | Ward, Dennis | 5 | $55,000.00 | $11,000.00 |
| 108 | Dunham, Bernard G. | 5 | $30,000.00 | $6,000.00 |
| 109 | Breen, Kelly J. | 5 | $65,000.00 | $13,000.00 |
| 110 | Tuomisto, Clifford | 5 | $33,750.00 | $6,750.00 |
| 111 | Frock, Charles L. | 5 | $75,000.00 | $15,000.00 |
| 112 | Wong, Jonathan | 5 | $42,500.00 | $8,500.00 |
| 113 | Adams, Douglas S. | 5 | $53,500.00 | $10,700.00 |
| 114 | Rogers, Ronald W. | 5 | $57,500.00 | $11,500.00 |
| 115 | Kendall, Jr., Dennis S. | 5 | $36,250.00 | $7,250.00 |
| 116 | Linder, Jr., Louis C. | 5 | $60,000.00 | $12,000.00 |
| 117 | Houghton, Roy D. | 5 | $85,000.00 | $17,000.00 |
| 118 | Harvatt, Charles R. | 5 | $87,500.00 | $17,500.00 |
| 119 | Hammond, Robert L. | 5 | $24,000.00 | $4,800.00 |
| 120 | Bouchard, Leslye G. | 4 | $30,000.00 | $7,500.00 |
| 121 | Boggs, M. Joanna | 4 | $27,000.00 | $6,750.00 |
| 122 | Curry, Dee | 4 | $37,500.00 | $9,375.00 |
| 123 | Burton, Tim | 4 | $25,000.00 | $6,250.00 |
| 124 | Allen, Randy | 4 | $39,500.00 | $9,875.00 |
| 125 | Caraballo, Wilfredo V. | 4 | $30,000.00 | $7,500.00 |
| 126 | Aro, Michael Charles | 4 | $57,500.00 | $14,375.00 |
| 127 | Neilson, Katherine | 4 | $19,750.00 | $4,937.50 |
| 128 | Farrior, Anthony | 4 | $22,500.00 | $5,625.00 |
| 129 | Leatherbury, King T. | 4 | $80,000.00 | $20,000.00 |
| 130 | Lingenfelter, Thomas H. | 4 | $24,250.00 | $6,062.50 |
| 131 | Keefe, Timothy L. | 4 | $44,500.00 | $11,125.00 |
| 132 | McBurney, Patrick B. | 4 | $44,000.00 | $11,000.00 |
| 133 | Geist, David W. | 4 | $30,250.00 | $7,562.50 |
| 134 | Mongeon, Kathy P. | 4 | $51,000.00 | $12,750.00 |
| 135 | Merryman, Ann W. | 4 | $50,000.00 | $12,500.00 |
| 136 | Coletti, Jr., Edward J. | 4 | $50,000.00 | $12,500.00 |
| 137 | DiMauro, Stephen L. | 4 | $82,500.00 | $20,625.00 |
| 138 | Daniels, Patrick B. | 4 | $24,500.00 | $6,125.00 |
| 139 | Lima, Rolando J. | 4 | $61,000.00 | $15,250.00 |
| 140 | Miller, Craig S. | 4 | $32,000.00 | $8,000.00 |
| 141 | Harigeorgiou, Konstantinos | 4 | $30,000.00 | $7,500.00 |
| 142 | Conner, John D. | 4 | $24,500.00 | $6,125.00 |
| 143 | McClelland, Paul G. | 4 | $17,500.00 | $4,375.00 |
| 144 | Salvaggio, Jr., Michael W. | 4 | $19,500.00 | $4,875.00 |
| 145 | Reynolds, Joan A. | 4 | $31,000.00 | $7,750.00 |
| 146 | Wilson, Brenda | 4 | $27,500.00 | $6,875.00 |
| 147 | Rodriguez, Jorge W. | 4 | $27,500.00 | $6,875.00 |
| 148 | Vitali, Marcus J. | 4 | $96,000.00 | $24,000.00 |
| 149 | Wolfendale, Howard E. | 4 | $71,000.00 | $17,750.00 |
| 150 | Salazar, Marco P. | 4 | $24,750.00 | $6,187.50 |
| 151 | Tracey, Ray | 4 | $35,000.00 | $8,750.00 |
| 152 | Shea, Timothy H. | 4 | $30,250.00 | $7,562.50 |
| 153 | Zimmerman, Matthew John | 4 | $46,500.00 | $11,625.00 |
| 154 | Pessanha, Ney | 4 | $18,000.00 | $4,500.00 |
| 155 | DeSanctis, Jaclyn | 3 | $17,500.00 | $5,833.33 |
| 156 | Juarez, Calixto | 3 | $29,500.00 | $9,833.33 |
| 157 | Delozier, III, Joseph W. | 3 | $53,500.00 | $17,833.33 |
| 158 | Kopp, Glenn | 3 | $16,500.00 | $5,500.00 |
| 159 | Kotenko, Robert | 3 | $27,500.00 | $9,166.67 |
| 160 | Caruso, Nick Joseph | 3 | $24,000.00 | $8,000.00 |
| 161 | Romeka, Steven | 3 | $15,000.00 | $5,000.00 |
| 162 | Hushelpeck, Henry | 3 | $12,000.00 | $4,000.00 |
| 163 | White, Donald R. | 3 | $20,000.00 | $6,666.67 |
| 164 | Dimitriou, Harry E. | 3 | $31,500.00 | $10,500.00 |
| 165 | Wilson, Tony | 3 | $53,500.00 | $17,833.33 |
| 166 | Rideoutt II, Anthony M. | 3 | $25,500.00 | $8,500.00 |
| 167 | Diaz, Jorge | 3 | $20,000.00 | $6,666.67 |
| 168 | Mancilla, Carlos A. | 3 | $15,000.00 | $5,000.00 |
| 169 | Kravets, Bruce M. | 3 | $13,000.00 | $4,333.33 |
| 170 | Servis, Blane | 3 | $70,000.00 | $23,333.33 |
| 171 | Ferreira, Fernando | 3 | $14,000.00 | $4,666.67 |
| 172 | Synnefias, Dimitrios K. | 3 | $20,000.00 | $6,666.67 |
| 173 | Gaffney, Hubert | 3 | $22,500.00 | $7,500.00 |
| 174 | Comi, Jr., Ralph W. | 3 | $21,000.00 | $7,000.00 |
| 175 | Smith, Thomas R. | 3 | $22,750.00 | $7,583.33 |
| 176 | Ryan, Derek S. | 3 | $56,000.00 | $18,666.67 |
| 177 | Hadry, Charles P. | 3 | $26,000.00 | $8,666.67 |
| 178 | Ice, Tim A. | 3 | $31,000.00 | $10,333.33 |
| 179 | Eubanks, Annette M. | 3 | $14,500.00 | $4,833.33 |
| 180 | Hogan, William J | 3 | $25,000.00 | $8,333.33 |
| 181 | Judy, Marcus | 3 | $15,000.00 | $5,000.00 |
| 182 | Dunn, John J. | 3 | $22,500.00 | $7,500.00 |
| 183 | Beattie, Cody | 3 | $28,000.00 | $9,333.33 |
| 184 | Houghton, T. Bernard | 3 | $16,250.00 | $5,416.67 |
| 185 | Hadry, Charles J. | 3 | $33,500.00 | $11,166.67 |
| 186 | Noble, James F. | 3 | $20,000.00 | $6,666.67 |
| 187 | Aguirre, Anthony | 3 | $39,000.00 | $13,000.00 |
| 188 | Agnew, Naoise | 3 | $59,000.00 | $19,666.67 |
| 189 | Preciado, Guadalupe | 3 | $67,500.00 | $22,500.00 |
| 190 | Allen, Jeffrey S. | 3 | $19,500.00 | $6,500.00 |
| 191 | Barr, Donald H. | 3 | $42,000.00 | $14,000.00 |
| 192 | Amthor, K. Gordon | 3 | $23,750.00 | $7,916.67 |
| 193 | O'Connell, Kathleen | 3 | $28,500.00 | $9,500.00 |
| 194 | Woodhouse, Martin | 3 | $20,000.00 | $6,666.67 |
| 195 | Martinez, Alexander | 3 | $20,000.00 | $6,666.67 |
| 196 | Martin, Silvio L. | 3 | $25,000.00 | $8,333.33 |
| 197 | McMahon, W. Thomas | 3 | $16,500.00 | $5,500.00 |
| 198 | Martin, Sandee D. | 3 | $20,000.00 | $6,666.67 |
| 199 | Iwinski, Allen | 2 | $37,500.00 | $18,750.00 |
| 200 | Santangelo, Brett T. | 2 | $21,000.00 | $10,500.00 |
| 201 | Chatterpaul, Naipaul | 2 | $20,000.00 | $10,000.00 |
| 202 | Lezell, David G. | 2 | $12,500.00 | $6,250.00 |
| 203 | Crowell, Susan L. | 2 | $15,000.00 | $7,500.00 |
| 204 | Battula, Aparna | 2 | $17,500.00 | $8,750.00 |
| 205 | Houle, Lucy A. | 2 | $9,000.00 | $4,500.00 |
| 206 | Vargas, Jorge A. | 2 | $11,000.00 | $5,500.00 |
| 207 | Stuart, Shea | 2 | $22,500.00 | $11,250.00 |
| 208 | Chinn, Fred J. | 2 | $14,500.00 | $7,250.00 |
| 209 | Plaza, Alberto | 2 | $12,500.00 | $6,250.00 |
| 210 | Tzortzakis, Emmanuel | 2 | $20,000.00 | $10,000.00 |
| 211 | Vick, Timothy M. | 2 | $9,000.00 | $4,500.00 |
| 212 | Servis, John C. | 2 | $45,000.00 | $22,500.00 |
| 213 | Coram, Robert E. | 2 | $16,000.00 | $8,000.00 |
| 214 | Contreras, Javier | 2 | $18,000.00 | $9,000.00 |
| 215 | Talley, Jeff | 2 | $47,000.00 | $23,500.00 |
| 216 | Plummer, Bobby Lee | 2 | $35,000.00 | $17,500.00 |
| 217 | Alcala, Cesar | 2 | $10,000.00 | $5,000.00 |
| 218 | Sienkewicz, William M. | 2 | $26,000.00 | $13,000.00 |
| 219 | Tapscott, Carlyne | 2 | $23,500.00 | $11,750.00 |
| 220 | Servideo, Robert | 2 | $10,000.00 | $5,000.00 |
| 221 | Griffin, Jacqueline | 2 | $22,500.00 | $11,250.00 |
| 222 | Scott, Joan | 2 | $13,500.00 | $6,750.00 |
| 223 | Correa, Alex A. | 2 | $10,000.00 | $5,000.00 |
| 224 | Popovich, James A. | 2 | $12,500.00 | $6,250.00 |
| 225 | Correnti, Armand W. | 2 | $15,000.00 | $7,500.00 |
| 226 | Thurston, Jerry A. | 2 | $10,750.00 | $5,375.00 |
| 227 | Hammond, Heath | 2 | $9,000.00 | $4,500.00 |
| 228 | Jones, Jr., Michael E. | 2 | $20,500.00 | $10,250.00 |
| 229 | Cox, Kenneth M. | 2 | $31,000.00 | $15,500.00 |
| 230 | Calderon, Luis | 2 | $15,000.00 | $7,500.00 |
| 231 | Albright, George R. | 2 | $10,000.00 | $5,000.00 |
| 232 | Madrigal, Sr., Rodrigo | 2 | $20,000.00 | $10,000.00 |
| 233 | Rathman, Elisha | 2 | $8,000.00 | $4,000.00 |
| 234 | Rodriguez, Miguel A. | 2 | $15,000.00 | $7,500.00 |
| 235 | Jones, Carl C. | 2 | $12,500.00 | $6,250.00 |
| 236 | Rodriguez, Mario Rafael | 2 | $8,000.00 | $4,000.00 |
| 237 | Bailes, W. Robert | 2 | $50,000.00 | $25,000.00 |
| 238 | Robinson, Catherine H. | 2 | $65,000.00 | $32,500.00 |
| 239 | Dymond, Amanda | 2 | $12,500.00 | $6,250.00 |
| 240 | Betancourt, Eli | 2 | $15,000.00 | $7,500.00 |
| 241 | Dunn, Felissa | 2 | $10,000.00 | $5,000.00 |
| 242 | Matier, Sandra | 2 | $10,000.00 | $5,000.00 |
| 243 | Wolfendale III, William H. | 2 | $13,500.00 | $6,750.00 |
| 244 | Beattie, Todd M. | 2 | $41,000.00 | $20,500.00 |
| 245 | Mangual, Manolo | 2 | $10,000.00 | $5,000.00 |
| 246 | Beattie, Stephanie S. | 2 | $8,000.00 | $4,000.00 |
| 247 | Reese, Cynthia G. | 2 | $27,500.00 | $13,750.00 |
| 248 | Marrotta, Patrick | 2 | $28,500.00 | $14,250.00 |
| 249 | Barth, Calvin | 2 | $17,000.00 | $8,500.00 |
| 250 | McGuire, James D. | 2 | $16,000.00 | $8,000.00 |
| 251 | Dibona, Bobby S. | 2 | $40,000.00 | $20,000.00 |
| 252 | Pierce, Jr., Joseph H. | 2 | $25,000.00 | $12,500.00 |
| 253 | Shuman, Mark | 2 | $16,000.00 | $8,000.00 |
| 254 | Katz, Gary R. | 2 | $13,750.00 | $6,875.00 |
| 255 | Kee, Willie J. | 2 | $14,000.00 | $7,000.00 |
| 256 | Day, Diane M. | 2 | $15,500.00 | $7,750.00 |
| 257 | Landicini, Jr., Chris | 2 | $17,500.00 | $8,750.00 |
| 258 | Rosenthal, Gina | 2 | $20,000.00 | $10,000.00 |
| 259 | Soto, Carlos | 2 | $12,500.00 | $6,250.00 |
| 260 | Eff, Joseph A. | 2 | $15,000.00 | $7,500.00 |
| 261 | Egan, Jason | 2 | $25,000.00 | $12,500.00 |
| 262 | Komlo, William R. | 2 | $41,000.00 | $20,500.00 |
| 263 | Davidovich, Jamen | 1 | $7,000.00 | $7,000.00 |
| 264 | Davies, Joseph G. | 1 | $5,000.00 | $5,000.00 |
| 265 | Zavitsanos, James | 1 | $10,000.00 | $10,000.00 |
| 266 | Albertrani, Louis | 1 | $4,000.00 | $4,000.00 |
| 267 | Cascallares, Nestor | 1 | $7,500.00 | $7,500.00 |
| 268 | Swick, Don | 1 | $7,500.00 | $7,500.00 |
| 269 | Correnti, Anthony | 1 | $15,000.00 | $15,000.00 |
| 270 | Cornwell, Jr., James L. | 1 | $4,500.00 | $4,500.00 |
| 271 | Dibben, H. Kathleen | 1 | $7,500.00 | $7,500.00 |
| 272 | Crane, Dean F. | 1 | $5,000.00 | $5,000.00 |
| 273 | Deiter, Kelly Lynn | 1 | $6,250.00 | $6,250.00 |
| 274 | Cuttino, Marion L. | 1 | $12,500.00 | $12,500.00 |
| 275 | Zubenko III, Gerald | 1 | $5,000.00 | $5,000.00 |
| 276 | Stowers, Michelle | 1 | $10,000.00 | $10,000.00 |
| 277 | Davis, Samuel G. | 1 | $4,500.00 | $4,500.00 |
| 278 | Weeks, Michael Lee | 1 | $5,000.00 | $5,000.00 |
| 279 | Catanio, Paul A. | 1 | $6,250.00 | $6,250.00 |
| 280 | Buskey, III, Bob E. | 1 | $5,000.00 | $5,000.00 |
| 281 | Voss, Katharine M. | 1 | $5,000.00 | $5,000.00 |
| 282 | Walters, David | 1 | $10,000.00 | $10,000.00 |
| 283 | Ashton, Patrick | 1 | $5,000.00 | $5,000.00 |
| 284 | Aylor, Jr., William L. | 1 | $5,000.00 | $5,000.00 |
| 285 | Arroyo, Enrique | 1 | $12,500.00 | $12,500.00 |
| 286 | Webb, Samuel E. | 1 | $5,000.00 | $5,000.00 |
| 287 | Arnold, Pamela A. | 1 | $7,500.00 | $7,500.00 |
| 288 | Brennan, Regina | 1 | $10,000.00 | $10,000.00 |
| 289 | West, Benjamin F. | 1 | $7,500.00 | $7,500.00 |
| 290 | Boykins, Kevin | 1 | $5,000.00 | $5,000.00 |
| 291 | Boucher, Lilith E. | 1 | $10,000.00 | $10,000.00 |
| 292 | Bartoni, Wayne P. | 1 | $4,000.00 | $4,000.00 |
| 293 | Bentley, Fenneka T. | 1 | $5,000.00 | $5,000.00 |
| 294 | Ayres, Jr., Joseph W. | 1 | $10,000.00 | $10,000.00 |
| 295 | Ceresini, Paul E. | 1 | $5,000.00 | $5,000.00 |
| 296 | Clark, Thomas A. | 1 | $30,000.00 | $30,000.00 |
| 297 | Clagett, Christine F. | 1 | $5,000.00 | $5,000.00 |
| 298 | Ciresa, Martin E. | 1 | $10,000.00 | $10,000.00 |
| 299 | Cipriano, Robert V. | 1 | $5,000.00 | $5,000.00 |
| 300 | Aleksic, Sonja | 1 | $14,000.00 | $14,000.00 |
| 301 | Alexander, Bruce F. | 1 | $16,000.00 | $16,000.00 |
| 302 | Cabrera, Luis | 1 | $5,000.00 | $5,000.00 |
| 303 | Chacon, Gustavo | 1 | $7,500.00 | $7,500.00 |
| 304 | Collins, Timothy M. | 1 | $4,500.00 | $4,500.00 |
| 305 | Caison, Jody L | 1 | $5,000.00 | $5,000.00 |
| 306 | Allard, Edward T. | 1 | $7,500.00 | $7,500.00 |
| 307 | Zalalas, Michael | 1 | $12,500.00 | $12,500.00 |
| 308 | Worton, Dorothy Elisabeth | 1 | $5,000.00 | $5,000.00 |
| 309 | Tsirigotis, Jr., James | 1 | $5,000.00 | $5,000.00 |
| 310 | Uhacz, Wendy | 1 | $16,000.00 | $16,000.00 |
| 311 | Chircop, Steven | 1 | $5,000.00 | $5,000.00 |
| 312 | Riviezzo, Ralph R. | 1 | $7,500.00 | $7,500.00 |
| 313 | Runco, Jeff C. | 1 | $12,500.00 | $12,500.00 |
| 314 | Raymond, Robert A. | 1 | $5,000.00 | $5,000.00 |
| 315 | Martin, August R. | 1 | $7,500.00 | $7,500.00 |
| 316 | Margotta, Jr., Anthony R. | 1 | $7,500.00 | $7,500.00 |
| 317 | Mann, Farrel | 1 | $7,500.00 | $7,500.00 |
| 318 | Maher, Edward | 1 | $5,000.00 | $5,000.00 |
| 319 | Riddle, Luanne | 1 | $4,000.00 | $4,000.00 |
| 320 | MacKinnon, Bradley | 1 | $4,500.00 | $4,500.00 |
| 321 | Rivera, Gilberto | 1 | $7,500.00 | $7,500.00 |
| 322 | McCarthy, Brenda | 1 | $5,000.00 | $5,000.00 |
| 323 | Lockhart, Alan J. | 1 | $20,000.00 | $20,000.00 |
| 324 | McCarthy, William E. | 1 | $7,500.00 | $7,500.00 |
| 325 | Rodriguez, Ceasar | 1 | $6,250.00 | $6,250.00 |
| 326 | Rodriguez, Franklin | 1 | $4,000.00 | $4,000.00 |
| 327 | Lehman, Edward | 1 | $20,000.00 | $20,000.00 |
| 328 | Lawrence, II, James L. | 1 | $4,000.00 | $4,000.00 |
| 329 | Lane, Scott J. | 1 | $5,000.00 | $5,000.00 |
| 330 | Rogers, J. Michael | 1 | $4,000.00 | $4,000.00 |
| 331 | Kopaj, Paul | 1 | $5,000.00 | $5,000.00 |
| 332 | Kolibos, Ioannis E. | 1 | $4,000.00 | $4,000.00 |
| 333 | Kirby, Timothy | 1 | $12,500.00 | $12,500.00 |
| 334 | Garibay, Lucia | 1 | $6,250.00 | $6,250.00 |
| 335 | Lotruglio, Edward | 1 | $7,500.00 | $7,500.00 |
| 336 | Potts, Ron G. | 1 | $16,000.00 | $16,000.00 |
| 337 | Nietert, Roger W. | 1 | $5,000.00 | $5,000.00 |
| 338 | Nicholson, Craig P. | 1 | $10,000.00 | $10,000.00 |
| 339 | Nechamkin, II, Leo S. | 1 | $5,000.00 | $5,000.00 |
| 340 | Murillo, Ricardo A. | 1 | $5,000.00 | $5,000.00 |
| 341 | Plesa, Jr., Edward | 1 | $40,000.00 | $40,000.00 |
| 342 | Morgan, Carla L. | 1 | $5,000.00 | $5,000.00 |
| 343 | Moore, Rachael A. | 1 | $5,000.00 | $5,000.00 |
| 344 | Polachek, Janet | 1 | $7,500.00 | $7,500.00 |
| 345 | Minieri, Joseph | 1 | $25,000.00 | $25,000.00 |
| 346 | McCall, Brian E. | 1 | $4,000.00 | $4,000.00 |
| 347 | Miller, F. Bruce | 1 | $5,000.00 | $5,000.00 |
| 348 | Russo, Anthony J. | 1 | $25,000.00 | $25,000.00 |
| 349 | Principe, Alison | 1 | $40,000.00 | $40,000.00 |
| 350 | Merryman, Elizabeth M. | 1 | $16,000.00 | $16,000.00 |
| 351 | Racanelli, Mark Joseph | 1 | $5,000.00 | $5,000.00 |
| 352 | Meehan, Elizabeth E. | 1 | $5,000.00 | $5,000.00 |
| 353 | Radford, Kathryn L. | 1 | $7,500.00 | $7,500.00 |
| 354 | McMahon, Demelza | 1 | $4,000.00 | $4,000.00 |
| 355 | McKenna, Todd | 1 | $6,250.00 | $6,250.00 |
| 356 | McGee, Paul J. | 1 | $5,000.00 | $5,000.00 |
| 357 | McCutchen, Jason | 1 | $5,000.00 | $5,000.00 |
| 358 | Rappaport, Mitchell | 1 | $5,000.00 | $5,000.00 |
| 359 | Miller, Marlin A. | 1 | $5,000.00 | $5,000.00 |
| 360 | Fernandez, Miguel A. | 1 | $18,000.00 | $18,000.00 |
| 361 | Keller, Christopher M. | 1 | $5,000.00 | $5,000.00 |
| 362 | Gaudet, Linda S. | 1 | $10,000.00 | $10,000.00 |
| 363 | Gamber, Robert E. | 1 | $10,000.00 | $10,000.00 |
| 364 | Furlong, Kenyon G. | 1 | $12,500.00 | $12,500.00 |
| 365 | Simoff, Andrew L. | 1 | $5,000.00 | $5,000.00 |
| 366 | Frangella, Jr., James A. | 1 | $20,000.00 | $20,000.00 |
| 367 | Fortay, Peter | 1 | $5,000.00 | $5,000.00 |
| 368 | Simon, Linda | 1 | $5,000.00 | $5,000.00 |
| 369 | Foglia, Anthony | 1 | $7,500.00 | $7,500.00 |
| 370 | Shelansky, Richard | 1 | $7,500.00 | $7,500.00 |
| 371 | Fields, Kevin J. | 1 | $12,500.00 | $12,500.00 |
| 372 | Geralis, Emanuel J. | 1 | $7,500.00 | $7,500.00 |
| 373 | Fenimore, Elbert | 1 | $8,000.00 | $8,000.00 |
| 374 | Smith, Hamilton A. | 1 | $11,000.00 | $11,000.00 |
| 375 | Fairlie, Scott H. | 1 | $16,000.00 | $16,000.00 |
| 376 | Smylie, Timothy J. | 1 | $7,500.00 | $7,500.00 |
| 377 | Snyder, Floyd W. | 1 | $10,000.00 | $10,000.00 |
| 378 | St. Lewis, Uriah | 1 | $7,500.00 | $7,500.00 |
| 379 | Duchnowski, Paula | 1 | $5,000.00 | $5,000.00 |
| 380 | Dotolo, David | 1 | $7,500.00 | $7,500.00 |
| 381 | Doran, Carl | 1 | $7,500.00 | $7,500.00 |
| 382 | Sterling, Michael E. | 1 | $4,500.00 | $4,500.00 |
| 383 | Smith, Guy | 1 | $12,500.00 | $12,500.00 |
| 384 | Salzman, Timothy E. | 1 | $5,000.00 | $5,000.00 |
| 385 | Jones, J. Larry | 1 | $5,000.00 | $5,000.00 |
| 386 | Jenkins, Rodney | 1 | $10,000.00 | $10,000.00 |
| 387 | Jacavone, John J. | 1 | $4,000.00 | $4,000.00 |
| 388 | Iverson, Gerald | 1 | $8,000.00 | $8,000.00 |
| 389 | Ryerson, James T. | 1 | $5,000.00 | $5,000.00 |
| 390 | Huston, Rory K. | 1 | $7,500.00 | $7,500.00 |
| 391 | Salzman, Jr., John E. | 1 | $16,000.00 | $16,000.00 |
| 392 | Hess, Jacob G. | 1 | $11,000.00 | $11,000.00 |
| 393 | Hendriks, Richard J. | 1 | $10,000.00 | $10,000.00 |
| 394 | Nunley, Randy | 1 | $6,250.00 | $6,250.00 |
| 395 | Hedus, William C. | 1 | $7,500.00 | $7,500.00 |
| 396 | Stopherd, Edwin C. | 1 | $7,500.00 | $7,500.00 |
| 397 | Hawthorne, Bobbi Anne | 1 | $7,500.00 | $7,500.00 |
| 398 | Saville, Niall | 1 | $32,000.00 | $32,000.00 |
| 399 | Harper, Jack L. | 1 | $5,000.00 | $5,000.00 |
| 400 | Hall, Aimee D. | 1 | $6,250.00 | $6,250.00 |
| 401 | Gulyas, Peter | 1 | $16,000.00 | $16,000.00 |
| 402 | Servis, Jason | 1 | $12,500.00 | $12,500.00 |
| 403 | Greaves, Vernon | 1 | $5,000.00 | $5,000.00 |
| 404 | Shanley, Mark A. | 1 | $6,250.00 | $6,250.00 |
| 405 | Shanley, Timothy | 1 | $5,000.00 | $5,000.00 |
| 406 | Shaw, Timothy J. | 1 | $7,500.00 | $7,500.00 |
| 407 | Helmetag, Robert P. | 1 | $7,500.00 | $7,500.00 |