Country Life Farm's Mary Jo Pons passes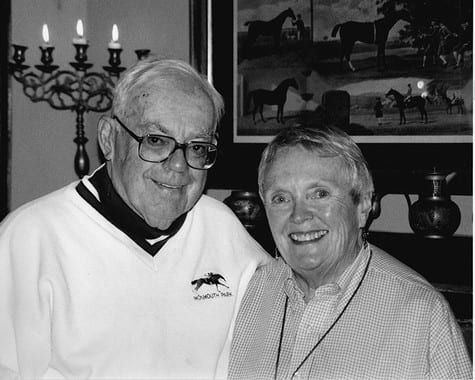 Mary Jo Pons, with her late husband, Joe. Photo courtesy of Country Life Farm.
by Blood-Horse staff
Mary Jo Pons, matriarch of Maryland's Country Life Farm and a driving force behind the Radio Reading Network of Maryland, died of natural causes on Monday evening, Jan. 1 at Bright View Assisted Living in Bel Air, Md. She was 87.
At her home on the farm, Pons cared for her ailing in-laws, raised five children, and became famous for her gracious Preakness Stakes (G1) parties, held on the Thursday before the Pimlico Race Course classic each year.
Mary Jo Pons' Preakness Party tradition began in 1961, when a horse named Carry Back, sired by Country Life stallion Saggy, won the Kentucky Derby (G1) and arrived in Baltimore to prepare for the Preakness. On the trail of a potential Triple Crown winner, sportswriters flocked to Pimlico. Mary Jo invited them to Country Life.
Among them were Pulitzer Prize-winning writer Red Smith, New York Times racing columnist Joe Nichols, CBS radio announcers Win Elliot and Jack Whitaker, as well as prominent Baltimore racing writers Joe Kelly, Dale Austin, and Bill Boniface.
"They looked hungry," she explained, "and so I invited them to Country Life for a home-cooked meal."
She dubbed it "The Press Party." Nichols played the piano and they all sang Broadway show tunes till midnight. Carry Back won the Preakness two days later. The party proved to be a good-luck omen to the light-heartedly superstitious Mary Jo.
For the next sixty-some years, she hosted what grew to be known as "The" Preakness Party in Maryland. With a touch of irony that often attends the sport of racing, her Preakness Party was suspended in 2013, when she suffered a stroke the day after Orb won the Kentucky Derby. As was the case for Carry Back, Orb's sire was a Country Life stallion: Malibu Moon .
"She had only one day to enjoy a second Derby winner by a farm stallion," her family recalled. "News crews were out here the next day to shoot footage of the farm, and meanwhile Mom is at Johns Hopkins Hospital. We didn't let on. She wouldn't have wanted the focus on her instead of the farm."
Born Mary Jo Ryan in Baltimore April 10, 1929, she was the daughter of Capt. Charles A. and Honore Ginty Ryan of Preston Street. She graduated in 1947 from Mount Saint Agnes High School in Mt. Washington, and attended classes at Johns Hopkins University. Articulate and precise in speech, she was attracted to radio.
She began her career by hosting broadcasts of fashion shows for Hutzler's, Baltimore's venerable downtown department store. During the 1960s, she owned a women's dress store named Petticoat Lane, in Bel Air.
Pons' love of radio and the people of Baltimore led to service as a WBAL Radio Call-for-Action volunteer in the 1970s. She hosted a classical music broadcast from Harford Community College, her soothing voice explaining the musical history behind her selections. As a board member of Baltimore's Signal 13 Foundation, she assisted Police Department personnel who encountered off-duty hardships.
She was most proud, however, of her two-decade role as executive director of the Radio Reading Network of Maryland. Her tireless efforts found a perfect home for the organization at the Maryland School for the Blind on Taylor Avenue near Parkville, and resulted in endowments from generous supporters and volunteers.
Pons was introduced to her future husband at a cocktail party in Harford County. She correctly answered a question relating to the New York Giants' quarterback Y. A. Tittle, nemesis of the Baltimore Colts.
"Bet you don't know what his initials stand for?" Joe Pons challenged her.
"Bet I do," she answered. "Yelberton Abraham."
They were married Aug. 26, 1950. Pons is survived by five children: Norah, Andrew, Josh, Michael, and Alice Pons; and six grandchildren: Karianna Brace, Philip, Elizabeth, Josh, David, and August Pons. Her husband of 55 years, Joseph P. Pons Sr., predeceased her.
A memorial celebration in Pons' honor will be held at Country Life Farm at noon on Sunday, April 9, the day before her 88th birthday.
In lieu of flowers, the family asks that donations be made to the Radio Reading Network of Maryland, a 501(c)(3) charitable organization, located at 3501 Taylor Avenue, Baltimore, Md., 21236 (phone: 410-779-4969).
NOTE: This article originally appeared in The Blood-Horse and is reprinted here with permission via a content-sharing agreement.